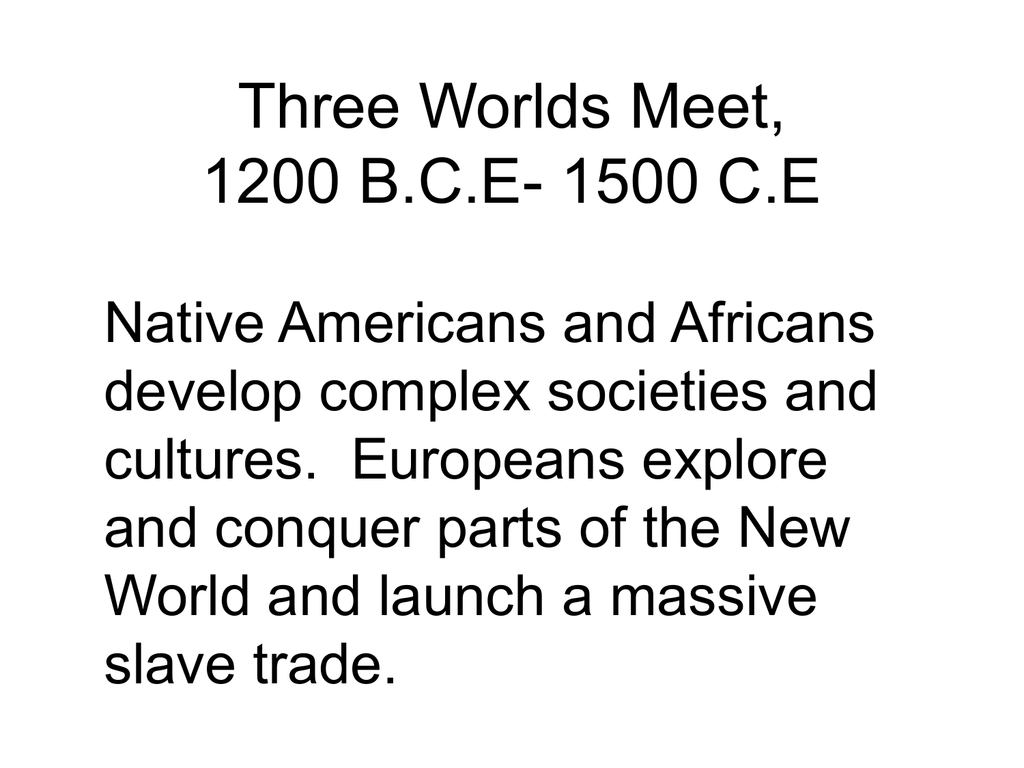 Three Worlds Meet,
1200 B.C.E- 1500 C.E
Native Americans and Africans
develop complex societies and
cultures. Europeans explore
and conquer parts of the New
World and launch a massive
slave trade.
Main Idea
Ancient peoples came from
Asia to the Americas and over
time developed complex
civilizations.
Why It Matters Now
Archaeologists and other scientists
continue to make new discoveries
about these ancient people.
Ancient Peoples Come to the
Americas
• During the last
Ice Age (20,000
years ago),
hunters cross
from Asia to
Alaska over
Beringia.
Hunting and Gathering
• Hunted large
animals until
climate warms.
• 12,000-10,000
years ago,
hunted smaller
game, gather
nuts and berries.
Agriculture Develops
• Planting of crops
begins in central
Mexico 10,000 to
5,000 years ago.
• Some cultures
remain nomadicmoving in search
of food and water.
Early Cultures of the Americas
• About 3,000
years ago,
inhabitants
begin to
forming large
communities.
Empires of Middle and South
America
• The Olmec flourish 1200 to 400 B.C.E. along
Gulf of Mexico.
• The Maya, 250-400 C.E. in Guatemala and
Yucatán.
• Aztec begin building civilization in the Valley
of Mexico in 1200s.
• Inca establish empire around 1200 C.E. in
Western South America.
• Cultures have cities or ceremonial centers;
some have writing.
Ancient Desert Farmers
• About 3,000 years ago, groups
begin growing crops in
Southwest.
• Groups establish civilizations, 300
B.C.E. to 1400 C.E.
-Hohokam settle in river valleys.
-Anasazi live in Mesa tops, cliff
sides, canyons
Casa Grande/Mesa Verde
Mound Builders
• Adena, Hopewell, Mississippian
establish trading societies.
• Adena and Hopewell build huge
burial and animal-shaped
mounds.
• Mississippian people build giant
pyramidal mounds.
Great Serpent
Mound/
Cahokia
North America Societies
Around 1492
MAIN IDEA
By 1500, a variety of Native
American groups- each
with a distinct culture- lived
in North America.
WHY IT MATTERS NOW
Many American today claim one
or more of these cultures as part
of their heritage.
Northwest Coast
• Large communities live along
streams, seashore, and in forest.
• Kwakiutl, Nootka, Haida gather
shellfish, hunt whales, otters, seals.
• Totems were symbols of ancestral
spirits, on masks, boats, and poles
• Potlaches-families give away
possessions in special ceremonies.
Totems
California Tribes
• Kashaya Pomo hunt waterfowl
along northwest coast.
• Yurok and Hupa gather acorns
and fished.
Southwest
• By 1300, Pueblo settle near
waterway, build multistory houses.
• Hopi, Acoma live near cliffs and
develop irrigation systems.
-Grew corn, beans, squash; build
kivas, underground ceremonial
rooms.
-Navajo and Apache adopted
practices.
Great Plains
• Semi-nomadic tribes.
• Hunted bison on foot.
-Used the whole
animal.
• Mandan, Dakota
(Sioux), and Pawnee.
Eastern Woodlands
• Tribes like Iroquois build villages
in forests; farm, hunt, gather.
• Northeast rely on animals for
food, clothing; Southeast, on
farming.
• Matrilineal- Ancestry is traced
through the mother's family.
Trading Networks
• Trade is one of the biggest
factors in bringing tribes into
contact.
Land Use
• The source of life, not to be sold.
• Disturb it only for important
reasons, like food gathering and
farming.
Religious Beliefs
• Nature is filled with spirits;
ancestors guide people.
• Some cultures believed in one
supreme being.
Social Organization
• Kinship- Ties among relatives,
ensure customs are passed on.
• Division of Labor- Tasks by
gender, age, status; to create
social order.
• Groups organized by families;
some in clans with common
ancestor.