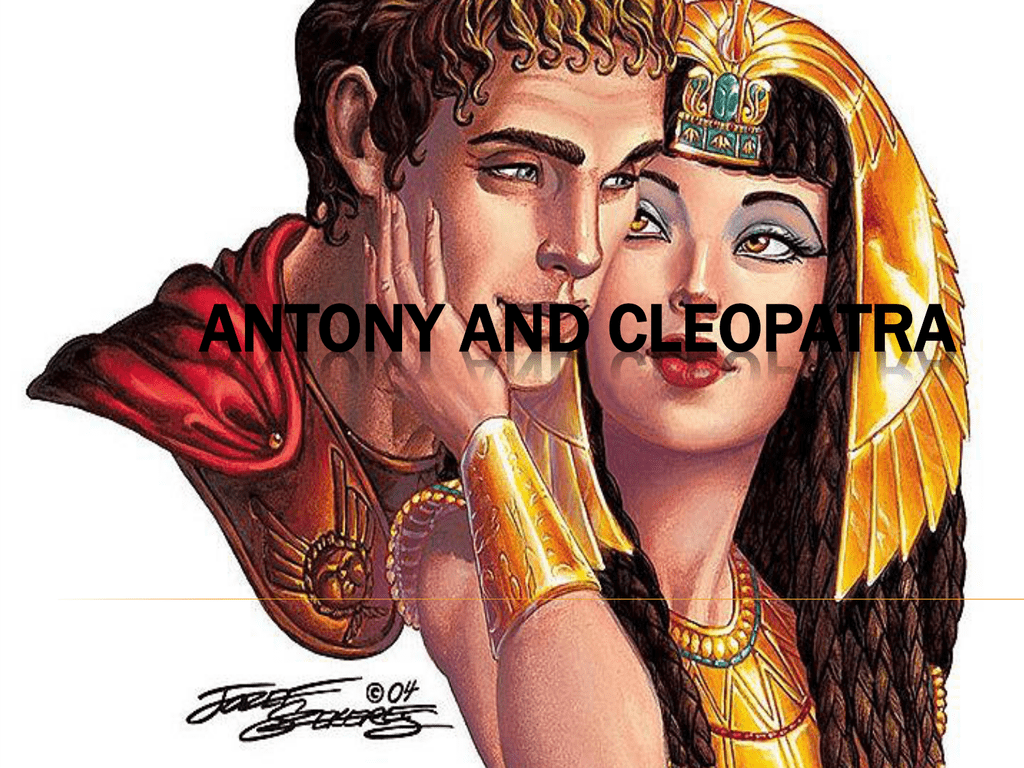 ANTONY AND CLEOPATRA
EXTRAVAGANT DECLARATIONS OF LOVE
Which characters covey this idea most?
The two main characters that convey the
idea of extravagant declarations of love
is Antony and Cleopatra. Antony is from
Rome a character that thinks with his
mind and not heart and Cleopatra a
Voluptuous queen that thinks with her
heart.
CLEOPATRA- "IF IT BE LOVE INDEED,
TELL ME HOW MUCH"
ANTONY- "THERE'S BEGGARY IN THE
LOVE THAT CAN BE RECKONED"
CLEOPATRA- "I'LL SET A BOURN HOW FAR
TO BE BELOVED.
ANTONY- "THEN MUST THOU NEEDS FIND
OUT NEW HEAVEN, NEW EARTH"
THE IMAGERY USED IN THIS EXTRACT IS
USED TO COVEY EXTRAVAGANT
DECLARATIONS OF LOVE. ANTONY TELLS
CLEOPATRA THIS IN THE BEGINNING OF
THE PLAY. USING "THEN MUST THOU
NEEDS FIND OUT NEW HEAVEN, NEW
EARTH" IT CREATES AN IMAGE IN THE
AUDIENCE MIND OF SPACE AND THAT
THEY ARE TRYING TO FIND A NEW
HEAVEN AND EARTH.
ANTONY- " LET ROME IN TIBER MELT, AND
THE WIDE ARCH OF THE RANGED EMPIRE
FALL! HERE IS MY SPACE. KINGDOMS ARE
CLAY: OUR DUNGY EARTH ALIKE FEEDS
BEAST AS MAN: THE NOBLENESS OF LIFE
IS TO DO THUS; WHEN SUCH MUTUAL
PAIR AND SUCH TWAIN CAN DO'T, IN
WHICH I BIND, ON PAIN OF PUNISHMENT,
THE WORLD TO WEET WE STAND UP
PEERLESS"
THE IMAGERY USED IN THE SECOND EXTRACT
IS USED TO CONVEY THE EXTRAVAGANT
DECLARATIONS OF LOVE. ANTONY TELLS
CLEOPATRA THAT HE DOES NOT CARE ABOUT
HIS HOME THAT SHE IS MORE IMPORTANT
THAN ROME AND THAT "ROME IN TIBER MELT."
IN THIS SECOND EXTRACT HIS WHOLE HEART
POURS OUT TO EVERY WORD HE SAYS TO HER.
THIS IS THE KEY SCENE THAT STRONGLY
CONVEYS THE EXTRAVAGANT DECLARATION OF
LOVE.
ANTONY AND CLEOPATRA WERE NEVER
LOVERS IN THE PLAY THEY WERE ONLY
USING EACH OTHER TO GET WHAT THEY
WANTED "ANTONY NEEDED EGYPT'S
WEALTH TO FINANCE HIS EASTERN
CAMPAIGNS; AND CLEOPATRA USED
ANTONY'S POWER TO BOLSTER HER
PTOLEMAIC KINGDOM"
"EGYPT, THOU KNEW'ST TOO WELL MY
HEART WAS TO THY RUDDER TIED BY
TH'STRINGS, AND THOU SHOULDST TOW
ME AFTER: O'ER MY SPIRIT THY FULL
SUPERMACY THOU KNEW'ST, AND THAT
THY BECK MIGHT FROM BIDDING OF THE
GODS COMMAND ME"
IT SWITCHES HERE WHEN CLEOPATRA
LEAVES ANTONY FOR THE FIRST TIME AT
SEA WAR AND HE IS ENRAGED WITH
HER. ALL HIS LOVE FOR HER IS LOST HE
REFERS TO HER AS EGYPTIAN BECAUSE
THE ROMANS THINK OF HER AS A WHORE
AND JUST A PRIZE TO SHOW AROUND
ROME.
"THIS FOUL EGYPTIAN HATH BETRAYED
ME: MY FLEET YIELD TO THE FOE, AND
YONDER THEY CAST THEIR CAPS UP AND
CAROUSE TOGETHER LIKE FRIENDS LONG
LOST. TRIPLE-TURNED WHORE! 'TIS THOU
HAST SOLD ME TO THIS NOVICE, AND MY
HEART MAKES ONLY WARS ON THEE. BID
THEM ALL FLY! FOR WHEN I AM
REVENGED UPON MY CHARM, I HAVE
DONE ALL."
IN THE FIRST SEA WAR CLEOPATRA WAS
FORGIVEN BUT WHEN SHE LEFT THE FOR
THE SECOND HE WAS SO ANGRY THAT HE
WAS GOING TO KILL HER. SHE MADE HIM
LOSE EVERYTHING HE WORKED FOR. HIS
HONOUR, REPUTATION, DIGNITY AND HIS
COUNTRY. ALL FOR A GIRL THAT DOESN'T
LOVE HIM BACK.
THROUGH OUT THE WHOLE ENTIRE BOOK.
YOU READ HOW ANTONY IS MADLY IN
LOVE WITH CLEOPATRA (EXCEPT THE
PARTS WERE SHE LEAVES HIM IN THE
TWO SEA BATTLES.) BUT YOU NEVER
READ ABOUT CLEOPATRA DECLARING
HER LOVE FOR HIM SO THIS QUESTIONS
IF SHE DOES LOVE HIM OR NOT. IN MY
OWN OPINION SHE DOES NOT LOVE
ANTONY BECAUSE SHE JUST WANTS TO
GAIN POWER AND MONEY. BUT IN THE
BOOK ABOUT SHAKESPEAR, THE BOOK
OF ANTONY AND CLEOPATRA IT SAYS
THAT THEY USED EACH OTHER FOR THE
THINGS THEY NEEDED IN LIFE (REFER TO
SLIDE 7.) AND IN THE END THEY COULD
NEVER GET WHAT THEY WANTED THEY
HAVE BOTH LOST A BATTLE THAT KNOW
ONE COULD WIN.
ALL RIGHTS RESERVED. THIS
PUBLICATION MAY NOT BE REPRODUCED.
NICOLE SWART.