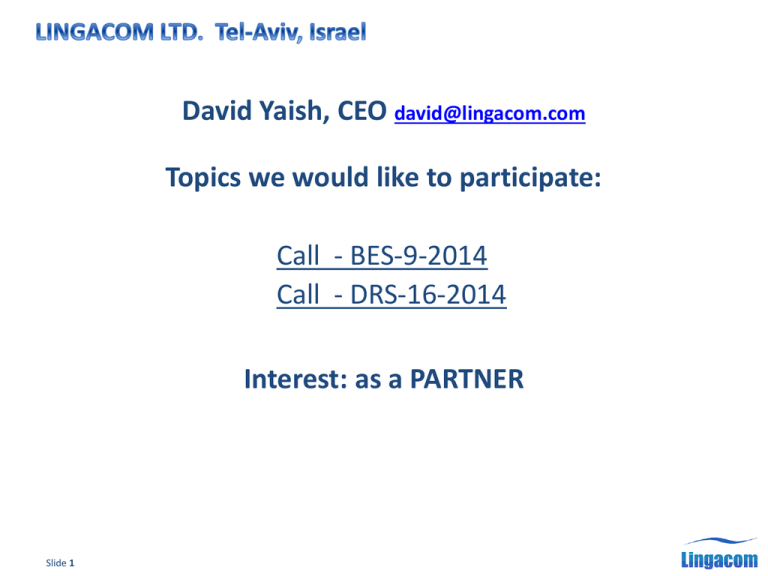 David Yaish, CEO david@lingacom.com
Topics we would like to participate:
Call - BES-9-2014
Call - DRS-16-2014
Interest: as a PARTNER
Slide 1

Our detection technology utilizes the natural flux of Cosmic Ray Muons to detect and
confirm the presence of Shielded Nuclear Materials hidden in cluttered containerized
cargos and in vehicles.

Cosmic Ray Muons are: High Energy Natural Atmospheric Cosmic Ray Muon.

Muons: the most penetrating charged particles on Earth and the only particles that
penetrates all containers / vehicles that may contain high-Z materials.

Lingacom utilizes unique detection method (MMSA).
Slide 2

MMSA = MUON'S Multiple Scattering Analysis Technology.

High PD (Probability of Detect) and low FAR (False Alarm Rate).

Reliable, Passive, Green Detection Technology for hidden Shielded Nuclear Materials
in containerized cargos and in vehicles at the following segments :

Protection of Border Security by inspections of large volume freight (Call - BES-9-2014)

Protection of Critical Infrastructure (Call - DRS-16-2014 )
APPLICATIONS
Ports - Borders
Air Transport
Transportation
Critical Infrastructure
Police
Civil Events Protection
Commercial Enterprises
Multinationals Corp
Governments
1.
2.
3.
4.
Slide 3
Developing Concept of Operations under real-life scenarios.
Integrating Lingacom's solution into the overall security flow.
Testing Lingacom solution co-existence with other detection technologies and products.
Testing the Concept of Operation and the solution in real environment and under reallife scenarios (including cluttered cargos).