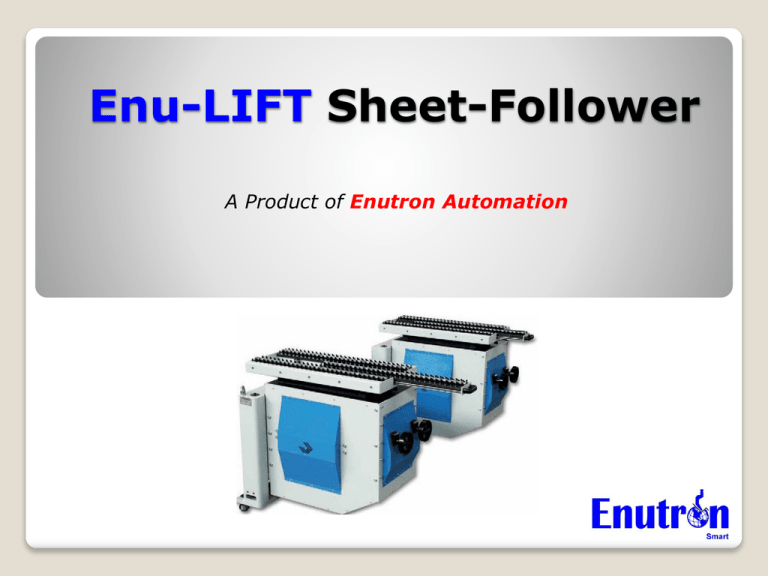 Enu-LIFT Sheet-Follower
A Product of Enutron Automation
Effective, simple solution for handling large parts
Reduces a two-man operation to one
Simple add-on to any hydraulic press brake
Ideal solution for productivity and safety
What is the Enu-LIFT ?
Specifications
 Weight Capacity: 400 lbs (181.5 kg)

Heavy-duty construction

Vertical Adjustment: +/- 60 mm

Horizontal Adjustment: +/- 60 mm

Mechanical Accuracy: +/- 0.2°

Extendable arm for longer parts

Perfect synchronization with bending
speed
Follows material
during bending
phase in perfect
synchronization
Extendable arm
on Enu-LIFT
allows flexibility
for handling
larger parts
How does the Enu-LIFT work ?
Fixed Mounting
Performed during OEM
construction of press brakes
•
•Sheet-follower
is permanently
attached to BED
•Ability
to slide from side to side
on precision linear guide
•When
not in use, operator can
push aside
Transportable
Ability to move from one
machine to another
•
•
Simple plug and play
•
Quick detach and re-attach
Precision dowel pins to mate
system to press brake BED
•
Most effective, saving on
cost of labor time as is
involved with fixed system
•

2-Man Operation
VS.
Enu-LIFT
Inconsistent bend angle
throughout length of material

Provides proper/uniform support
for consistent bend

Operator + Enu-LIFT =
Effi¢ien¢y
 Due to difference of individual
operator handling
 Lack of proper surface contact w/
material

Financial burden: Two operators
performing the same job?
Benefits
Option
Stand-Alone CNC
Simple to operate!
Designed for press brakes
that cannot currently control
sheet-following system
•
•
Stand-alone system
Simply enter material
information and tooling
•
•
CNC automatically calculates
point of following
•
Linear scale monitors live
movement of ram

Increased productivity

Safer operation

Professional results
Results
Click HERE for the Enu-LIFT
Experience!