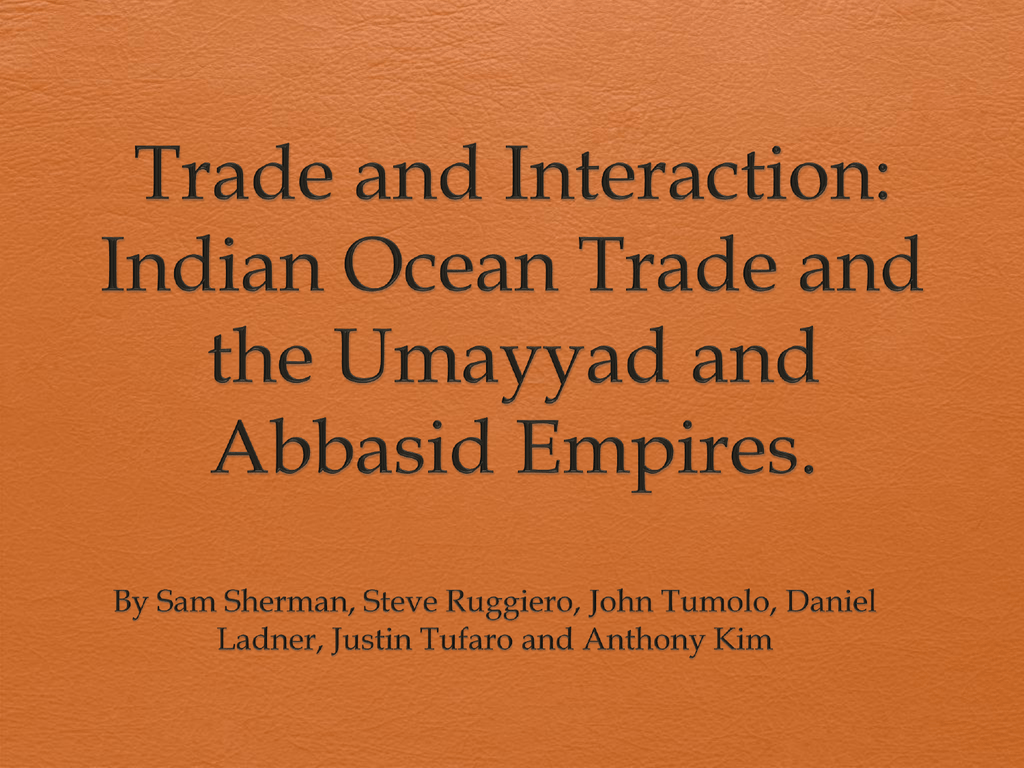 (661-750)
The Umayyad Caliph

The Umayyads, led by Abu Sufyan, were merchants of the
Quraysh tribe that tried to enter Mecca.

After adopting the religion of Islam, and winning a civil
war, Abu Sufyan's son, Mu'awiyah, established himself as
the first Umayyad caliph.
-United
the Bedouin tribes to
Islamic faith
-Conquered surrounding nations
including Byzantium and Persia.
Military aristocracy administered
the conquered and controlled
wealth.
(661-750)
The Abbasid Caliph


Abu al-Abbas utilized Persian dissent and political conflicts to
rebel against the Umayyads.
Conquered people were
allowed into gov. posts.

Military aristocracy weakened

Became cosmopolitan
(administrative).

Developed
infrastructure
The Indian Ocean Trade

The Indian Ocean was the largest trading network up until
the 17th century.

It connected East Asia to West Asia.

Trade was made easy with the help of monsoon winds.

Contributed greatly to global economy.

Extended from east Asia through into to East Africa.
Why is the Indian Ocean
historically significant?

The Indian Ocean trade was significant
because of its location.

Because of its location it was able
to achieve cross cultural trade.

As a result of the Indian Ocean trade
basin production of cotton clothes increased
as well as specialized production of sugar,
leather, stone and carpet.

Due to the often rough ocean conditions
caused by monsoon winds, dhows and
junks were used to trade and travel.

It was the largest trade network until the
17th century.
Interactions Between the
Two

Exports: spices from southeast Asia, incense and horses
from Arabia, and pepper and cotton textiles from India-

Imports: gold, ivory, and slaves from Africa, and silk and
porcelain from China

Trade of horses, salt, and cotton brought Islam to East Africa

Invention and of spread of the use of dhows allowed
Muslims to travel the Indian Ocean quickly and efficiently
Why did these interactions
occur?

These interactions because of the expansions and conquests
of the Abbasid and Umayyad dynasties.

During the Umayyad dynasties the conquests of North
Africa, the first and second siege of Constantinople, the
conquest of Hispania and the conquest of Georgia, the
Islamic/ Arabic world was expanded greatly.

By the end of the Abbasid dynasty, the Islamic Empire
stretched from the Indian sub-continent to the Pyrenees.
Why are these interactions
historically significant?

The interactions between the Umayyad and Abbasid
dynasties and the Indian Ocean trade was a major
contributor to the spread of Islam. Even today, Islam is still
a large religion with millions of worshippers.
Quiz Time

Name one way that the Indian ocean was historically
significant.

What were methods of transportation used to cross Indian
Ocean?

Name the two Islamic caliphs that were mentioned in this
power point presentation.

Name one way how the interactions between the Islamic
world and the Indian ocean occurred.