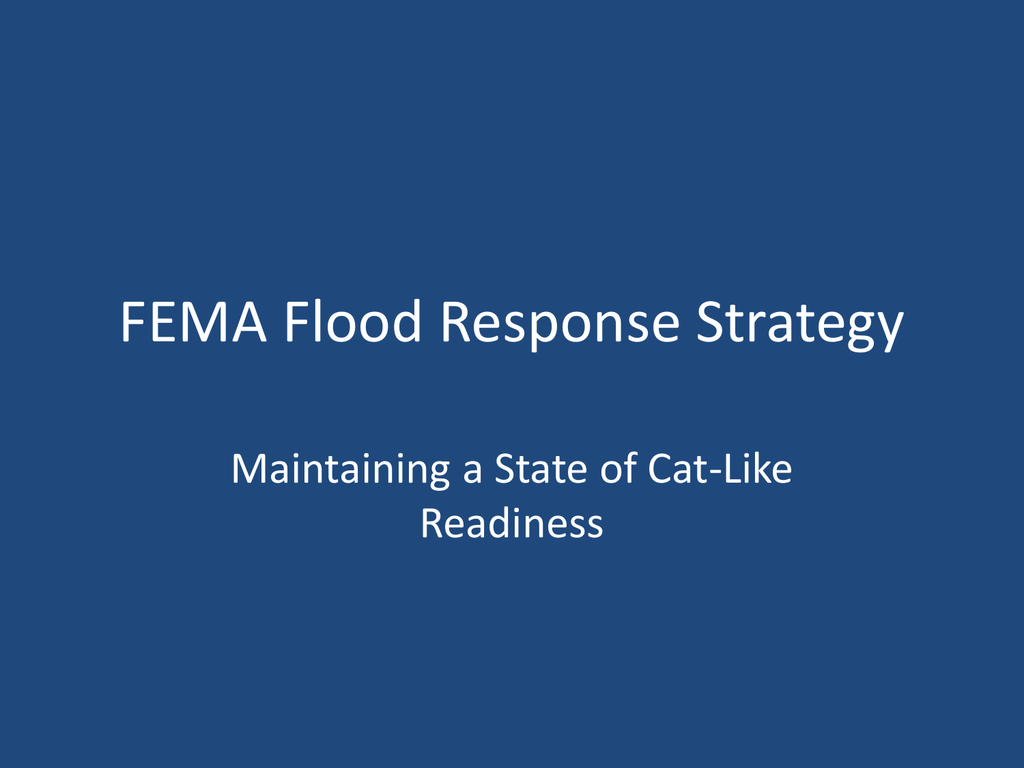 FEMA Flood Response Strategy
Maintaining a State of Cat-Like
Readiness
Flood Potential
Northeast River Forecast Center
(NERFC) webpage:
• http://www.erh.noaa.gov/nerfc/
– Region-wide graphic of Observed and Forecast River Conditions
• Near, Minor, Moderate, Major Flood "quick-look" symbols
–
–
–
–
–
–
–
–
River Conditions (including river hydrographs)
Observed Precipitation
Forecast Precipitation
Snow Water Equivalent
Flood Outlook
Spring Flood Outlook
Flash Flood Guidance
Ensemble River Forecasts
• Experimental, seven day, short-term ensemble river forecasts. This will
give NWS forecasters an earlier look at possible flood outcomes when
advising decision makers. The public can link to this experimental
information at http://www.erh.noaa.gov/mmefs
Northeast River Forecast Center
(NERFC) webpage:
The Northeast River Forecast Center (NERFC) is one of 13 National Weather Service River Forecast Centers in the United States. They are colocated with the National Weather Service Forecast Office in Taunton, MA. They provide daily river forecasts and flash flood guidance values
for New England and most of New York State. Their office is open from 6:30 AM until 11:00 PM 365 days a year, and is open 24 hours a day
during times of increased flood potential.
Northeast River Forecast Center
(NERFC) Briefings
• Occurs every 2 weeks on Fridays at 1400 hours
• Dates - March 18, April 1, April 15, April 29
• Briefing materials sent out 1 to 2 hours before
the conference calls
• Phone No. 888-495-9808 Pass code 993314
Other Flood-Potential Resources
• USGS Water Alert
Subscriptions: http://water.usgs.gov/wateralert/
– Establish customized alert subscriptions for your email and/or cell
phone; choose river(s), stage heights, cubic feet per second, etc.
•
•
National Weather Service website: http://www.weather.gov/
U.S. Army Corps of Engineers New England District, River Watch–
Reservoir Control website http://www.reservoircontrol.com/
– Real time River and Reservoir data
•
U.S. Army Corps of Engineers Cold Regions Research and
Engineering laboratory
– website http://www.crrel.usace.army.mil/icejams/index.htm
– Current Ice Jam Map (see link near top center of page)
•
USCG Ice Breaking Operations District I POC = CDR Matthew Stuck
ph# 617-201-0384. Note –Please confer/coordinate with Response
Division Director, Planning or Operations Integration Branch Chiefs
before contacting CDR Stuck (to avoid multiple FEMA R1 queries).
Other Flood-Potential Resources
•
Montpelier, VT Flood Monitoring website
http://www.montpelier-vt.org/page/399/2010-Public-FloodMonitoring-Page.html?id=ZrJLTCse
– Watch and Warning Statements
– Evacuation Route Maps
– Subscribe to cell phone and email alerts
•
New Hampshire Department of Environmental Services Real-Time
Data & Information for Watersheds in New Hampshire website
http://www2.des.state.nh.us/RTi_Home/
• Sebago Lake, Maine Water Level website (Portland Water District)
http://www.pwd.org/lake/level.php
• Lake Champlain Water level website (USGS)
http://waterdata.usgs.gov/vt/nwis/uv?dd_cd=03&format=gif&pe
riod=31&site_no=04294500
FEMA Strategy: Day to Day
• Increased Situational Awareness
• Near, mid and long term flood potential
– Attend Northeast River Forecast Center bi-weekly
teleconference briefings
– Maintain Awareness via the resources listed above.
– Review the MERS Daily Situation Awareness Report
(DSAR)
• Look for indication of projected flooding
– Share information with MERS for inclusion in the
DSAR
• Federal and state government source only
– State Liaison Officers check-in with states as
appropriate
FEMA Strategy
• FEMA Region 1 procedures for reporting to stakeholders:
1.
MERS provides general awareness of forecast flooding in the
DSAR;
•
Flood forecast information will include
–
–
2.
If a DSAR includes reference to forecast flooding, Mitigation
staff will analyze the situation and provide a detailed report to
MERS for distribution to the DSAR readership.
•
3.
state(s) and river(s) involved,
may also include detailed information (e.g. flood severity forecast
(minor/moderate/major) and/or copy and paste of river
hydrographs).
The Mitigation report will include detail such as river stage crest
height and date forecast, "return frequency" (provides additional
measure of severity), location of facilities that may be impacted,
etc.
When the RRCC is activated the responsibility for detailed
flood forecast reporting will reside with the Planning Section.
FEMA Strategy:
Moderate Flooding is Forecast
• RRCC activated to a Level III
• Planning Section assumes responsibility for
flood forecast Situational Awareness
• Conference Calls established:
– NWS and NRFC
– States
– NRCC
• Staffing plans developed for RRCC Level II
FEMA Strategy:
Severe Flooding is Forecast
• Based on info from Mitigation, contingency
planning initiated
– State Liaison Officers/IMATs on alert
– RRCC Level II Staff on alert
– Warning Order issued to ESFs (if warranted)
FEMA Strategy:
Severe Flooding Likely
• RRCC activated to a Level II
• ESFs deployed:
– ESF 1: DOT….possible impacts to transportation infrastructure
– ESF 3: USACE….possible impacts to flood control facilities; statutory
flood fighting mission; generators & pumps; debris
– ESF 6: ARC/FEMA….evacuation support; sheltering
– ESF 7: FEMA/GSA….identification of vendor managed resources;
identification of facilities; prepositioning of federal resources
– ESF 8: HHS….identification of health/medical facilities that may be
impacted; Medical evacuation requirements
– ESF 9: FEMA USAR….rescue strategies
– ESF 10: EPA/USCG….identification of potential Hazardous Materials
releases; statutory hazmat response mission; hazardous debris
– ESF 11: USDA….possible impacts to agricultural concerns; possible
impacts to cultural resources (archives, libraries, museums, records
repositories)
FEMA Strategy:
Severe Flooding Likely
• SLOs/IMATs offered to States
– May be prepositioned
– Establish IOF/UCG
• Coordination with HQ
• Planning Cycle initiated
– Regional Support Plan (RSP)
– If IMATs/SLOs deploy, they fall in under RRCC
Operations RSP initially.
• Stafford Act Declaration!!!!
– Emergency Declaration for Category "B" and Direct
Federal Assistance.
FEMA Strategy:
Severe Flooding Occurring/Subsiding
• If not deployed, IMATs/SLOs will be held until risk
has passed
• Establishment of Unified Coordination Group
• Establishment of Planning Cycle (if not already
established)
– Publish IAP
• Initial assessment of impacts:
– State : Calls to local Emergency Managers; private
sector (utilities, big box stores, voluntary agencies,
faith based community
– Federal: Remote sensing; coordination with
ESFs/OFAs; Whole Community; Critical Infrastructure
FEMA Strategy:
Severe Flooding Occurring/Subsiding
• If it hasn't happened already Stafford Act
Declaration!!!!
– Emergency Declaration for Category "B" and Direct
Federal Assistance.
• If this doesn't happen things get tough.
• Response requirements:
– State identified
• Fill through internal resources, contracting, National Guard,
EMAC
• If the requirement cannot be filled by the state, referred to
FEMA
– ARFs and Mission Assignments
FEMA Strategy:
Severe Flooding Passed
•
•
•
•
Continue to provide direct federal assistance
Establish JFO
Support Preliminary Damage Assessments
Governor's Request for Major Disaster
Declaration
• Recovery Programs
– IA/PA/MIT
– External Affairs
• Community Relations/Congressional Affairs/Media
Affairs/Intergovernmental Affairs/Tribal Outreach
• Long Term Recovery
Questions?