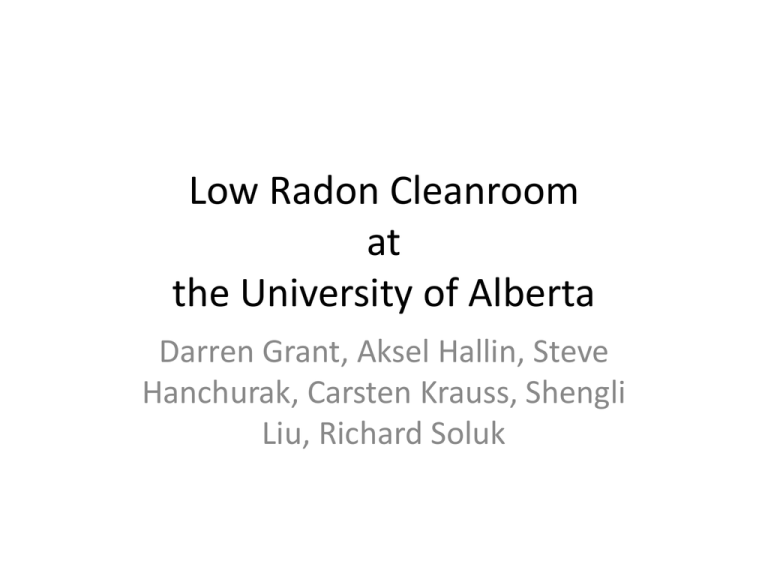 Low Radon Cleanroom
at
the University of Alberta
Darren Grant, Aksel Hallin, Steve
Hanchurak, Carsten Krauss, Shengli
Liu, Richard Soluk
Radon Clean Laboratory Concept
Tolerable Rn load
= Rn scrubber flow rate times
Acceptable Rn concentration
= 3 m3/min x 94 Rn/m3
= 282 Rn/min
.00002 Bq/m3
9.4 222Rn/m3
3m x 10m x 10m
90 m3 room
140 m2 area
28 Rn/min
3 m3/min
Lights
(100 cfm)
emanation
23 Rn/min
If walls 10 Rn/m2hr
Radon
scrubber
(1 cfm)
Radon
scrubber
Electrostatic
deposition plates
20 Bq/m3
9.4x106 222Rn/m3
HEPA
Cooler
Baffle
Leaks/diffusion
23 Rn/min
30 m3/min
Chemical
Baths?
.0002 Bq/m3
48 Rn/min
94 222Rn/m3
8460 222Rn total
Class 1000 Clean Room?
Lab
Equipment
80 Rn/min
People/
processes
80 Rn/min
2 Bq/m3
940,000 222Rn/m3
Air Lock
#2
Air Lock
#1
o o
9,400 222Rn in lungs
125,000 222Rn dissolved
.02 Bq/m3
9,400 222Rn/m3
K. McFarlane
May 16, 2006
Radon Stripping
• A hybrid design will be used
combining both cryogenic and
pressure/vacuum swing carbon
adsorption techniques
• Under normal operation 3 of the
tanks will be maintained at -60C
and 2 of the tanks will operate at
room temperature in a
pressure/vacuum swing
configuration
• All major components and valves
are automated and will be
managed by process control
software
Radon Stripping Equipment
• Atlas Copco GA30+ 30kW water
cooled compressor (180CFM)
• CD110 desiccant drier (-70C
dewpoint)
• Custom built 9kW water cooled
process chiller (-65C operating
temperature, 4.5kW cooling
capacity)
• Air to air heat exchanger for heat
recovery, with a variable bypass to
regulate chiller load and air
temperature
Radon Stripping Equipment
• 5 stainless steel tanks filled with
approx. 200kg each of coconut
carbon
• All control valves are in a custom
insulated cabinet, half of which is
insulated, sealed and kept at -60C
the other half is at room
temperature and purged with low
radon processed air
• Almost all non-welded
connections in the piping system
will be in this 3'x5'x8' cabinet
CCIS Layout
• Process air will feed a sealed
cleanroom in the basement of the
new CCIS building (which will be
completed early 2011)
• A small machine shop will be
installed in the cleanroom for
detector fabrication
• Included will be a CNC mill and
lathe and both horizontal and
vertical bandsaws as well as work
tables and hand tools
• A water purification system
located outside the room will
provide low radon water
Cleanroom Construction
• Cleanroom is a modular design
using mill finish aluminum
extrusions and panels produced
by CleanAir Solutions
• Basic wall panel consists of two
sheets of aluminum sandwiching
an aluminum foil honeycomb
• Walls are 2" thick, ceiling panels
use the same design but are ½"
thick, standard panel size is 4'x10'
• Cleanroom ceiling consists of a top
plenum cap 10' high which
provides the outer air seal and an
8' suspended inner ceiling holding
the lights and HEPA filters
Airlock Prototype
• The outer 5'x10' airlock has been
built as a prototype to test how
well this cleanroom can be sealed
• Doors are hollow aluminum filled
with polyurethane prehung on
welded aluminum frames with
compression seals and additional
dogs to increase clamping force
between the door and frame
• The floor is sealed with a 1cm
thick layer of Precidium 550D a
spray on polyurea industrial floor
coating
Airlock Prototype (2)
• All Al-Al joints, such as wall panel
seams are sealed on both the
inner and outer surfaces using
SikaLastomer 511 butyl caulking
• All seams are then also covered,
on both the inside and outside of
the airlock with a layer of Polyken
360-17 aluminum foil backed butyl
tape, this provides an additional
layer of sealant and also covers
the non-hardening butyl caulking
Monitoring Systems
• All based on electrostatic separation and solid
state detection
• Currently have RAD7 commercial detector,
emanation chamber and tunnel detector
running
• Electronics records up to 24 channels of self
triggered events. Time and energy are
calculated and stored for each event
Radon Monitor: detector head and
preamp box
-HV
Preamplifier and shaping box:
Attached to detector
To DAQ board
Charge
Sensitive
Shaping &
gain
50 ohm coax.
S3204
Radon Monitor: DAQ board
8X3 = 24 channel
Preamp signals
Anti
alias
FADC
Digital Waveform
Processing
FPGA
Trigger output
Real time
Clock
12X3 = 36 channel
slow ADC
Health Monitoring
Micro-controller
USB
AD7417*3
USB
PC (Labview software)
Tunnel Detector
Cross section:
20 cm x 20 cm
Air velocity
~1.8 m/s
16.8 hours: 515 counts
Po214= 31/hour
40.8 hours, 16490 counts= 400/hour
Emanation Chamber
Po210:2.4/hour
Po218(6114
MeV)::75/hour
Po214: 89/hour
Po212: 9.6/hour
60 cm radius, 61 cm high
Volume=0.17 m**3
Po210:1.25/hour
Bi212(6051
MeV)::3.4/hour
Po214: 0.3/hour
Po212: 6/hour
Emanation Rate
N 
E (1  e
 t
)

E  0.01604  332.8/0.013  24=9850 /day
Calibration
Conclusions?
• Radon Monitoring and radon emanation
systems are well advanced and working
reasonably.
• Radon lab is getting into shape and will be
ready and useful in 2011.
• There are lots of pitfalls and snares ...