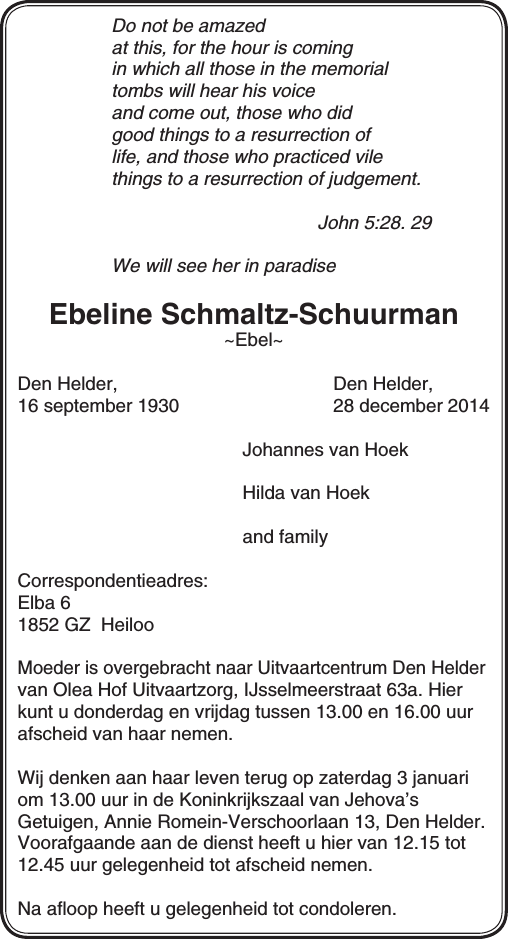 Do not be amazed
at this, for the hour is coming
in which all those in the memorial
tombs will hear his voice
and come out, those who did
good things to a resurrection of
life, and those who practiced vile
things to a resurrection of judgement.
John 5:28. 29
We will see her in paradise
Ebeline Schmaltz-Schuurman
~Ebel~
Den Helder, Den Helder,
16 september 1930
28 december 2014
Johannes van Hoek
Hilda van Hoek
and family
Correspondentieadres:
Elba 6
1852 GZ Heiloo
Moeder is overgebracht naar Uitvaartcentrum Den Helder
van Olea Hof Uitvaartzorg, IJsselmeerstraat 63a. Hier
kunt u donderdag en vrijdag tussen 13.00 en 16.00 uur
afscheid van haar nemen.
Wij denken aan haar leven terug op zaterdag 3 januari
om 13.00 uur in de Koninkrijkszaal van Jehova's
Getuigen, Annie Romein-Verschoorlaan 13, Den Helder.
Voorafgaande aan de dienst heeft u hier van 12.15 tot
12.45 uur gelegenheid tot afscheid nemen.
Na afloop heeft u gelegenheid tot condoleren.