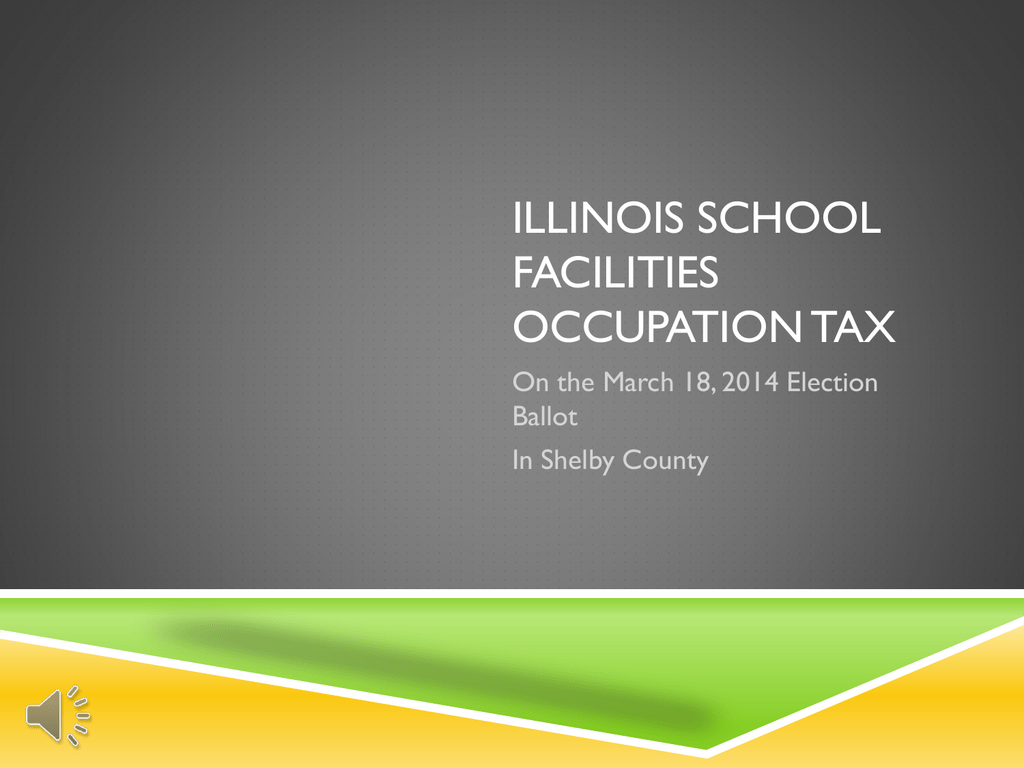 ILLINOIS SCHOOL
FACILITIES
OCCUPATION TAX
On the March 18, 2014 Election
Ballot
In Shelby County
WHAT IS THE SHELBY COUNTY
SCHOOL FACILITY OCCUPATION TAX?
Shelby County has placed on the March 18, 2014
ballot a question requesting implementation of a
1% sales tax for funding to be used exclusively for
school facility purposes.
New approach for Illinois to fund school facility
needs
Allows county voters to approve a sales tax to
fund school facility costs rather than property tax
HOW DID IT GET ON THE BALLOT?
 State law passed in 2007 and amended in 2011
 As a result of resolutions to the Shelby County Board by
School Boards representing more than 51% of the student
residents of Shelby County
 Resolutions were adopted by

Central A & M

Beecher City

Cowden – Herrick

Neoga

Okaw Valley

Pana

Stewardson – Strasburg

Shelbyville
WHAT IS TAXED OR NOT TAXED?
 Tax is imposed on the same general merchandise as state
sales tax with exceptions
 Exceptions Include
 Personal Property that is titled or registered (Cars, Trucks,
Boats, Motorcycles, Trailers, Snowmobiles, RVs, Aircrafts, Etc.)
 Farm Equipment, Parts, and Inputs like fertilizer and seed, etc.
 Unprepared Food intended for home consumption
 Prescription & Non-Prescription Medicines, Drugs, Medical
Supplies
 It doesn't tax anything that isn't currently taxed
WHAT CAN REVENUES BE USED FOR?
 School Facility Purposes
 Ongoing Maintenance, Demolition, Additions, & Renovations
 Land Acquisition, Architectural Planning, Non-Moveable Equipment
 Fire Prevention and Life Safety Projects
 Disabled Access & Security
 New Facilities
 Section 17-2.11 of the School Code
 Abatement of Property Taxes Levied to Pay Bonds Issued for
Capital Purposes
REVENUES MAY NOT BE USED FOR …
Operating Costs, utilities, supplies
Salaries, Benefits
Buses, Trucks, Mowers etc.
Detached Furniture & Fixtures, Computers
Moveable Equipment
WHAT COUNTIES HAVE
PASSED THIS TAX?
18 Counties have already
passed CSFT
10 Counties are considering
placing it on the ballot
Nearby Counties with CSFT:
Macon
Champaign
County where the CSFT
has been passed
Douglas
Christian
County where the
CSFT is being discussed
Spring 2011
Voted Against in Shelby County
47%Yes
53% No
WHAT ARE AREA SALES TAX RATES?
City
Sales Tax Rate (Illinois Base Rate
is 6.25%)
Additional Notes
Bloomington
7.75%
ChampaignUrbana
9.00%
Charleston
6.75%
Decatur
9.00%
CSFT
Effingham
6.5%
7.5% in Business District
Forsyth
8.5%
CSFT
Mattoon
6.75%
7.75% in Business District
Shelbyville
6.25%
7.25% in Business District
Springfield
8.25%
9.25% in Business District
Taylorville
7.00%
CSFT
Tuscola
7.75%
CSFT
CSFT
HOW IS THE MONEY DISBURSED?
 The money follows the students.
 If voter approved the tax would generate slightly over 1
million dollars county-wide.
 The Department of Revenue collects the tax.
 The Regional Office of education disburses the proceeds
to each district in Shelby County based on the number of
students residing in Shelby County.
ESTIMATED REVENUE FOR SCHOOLS
# of
Students in
Shelby Co.
% of total
Shelby Co.
Students
Est. District share
of School Facility
Sales Tax
Beecher City CUSD #20
20
.59%
$6,159
Central A&M CUSD #21
474
14.02%
$145,972
Cowden-Herrick CUSD #3A
347
10.26%
$106,861
1
0.03%
$308
Neoga CUSD #3
142
4.20%
$43,730
Okaw Valley CUSD #302
173
5.12%
$53,277
Pana CUSD #8
217
6.42%
$66,827
Ramsey CUSD #204
4
0.12%
$1,232
Shelbyville CUSD #4
1,276
37.73%
$392,954
361
10.67%
$111,173
Sullivan CUSD #300
1
0.03%
$308
Teutopolis CUSD #50
20
0.59%
$6,159
346
10.23%
$106,553
District Name
Mattoon CUSD #2
Stewardson-Strasburg
Windsor CUSD #1
HOW WILL THE STEWARDSON-STRASBURG
SCHOOL DISTRICT USE THE REVENUE?
 Abate a portion of the revenue back to district tax payers
through lowering tax rate for Bonds and Interest
 Maintain facility and complete updates to increase energy
efficiency
 Tuck point brick
 Replace entrance doors and update security and safety of
building
Michele Lindenmeyer
217-682-3355 ext. 221
[email protected]
QUESTIONS?