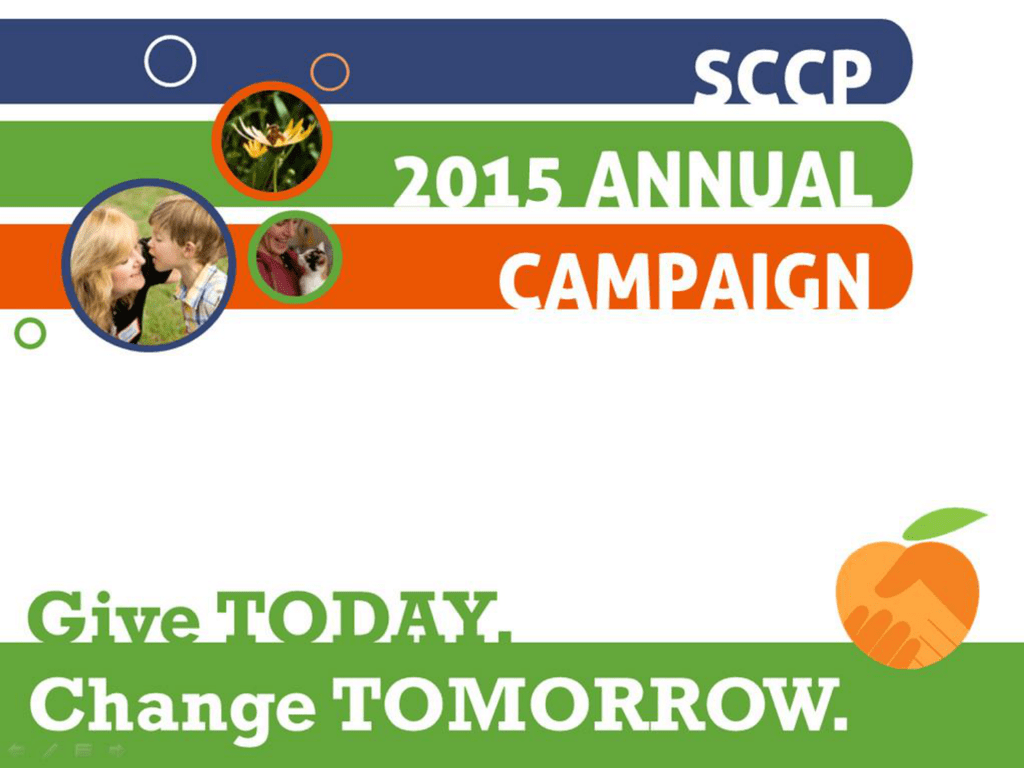 Why give through SCCP?
• State employees raised over $1.4 million
for 2013. Every little bit adds up when
combined with all other state employees
• Payroll deduction makes giving simple
• Charities receive money throughout the
year and can plan the activities accordingly
• It's your choice! Choose 3 ways to give to
any of the over 1,300 charities on our
official listing
STATE CHARITABLE CONTRIBUTIONS PROGRAM
Recently Added Charities
STATE CHARITABLE CONTRIBUTIONS PROGRAM
Action Ministries
STATE CHARITABLE CONTRIBUTIONS PROGRAM
STATE CHARITABLE CONTRIBUTIONS PROGRAM
Atlanta Habitat for Humanity
STATE CHARITABLE CONTRIBUTIONS PROGRAM
Our Mission
Atlanta Habitat for Humanity
partners with working families,
sponsors and communities to
build affordable, green, quality
homes and to provide support
services that promote successful
home purchase and ownership.
Impact
Built over 1,250 energy-efficient
homes, serving over 4,700 family
members in over 160 Atlanta
neighborhoods in our 30-year history
Homebuyer Qualifications
• Be a 1st time homebuyer
• Have a household size of 2-8
people
• Meet income and credit guidelines
• Meet savings requirement
• Be a citizen or legal resident of the
U.S. who has lived or worked in
the City of Atlanta or surrounding
counties for at least 1 year
Homebuyer Requirements & Benefits
• Complete 250 sweat-equity hours
• Attend 12 homeowner education
classes
• 30-year, no-interest mortgage managed
by Atlanta Habitat
• Monthly payment of $550-$650
includes property taxes, pest
control, homeowner's insurance,
and a maintenance savings account
• Save $35,000-$40,000 on the cost of
their home thanks to labor provided by
13,000-14,000 volunteers per year.
How does your donation help?
• Supports our homeowner
education program and
general operating costs,
such as:
•
$25 buys a light fixture for a
home
•
$50 buys exterior
doorknobs for a home
•
$125 buys a tree for the
yard of a home
•
$500 buys paint for an
entire home
Atlanta Pet Rescue &
Adoption
STATE CHARITABLE CONTRIBUTIONS PROGRAM
Atlanta Pet Rescue
&
Adoption
Saving dogs and cats since 2000
APRA'S MISSION
 Atlanta Pet Rescue & Adoption has
saved over 16,500 animals since
2000. We are dedicated to rescuing
and rehabilitating dogs and cats so
they can be adopted to their forever
homes.
 We receive no government funding.
 APRA strives to educate the public
on responsible pet ownership and
the importance of spaying and
neutering your pet. All APRA dogs
and cats are spayed and neutered
before adoption.
SHELTER FACTS
 Did you know that 6-8 million dogs and
cats enter shelters each year in the
United States alone?
 An estimated 2.7 million healthy adoptable animals are
euthanized each year. Each year in the Atlanta area,
approximately 90,000 pets are euthanized each year.
 25% of shelter dogs are purebred.
 Just 21% of owned dogs and cats were adopted from an
animal shelter.
HOW APRA RAISES MONEY
Since we receive no government funding, there are specific ways we raise
money to help keep our operation going.
 Adoption fees, which only cover a
portion of our costs per animal
 Sponsorships, either individual
animals or for an entire dog pen
or cat room for up to one year
 Individual giving
 Special Events
 Corporate Gifts
 Employee Giving, including
matching gifts
APRA FAQS
 We pull 75-80% of our adoptable dogs
and cats from animal control to give
them a second chance at life
 All of our animals are spayed/neutered
and given proper medical care before
adoption
 We educate adopters on responsible pet
ownership
 We adopt out an average of 25 dogs and
cats per week
 We train dogs and enrich the lives of
cats to enhance their shelter stay and
make them more adoptable
VOLUNTEERS
Volunteers help us with so many aspects of our adoption center!









Become a foster parent
Help us open and close the shelter
Be a kitty buddy
Be a dog walker
Train to be an adoption counselor
Help with special events
Join the dog training team
Become a front desk greeter
Deep cleaners to help the animals
stay healthy
Barbara Bush Foundation for
Family Literacy
STATE CHARITABLE CONTRIBUTIONS PROGRAM
Georgia State Charitable Contributions Program
Teresa W. Borcheck
Director of Development
September 18, 2013
www.BarbaraBushFoundation.com
Vision & Mission
Our Vision…100% Literacy in America
First Lady Barbara Bush established the Barbara Bush Foundation for Family Literacy with
one primary goal: Eliminate the intergenerational cycle of illiteracy in America.
For 24 years, the Foundation has funded the start-up or expansion of over 1,200 family
literacy programs, investing $50 million in communities across the United States.
Today, Jeb Bush and Doro Bush Koch serve as Co-Chairs, while Barbara Bush serves as
Honorary Chair and remains actively engaged in our work.
Our Mission…to advocate for and establish literacy as a value in every home
Our Challenge
33 million American adults cannot read. Even worse, America is losing
its place as a world leader in education. According to Harvard University economists,
throughout American history almost every generation has had substantially more education
than that of its parents. Unfortunately that is no longer true, and the economic
ramifications are crippling.
Family Literacy Success Stories
Help Us End Illiteracy
With more than 33 million adults in America who are functionally illiterate – there is a
tremendous need for literacy programs across the nation. There are many ways you can
make a lasting impact on multiple generations of Americans. Even the smallest donation
can make a huge difference in the lives of children and families.
Here are some examples that illustrate the power of your contribution:
•
•
•
•
•
•
$25 pays for one hour of instruction for 10 adult learners in reading or math
$100 provides 25 families with a hot, nutritious meal during class time
$250 builds a home library of books for a family
$1,000 funds one child's preschool tuition for a school year
$2,500 sponsors a family through a literacy program for an entire year
$5,000 grants a Teen Trendsetters Reading Mentor program for a full school year
Ferst Foundation for
Childhood Literacy
STATE CHARITABLE CONTRIBUTIONS PROGRAM
Who we are . . .
• Founded by Robin Ferst in 1999,
mailed our first book in April of 2000
• To date, we have mailed over
3.5 million books
• Currently we have programs in
71 counties and communities across Georgia, and mail more than
25,000 books every month.
• In 2012, Ferst Foundation became a stand-alone literacy initiative and
now two-thirds of our books are published in Georgia.
• In 2012 alone, Ferst Foundation put back more than $800,000 in
Georgia's economy through the administration of its program
Our Program
• Promotes literary by providing books to
children aged birth to five.
• Encourages parents to read to their
children with monthly newsletters and local
activities/events.
• Has positively impacted kindergarten
readiness test scores.
• Costs only $36 per child for a full year (12
books and newsletters).
Best Friends Animal Society
STATE CHARITABLE CONTRIBUTIONS PROGRAM
Best Friends Animal Society
Best Friends Animal Society
Georgia Center for Oncology
Research and Education
STATE CHARITABLE CONTRIBUTIONS PROGRAM
Georgia Center for Oncology
Research and Education
Logan J. Kirsch, MPH, CHES
Community Relations & Development Specialist
September 18, 2013
Mission
Enhance the quality of cancer care in Georgia through
research and education.
Vision
Georgia CORE will drive improvements in cancer outcomes,
contributing measurably to the state's distinction as a national
leader in cancer care and research and to better health for
Georgians.
Key Programs & Results
• State-wide Research Network
• 29 affiliates provide care to 67% of newly diagnosed cancer patients
• Clinical trial availability doubled between 2008 and 2012
• ~25% minority accrual
• GeorgiaCancerInfo.org
• Profiles of treatment sites and physicians, clinical trials, and resources
• Currently over 580 clinical trials and 780 oncologists
• Nearly 2,500 unique visitors each month
Key Programs & Results
• Georgia Breast Cancer Genomic Consortium
• Genetic risk assessment of HBOC for high risk, minority women
• B-RST online screening tool
• 1,591 women screened in 6 public health departments representing 24
of Georgia's 159 counties
• More than 75% identify as racial/ethnic minorities
• Cancer Patient Navigation & Survivorship
• Cancer Patient Navigators of Georgia
• Cancer Survivorship Center
H.E.A.T. – Heating Energy
Assistance Team
STATE CHARITABLE CONTRIBUTIONS PROGRAM
H.E.A.T. Overview
Helping low-income Georgians
meet their energy needs
H.E.A.T. Overview
What is the Heating Energy Assistance Team (H.E.A.T.)?
H.E.A.T. is a 501 (c) (3) nonprofit organization that
provides energy assistance for Georgians in need
Began as a program of Atlanta Gas Light Company in 1983
Established as a nonprofit in 2000
H.E.A.T. Overview
Program Advantages
Oldest fuel fund in the state
Only fuel fund to partner with the State of Georgia
Provides only energy assistance
Statewide – available to every county in Georgia
Helps with energy costs regardless of the energy source –
natural gas, electricity, propane, wood, coal, oil, or other
H.E.A.T. Overview
Getting Assistance
Funds distributed by the Georgia Department of Human
Services (DHS) through local Community Action Agencies
Applicants must meet eligibility requirements
Qualified households may apply at agency that serves their
county
More Information:
Visit www.heatga.org or call 678-406-0212
Call DHS information and referral line at 1-877-423-4746
H.E.A.T. Success Story
Mildred Peeks
"I never used to think about how contributions to programs like H.E.A.T.
help so many people," she says. "But when I became disabled, I
understood more than ever the importance of putting myself in other
people's shoes. You have to give help when you can, and you have to ask
for help when you need it."
Jay's HOPE
STATE CHARITABLE CONTRIBUTIONS PROGRAM
Providing DIRECT support to children with cancer and their
families in Georgia.
Jay's HOPE
And The Bowen Story Fund
HOPE in Action
Gas Cards and Travel
Assistance
Hot Meals and A Face of
Experience
Give HOPE
KiDsGyM USA
STATE CHARITABLE CONTRIBUTIONS PROGRAM
Other New Charities:
Fort Valley State University Foundation
Georgia Radio Reading Service
Habitat for Humanity – DeKalb
Hephzibah Ministries
Reach Out and Read Georgia
University of West Georgia Foundation
Woodruff Center
STATE CHARITABLE CONTRIBUTIONS PROGRAM
GASCCP
Touching lives and improving
communities across the
state.
STATE CHARITABLE CONTRIBUTIONS PROGRAM
Hemophilia of Georgia's Camp Wannaklot giving children
with blood disorders an opportunity to meet others who
share their struggles. - July 2013
Will-A-Way playground build with Foresters and
KaBOOM! to create an accessible playground for all
their campers. - June 2013
Juvenile Diabetes Research Foundation's Atlanta Walk to
Cure Diabetes will be held October 19, 2013
The United Methodist Children's Home celebrated 13
graduates in 2013 including two who won college
scholarships.
Bikers Battling Breast Cancer – 7th Annual Ride, October
2012. The 8th Annual Ride will be October 12, 2013.
In March 2013, a new playground at the
Marcus Autism Center opened to
provide safe play for children at the
center.
Adopted out
over 10,000
dogs and cats
in 2012.
Distributed over 37 million pounds of food or grocery items
to over 600 direct service partners in the 29 metro Atlanta
and north Georgia counties.
Hosts rain barrel workshops to promote
preservation of the watershed with barrels
donated by Coca-Cola.
For 2013, 37 UNCF/Merck Science
Initiative fellowships were
awarded for undergrad, graduate
and postdoctoral students.
$225,000 was given out in
2012 for families of
Georgia National Guard
soldiers.
"Generosity consists not in the sum given, but
the manner in which it is bestowed."
Mahatma Gandhi
Give online at:
www.gasccp.org/
Or ask your local coordinator
about giving options.
Thank YOU!
Give TODAY. Change TOMORROW.