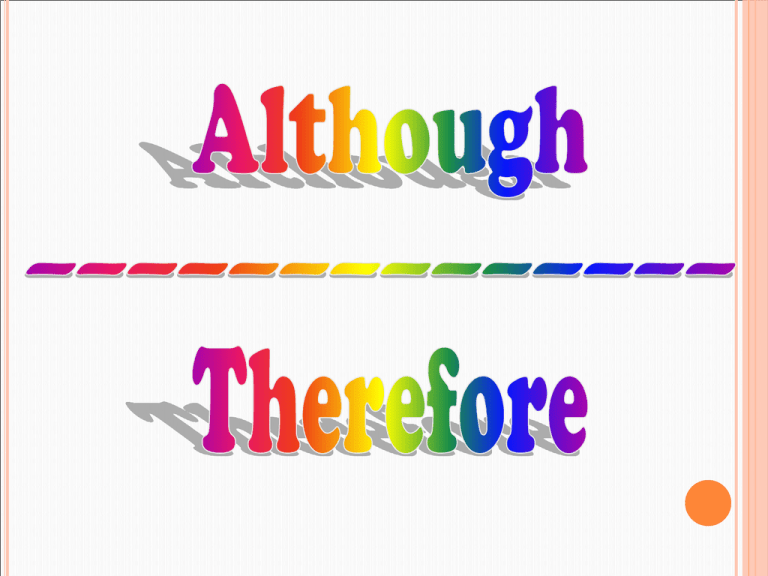 ALTHOUGH
 'Although'
is a subordinate conjunction.
 'Although' is usually placed at the
beginning of the clause.
 We use 'although' to add something
rather surprising or unusual about what
we are saying.
Although they are poor, they are happy.
Although it was so cold, he went out
without an overcoat.
THEREFORE
 'Therefore'
is a connecting adverb.
 It can be used instead of 'so' in formal
English.
 'Therefore' may be placed at the
beginning and in the middle of a clause.
 We use 'therefore' to show that there
is a cause-and-effect relationship
between the ideas expressed in the
sentence.
He did not study for the exam.
Therefore he failed.
It is hot. Therefore we turn on the fan.
The bed is soft. Therefore we sleep comfortably.
Fill in the blanks
with 'although' or
'therefore'.
1. People grow more bamboos.
Therefore pandas have
__________
enough food to eat.
2. People cut down a lot of
Therefore monkeys
trees. __________
lose their homes.
Although
3. __________
some sharks
look dangerous, they
are not cruel.
Although
4. __________
penguins
have long wings,
they cannot fly.
Although
__________
wild animals make unusual pets, we
shouldn't keep them in flats.
Although
__________these
animals may be cute when they are young, they
grow to be large and fierce.
Moreover, many of these animals may become sad
and ill when they are kept in small cages because
they
need
large
space
to
run
and
play.
Therefore these animals are taken from their
__________
owners to the Wild Animal Rescue Centre in
Kadoorie Farm.
Although most of the wild animals are released
__________
back into the wild,
they cannot find food for
Therefore they have to stay at the
themselves. __________
farm.