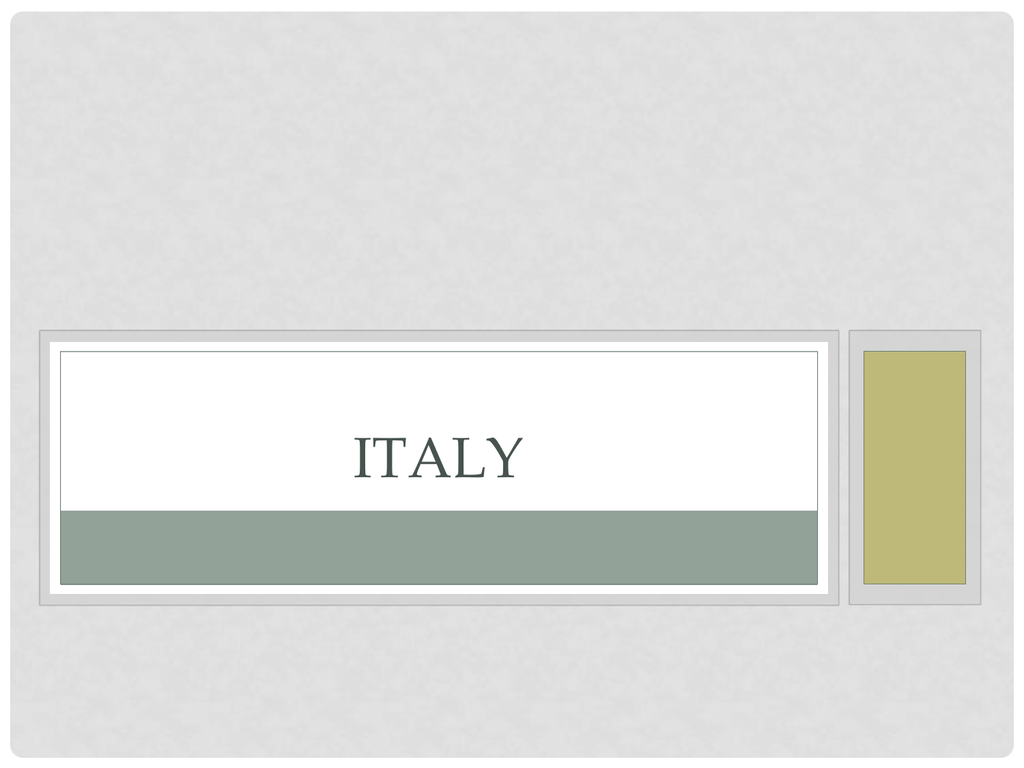 ITALY
THE REGIONS OF ITALY
• Italy has 20 states/regions.
• Each region had its own
government, language,
culture, and cuisine.
• Each region has its own
pasta, oil/fat, sauce.
• In 1861 the regions unified
GEOGRAPHY OF ITALY
• Many islands
• Boot-shaped peninsula.
• Mountains: Alps in the
north & the Apennines in
the south.
• In between each
mountain range is the Po
Valley.
• North: fertile
• South: dry
STAPLE FOODS
• Olive oil
• Tomatoes
• Garlic
• Seafood
• Whole grains/rice
• Pasta
• Beans
• Dark leafy greens
• Meat
Each region has a specific
style of food
MEAL TIMES
• Main meal is at 1 PM
• Primo – soup, risotto, or
pasta
• Secondo – fish, meat or
veg based main
course + vegetables +
bread
Small servings
TABLE MANNERS
Formal meal
Antipasto
Soup
Pasta
Main dish
Salad
Cheese
Dessert
Fruit
Espresso/drinks
• Begin eating "BuÒn appetito!"
• Knife in right hand, fork in left
hand.
• Keep hands visible above the
table.
• No elbows
• Do not slurp pasta
• Do not conduct business while
eating
• Bread is for dipping in sauce,
not an appetizer
YEAST
• A non-green plant
• Leavening agent (makes
things rise)
• Sugar: feeds the yeast, adds
flavor
• Liquid: activates gluten
formation
• 105˚ - 115˚
• Too hot = kills yeast
• Too cold = won't activate yeast
YEAST BREADS
Yeast breads usually have to rise twice before
baking:
• 1st time = after mixing
• 2nd time = after shaping
• Dough can be placed in the refrigerator
to slow rising time.