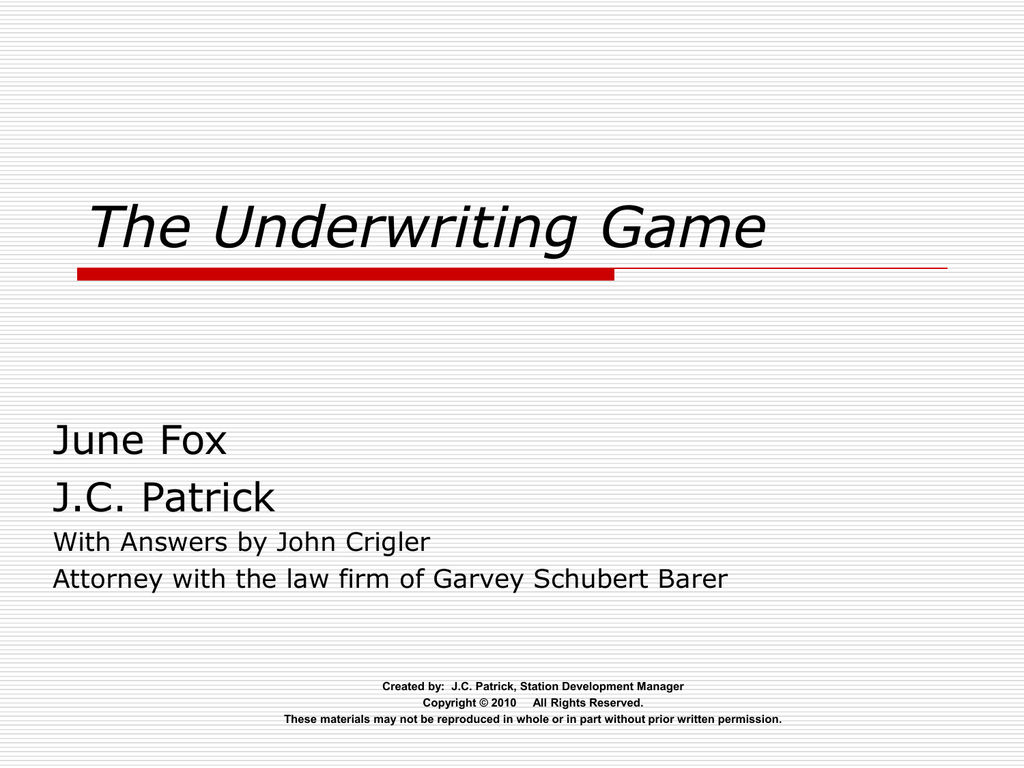 The Underwriting Game
June Fox
J.C. Patrick
With Answers by John Crigler
Attorney with the law firm of Garvey Schubert Barer
Created by: J.C. Patrick, Station Development Manager
Copyright © 2010 All Rights Reserved.
These materials may not be reproduced in whole or in part without prior written permission.
What is a sponsorship credit?
It's the legal requirement by the
FCC to identify a program funder
What you CAN say in a credit:
Name of funder
Location and direction information
Phone number, web address
Slogans that identify but do not promote
Value-neutral descriptions of services or
products
 Brand/trade names, product/service listings
(no more than 3 per credit)





What you CANNOT say:
 Qualitative or promotional language
 Calls to action
 Price references – including types of
credit cards accepted or interest rates
offered
 Inducements to buy, sell, rent, lease
 No secondary sponsorships
 No awards or prizes
How long should a credit be?
 No FCC rule about this
 Standard is :10 - :20
 1992 – FCC warning - longer credits
are more likely to be promotional
 2001 – FCC noted that credits over
:30 appear "excessive"
Our programming is supported by our
contributing listeners and by…………..
Albright, Carson and Jones, formerly
Albright and Sons. We've changed our
name, but our expertise in construction
and real estate law remains the same.
Our attorneys provide practical legal
solutions -- understanding your business
is our business. More information at
alcarjo.com.
John says…
 The Albright boys are entitled to no professional
courtesy. Their claim of "expertise" has to go, as
does the guarantee to provide "practical legal
solutions," and their promise to understand their
clients' business.
Our programming is supported by our
contributing listeners and by…………..
 Dave Carson State Farm Insurance
Agency, with our annual back-to-school
drawing for a new laptop computer. Entry
forms can be found in our office at 495
Canal Street before August 10. Dave
Carson and State Farm Insurance have
been serving New Orleans for over 40
years.
John says…
 It's unclear whether the back-to-school drawing is
an illegal lottery open only to Dave Carson
customers, but it seems clear that it is an
"inducement" to patronize the agency since the only
way to enter is to pick up entry forms at the Carson
office.
Our programming is supported by our
contributing listeners and by…………..
 Home Depot, donating 5% of every
purchase to Habitat for Humanity, for
those whose lives were affected by
Hurricane Ike. Home Depot offers a
complete line of hurricane preparedness
supplies. To download the 2010 hurricane
checklist or to find out how you can
contribute to the Habitat fund, go to
homedepot.com.
John says…
 The road to underwriting hell may be paved with the
philanthropic as well as the commercial intentions of
underwriters. Home Depot's intentions are mixed.
On one hand, it wants to benefit Habitat for Humanity
and hurricane victims. On the other, it wants to
peddle "preparedness supplies." The FCC would
regard donations that are linked to purchases as an
inducement to buy.
Our programming is supported by our
contributing listeners and by…………….
 Whole Foods, 5600 Magazine, presenting a
seasonal tasting, Wednesday, November
9th from 6-8pm. Holiday fare, including
hormone-free turkey, will be served.
Holiday and seasonal items are available for
pre-order. For more information, 504-8999119, or Whole-Foods-Market DOT COM
John says…
 Free hormone-free turkey may not sound particularly
appetizing, but the purpose of this announcement
seems to be to whip up advance orders for
Thanksgiving. An argument can be made that
"tastings" are now an essential part of what grocery
stores offer, and this announcement could be toned
down to make it a description of a regular service,
rather than a hormone-stuffed inducement to buy.
Our programming is supported by our
contributing listeners and by…………..
 The Commander's Palace. The staff and
management of Commander's Palace wish
our customers and the Bayou City a safe
and joyful holiday season. Commander's
Palace will be serving a holiday buffet until
6pm on Christmas Eve. For reservations,
(504) 899-8221.
John says…
 Would the FCC fine you for wishing listeners Merry
Christmas? Nah, probably not. The ambiguity is
that seasonal greetings aren't a description of the
underwriter's business. The FCC has, in fact,
entertained complaints about such announcements,
although it has dismissed those complaints when the
greetings are innocuous.
Our programming is supported by our
contributing listeners and by…………..
 Ann's Coffee Klatch, featuring Caribbean
Blend, a dark roasted Jamaican brew
flavored with spices; Maui Moonbeams, a
blend of three organic shade-grown
coffees; and Carmen Miranda, a coffee
created with summer fruits. A Garden
District landmark for 20 years, Ann's offers
complimentary wi-fi connections.
John says…
 This announcement goes down smooth until the last
sentence. The details about different coffees can be
defended, as well as the description of the business
as a "landmark," but the free wireless connections
are over the top.
Our programming is supported by our
contributing listeners and by…………..
 Riverwalk Marketplace, newly re-opened
for business…shopping, dining,
entertainment and fun, on the banks of
the Mississippi River. Employment
opportunities can be found at
newriverwalk.com
John says…
 It's debatable whether anyone except a comedian is
in the business of "fun," and a more descriptive term
would be advisable, but the bigger problem with this
spot is the job listing. FCC staff have informally
opined that recruitment announcements are
"inconsistent with the identification only purpose of
underwriting acknowledgements."
Our programming is supported by our
contributing listeners and by…………..
 Preservation Hall, the landmark for jazz in
New Orleans. Special host for this Friday's
Open Mic night is KZZZ announcer Paul
Brown. Doors open at 8pm, the show
begins at 9. Tickets available at Barnes &
Noble, Ticketmaster, and Tower Records.
For more information, 504-522-2841.
John says…
 In order to comply with sponsorship identification
requirements, an underwriting announcement must
identify the underwriter, but may it identify anyone
else? There are no FCC rulings on this point, but a
staff memo frowns on announcements that refer to
any for-profit that did not pay for the announcement.
The safe course is to delete the references to Barnes
& Noble, Ticketmaster and Tower Records.
Our programming is supported by our
contributing listeners and by…………..
 Riverpoint Church, welcoming visitors of
all faiths. Riverpoint teaches a faith based
in scripture and discipleship, with the
belief that the Bible is the direct word of
God. Riverpoint Church, 1710 Azalea
Lane.
John says…
 Section 399 of the Communications Act prohibits
noncommercial stations from accepting
consideration in exchange for expressing a "view"
with respect to any issue of public importance or
interest. Because there are no cases applying this
standard, it is difficult to draw the line between a
"view" and a statement of mission or belief. A
reasonable rule to thumb is whether the
announcement advocates or merely describes the
mission. This announcement passes the description
test. It does not proselytize.
Our programming is supported by our
contributing listeners and by…………..
 Reliant Energy. Beautiful blonde with foul
breath and excessive body hair seeks
short-term love affair with no strings. Must
enjoy long walks, wet kisses, and posses a
playful spirit. This kind of excitement is
available to temporary foster parents for a
homeless pet. More information about
volunteering for the Humane Society's
foster parent program is available online at
www.humane.org.
John says…
 It's difficult, but not necessarily illegal to
write clever underwriting announcements.
The real issues with the announcement
are not that it is funny, but that a forprofit (Reliant Energy) wishes to air as a
paid PSA on behalf of a nonprofit (the
Humane Society). If the Humane Society
were the underwriter, the announcement
would not violate FCC rules.
Our programming is supported by our
contributing listeners and by…………..
 Channel 2, KPRC-TV. Tonight at 10, Local
2 features "Freeway Fear" - interviews
with victims of freeway road rage. Frank
Billingsley keeps you up to date on the
"trouble in the tropics". News updates on
click2houston.com.
John says…
 OK. News features are what TV news programs
have to offer.
Our programming is supported by our
contributing listeners and by…………..
 Christian Brothers Automotive, a brand
new underwriter here on KZZZ. Christian
Brothers specializes in European and
Japanese automobiles. Located at 1444
Grand Parkway. For more information,
281-494-6810.
John says…
 "Brand New" sounds like qualitative or comparative
language, but the comparison is to other
underwriters not to competing car dealers.
"Specializes" can imply expertise ("a patent law
specialist," e.g.) or price (" blue plate special," e.g.),
but here the term seems only to describe type of
services offered.
Our programming is supported by our
contributing listeners and by…………..
 the Texas State Lottery, supporting public
education in Texas. Total transfers to the
state equal more than $13.5 billion to
date. To learn more about this program,
click on txlottery.org. The new Lotto
Texas game begins August 1.
John says…
 FCC rules don't prevent noncommercial stations
from promoting other nonprofits, but IRS rules
make the revenue from promotional announcements
for anyone except the nonprofit entity itself subject
to unrelated business income tax. The IRS isn't
bound by FCC precedent, and there are no published
FCC decisions that approve the use of imperative
language in underwriting announcements so
consider eliminating the call to action ("click on").
Our programming is supported by our
contributing listeners and by…………..
 Louis Shanks Furniture and Interiors,
more than just a furniture store. From
floral and fine furniture to custom
windows and bedding, they have the
knowledge and the resources to make
your home a reflection of you. Located
at Sugar Creek Center. Louis Shanks,
making your home your favorite place to
be.
John says…
 Shanks may be more than just a furniture store, but
this is more than just an underwriting
announcement. The claim to have the "knowledge
and resources" to make your home your home is
qualitative language designed to distinguish Shanks
from its competitors. The last line sounds more like
a guarantee of satisfaction than a non-promotional
logo.
Our programming is supported by our
contributing listeners and by…………..
 morticiasmorgue.com, your source for all
things Anne Rice and voodoo in New
Orleans. Morticia's Morgue features links to
the official Anne Rice homepage, Vampire's
Junction, Vampire's Coven, NOLA Goth, and
New Orleans cemetery and voodoo web
links, plus a listing of shops catering to the
occult. Morticiasmorgue.com
John says…
 The FCC has yet to consider websites as
underwriters, so we don't know whether links to
other sites are considered services, or are
considered references to other for-profits who could
be mistaken for underwriters. Are you confused?
Thanks so much to John
Crigler for lending his
expertise in absentia.
He'd have been even more clever
had he been here in person!