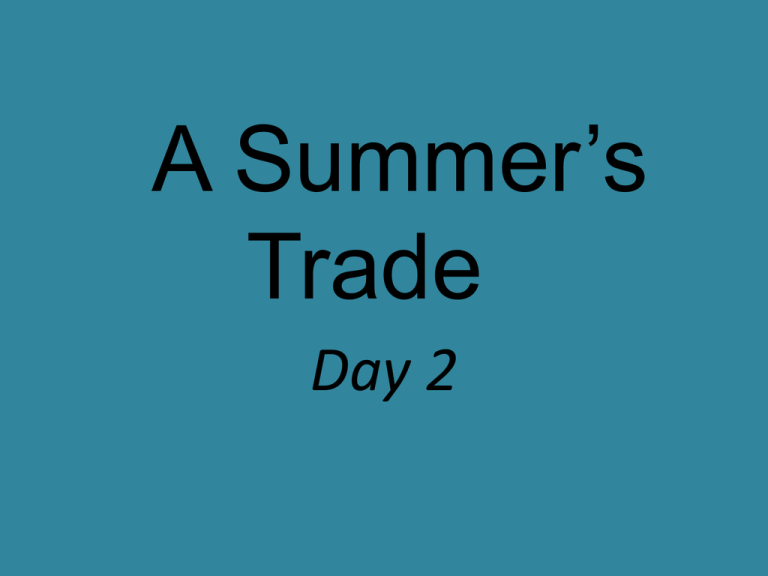 A Summer's
Trade
Day 2
Why do people make
sacrifices for others?
• Do people need to be committed to a
cause in order to make sacrifices?
• Have you ever donated your time or effort
to help underprivileged people?
• What are the consequences of making
sacrifices for others?
Charitable- ready to help or support
The wealthy man was extremely charitable and
used his money to help others.
Gratifying- when something is gratifying, it gives
someone pleasure or satisfaction
It was gratifying to organize the food drive after
the flood.
English Word
Tourist
Ranch
Rodeo
Stampede
Spanish Word
Rodear
Estampida
Turista
rancho
Literary Terms
We are going to need our books now.
1-5
6-10
11-15
16-20
21-26
Literary Terms
Point of View
• Almost all stories are told either in firstperson or third-person points of view
• When a story is told from a third-person
point of view, the narrator is not a
character in the story
Conflict
• By looking for the conflict in the story, I
can understand the story better. If I look at
"At the Navajo Nation Fair," I see that Ami,
the narrator, has a conflict.
• Her grandchildren want to go to the fair,
but she wants to stay home.
• What evidence from the story foreshadows
how it might end?
Unfamiliar words
• Let's read "At the Navajo Nation Fair" on
page 263
• The word hogan is new to me. I don't want
to stop reading to look it up in the
dictionary, so I'll try to figure out what it
means by looking for context clues in the
text around the word.
Unfamiliar words
• Right after the word hogan, I see the
words where I lived. I know people live in
houses, so I can figure that a hogan is a
type of house.
• Hogan-shelter used by native americans
• Jostled-to be bumped
TEACH YOUR PARTNER THESE WORDS.
• Mesa-flat topped landform
• Navajo-a tribe of Native Americans
TEACH YOUR PARTNER THESE WORDS.
• Bandana-a handkerchief, usually with a
pattern on it
• Bracelet- jewelry worn on the wrist
TEACH YOUR PARTNER THESE WORDS.
• Turquoise-a bluish-green stone
TEACH YOUR PARTNER THIS WORD
• A verb phrase tells when when action
takes place.
• The helping verb is, are, do, does, has,
and have show present time.
• The helping verb was, were, did, and had
show past time.
Final syllables –en, -an, -el, -le,
-il
Lets take a look at our
Daily Fix it
Personal narrative :
When writing, you will want to include:
Who?
What?
When?
Where?
Why?