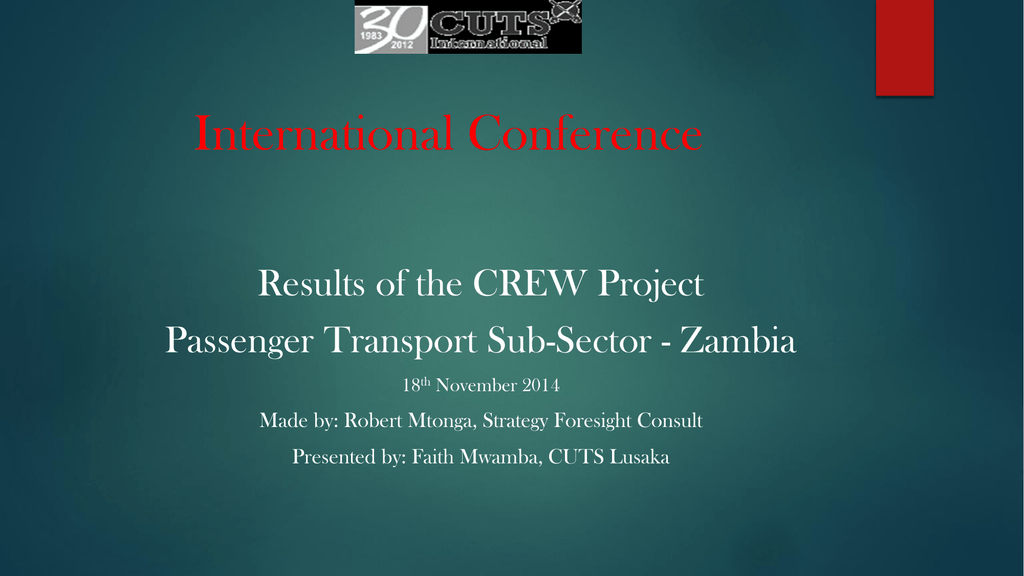 International Conference
Results of the CREW Project
Passenger Transport Sub-Sector - Zambia
18th November 2014
Made by: Robert Mtonga, Strategy Foresight Consult
Presented by: Faith Mwamba, CUTS Lusaka
Passenger Transport Services
.
Focus of Study
1.
2.
3.
4.
5.
Identify scope of competition reforms in each of the identified sectors and
institutions which are responsible in managing different elements of
competition reforms namely policies, regulations and sector programmes;
Evaluate ability of these institutions in carrying out the competition reform
processes effectively and highlighting successes and failures;
Identify problems that exist for consumers and producers in the two sectors
especially from a welfare perspective and highlighting possible causes
through stakeholder perception or feedback;
Highlight factors that have direct influence on such problems pertaining to
consumer and producer benefits and welfare; and
Assess how addressing these factors can help enhance benefits for
consumers and producers and estimating how much benefits are achieved.
.
Focus of Study
1.
2.
3.
4.
5.
6.
Transport Liberalisation Policy;
Road Traffic Regulations;
Transport Infrastructure;
Producer Perceptions;
Consumer Perceptions; and
Structure of Competition.
.
Methods of Data Collection Used
Literature Review;
2. Secondary Data Collection;
3. Focus Group Discussions; and
4. Perception Survey.
1.
.Transport Liberalisation Policy
1.
2.
3.
4.
5.
6.
7.
Liberalised the Transport Market;
Provided for an effective regulatory and enforcement
system;
Provided
for
appropriate
passenger
transport
infrastructure;
Provided for safe use of vehicles on public roads;
Emphasised quality consumer service delivery by
producers;
Promoted quality licencing (and issuance of permits),
roadworthiness of vehicles and avoid overloading; and
Emphasised competitiveness of indigenous producers on
the market.
.
Notable Areas of the Transport Policy
1.
2.
3.
4.
Mechanism of Procuring Buses is Open (However, Bus must
meet Pre-Shipment Inspection Criteria set by ZABS);
The new Government Guaranteed the purchase of 2,000 Buses
by Public and Private Drivers Association of Zambia (PPDAZ)
under the Development Bank of Zambia (DBZ) Scheme to run
for 5 years at 2% interest per annum (However, not all buses have
been delivered);
Zambia does not operate a specific route allocation system.
Operators are free to operate on any route even though restriction
is based on type and quality of bus at intra-city and inter-city level;
The Policy pronounces fares being determined by 'market forces'.
However, the MTWSC – in practice – controls fare settings.
.
Process of Setting Fares
Process of Setting Fares
1.
Though the fare setting process in Zambia is expected to be determined by market
forces, in practice, it is regulated by the GRZ. There is however no criteria that the
GRZ uses to determine justification of bus fare revision other than the perceived
barometer of the consumers anticipated reaction;
. Previous requests by producers to revise bus fares have been necessitated by change in
2.
fuel prices and deteriorating exchange rate of the Zambian Kwacha (ZMW) against
major foreign currencies;
3.
Producers rarely apply the pricing model which includes all production costs plus a
profit margin. As a result, most producers do not know the real profit margins of the
market but are aware of turn-over because they have set 'cashing fee' for the driver;
4.
Producers are likely to propose a hire increment and a lower reduction than they are
aiming to achieve in order to hedge against pressure on proposed revision by
negotiating consumer pressure groups and the GRZ;
5.
CCPC relents that it has not participated in the stakeholders meeting to revise bus fares
since 2009. RTSA acknowledged the oversight that CCPC has not been involved and
has since assured that CCPC will be involved in the process henceforth;
6.
It is therefore recommended that CCPC must be involved in the bus fare setting or
revision process. It is further recommended that CUTS must proactively request to
participate in the bus fare setting or revision process;
.
Weaknesses of the Transport Policy
1.
2.
3.
4.
Even though the Policy is currently undergoing review, its
lifespan has not been defined and has thus existed in
perpetuity;
The Policy has lacked Key Performance Indicators (KPIs)
to measure performance and achievement of its Objectives;
Even though it may be taken as an administrative strategy,
the Policy has not provided for a Principle – Agency
Service Level Agreement (SLA) with implementing
agencies like RTSA. Therefore, no-one is expressly
accountable for failure to achieve stated Policy Objectives;
and
The Policy does not have an existing M&E System.
.
Road Traffic Regulations
The Regulatory Scope or Framework has
been focused on the following: -
Industry Entry (and Exit);
2. Promoting
Competition
Discouraging Monopoly; and
3. Setting Standards for Road Safety.
1.
and
.Promoting Competition
The dual fare setting process begs the question 'is the market
liberalised or controlled?'
It was observed that collaboration between RTSA and CCPC in
promoting competition is disjointed. There is need for the two
regulatory bodies to collaborate.
CUTS must also develop interest in participating in public
sittings during which RSLs are issued to producers and speed
against producers who contravene.
.Setting Standards of Road Safety
The terms and conditions for issuance of Road Service Licences
(RSLs) require producers to meet certain minimum safety
requirements. For example, the qualification to be issued with
an operators' licence include: 1.
2.
Possession of atleast third party insurance certificate; and
Installation of a speed control gadget that can limit speed
for passenger services to 100km/h on inter-city routes and
60km/h for intra-city routes.
.
Transport Infrastructure (Inter-City)
RDA has done a commendable job with respect to the following
road projects: 1.
2.
Link Zambia 8000 Project; and
Urban Roads Development like L400.
Bus Stations (and Bus Stops) are the responsibility of Local Authorities (LAs).
.
Transport Infrastructure (Intra-City)
Due to financial constraints, LAs have had challenges
developing Bus Stations (and Bus Stops) and related
infrastructure.
They have not made use of the PPP Initiative to build
necessary infrastructure for passenger transport services.