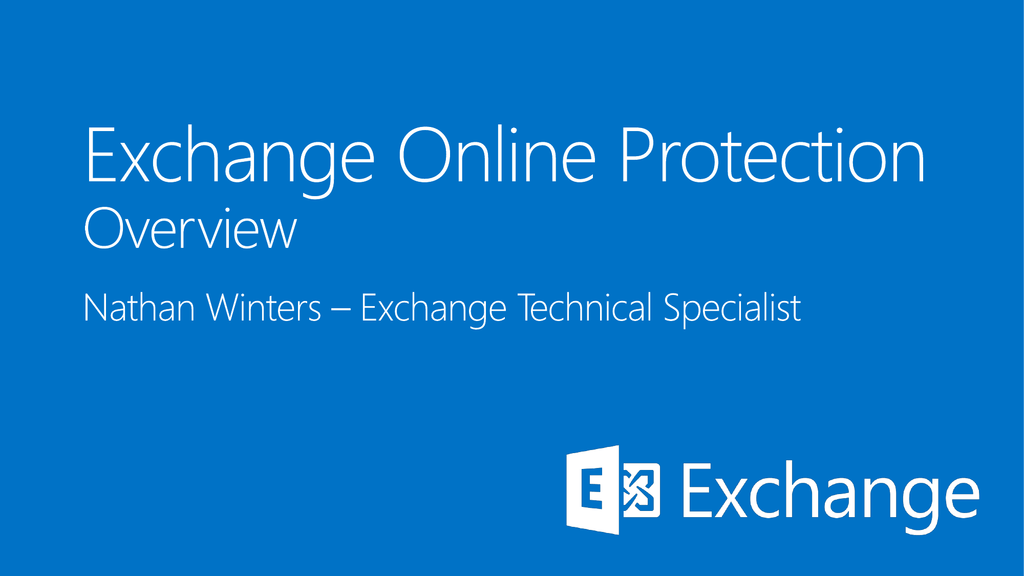 Next generation of Forefront Online Protection for Exchange (FOPE)
Comprehensive protection
Enterprise class reliability
Streamlined administration console
On-premises
Office 365 Directory Sync
ADFS (optional)
Single sign on
Existing email
environment
Exchange Online
Protection
Bulk Mail control
Mark all bulk messages as spam
Block external threats quickly
Advanced fingerprinting technologies that
identify and stop new spam and phishing
vectors in real time.
Block email based on language
Block email based on geography
Block unwanted email
based on language or
geographic origin
Recommendation: Send
suspected junk mail to the
Outlook junk mail folder.
Users can manage safe senders
and block lists through Drectory
Sync or through Outlook.
Spam quarantine
managed by
administrators.
Users safe
senders and block
lists applied
through Directory
Sync.
Coming soon: Users can receive spam notifications on a schedule.
Outlook Junk Mail Reporting Tool for
missed spam
http://www.microsoft.com/enus/download/details.aspx?id=18275
Send spam email as an attachment to
[email protected]
Send false positive messages to
[email protected]
Spam Analysts
Customer
Feedback
Email is routed to EOP DC based on MX
record resolution
(Contoso-com.mail.protection.outlook.com)
IP-based edge
blocks
Virus
Scanning
Envelope blocks
Multiple AV
Engines
Policy Enforcement
SPAM Protection
False Positives
and
False Negatives
Safe Sender/Recipient
Custom Rules
Content scanning and
Heuristics
SPF & Sender ID Filter
Bulk Mail filtering
International Spam
EOP Network
Quarantine
Advanced SPAM
management
Corporate Network
Outbound Pool
Outbound Pool
Outbound Pool
Corporate Network
Virus
Scanning
Policy Enforcement
SPAM Protection
Low Score
Bulk Delivery Pool
Multiple AV
Engines
Custom Rules
Content scanning and
Heuristics
Bulk Mail
Advanced SPAM
management
High Score
High Risk Delivery
Pool
Spam Analysts
EOP Network
Quarantine
Internet
Delete messages
Delete attachments
Robust, customizable
notifications
Sender notifications
Admin notifications
Conditions
Actions
Built on Exchange
transport rules engine
Conditions
Actions
Exceptions
Exceptions
EOP
FOPE
Administration
Console
Console with similar look/feel to Exchange 2013
and Office 365
Specific FOPE Console with
different look/feel.
Policy Rules
Flexible rules based on Exchange Transport Rules
engine with attachment scanning
FOPE specific policy rules
RegEx
.Net RegEx Engine
Basic RegEx
Regional Routing
EU and US routing
US Only
Intelligent Routing
Criteria Based Routing
Virtual Domains
Reporting
Detailed online reports and downloadable excel
workbook
Online reports only
Spam management
Granular spam management including bulk mail
and international spam blocking
Granular spam management
Malware
Multi-engine anti-malware scanning with
attachment blocking
Multi-engine anti-malware
scanning
Quarantine
Admin Only (at GA)
End-User and Admin Access
Available with the current version
of Office 365
Migration from FOPE
Protect communications
Enforce policy
Streamlined management
All statements in this report attributable to Gartner represent Microsoft
interpretation of data, research opinion or viewpoints published as part
of a syndicated subscription service by Gartner, Inc., and have not been
reviewed by Gartner. Each Gartner publication speaks as of its original
publication date (and not as of the date of this presentation). The
opinions expressed in Gartner publications are not representations of
fact, and are subject to change without notice.