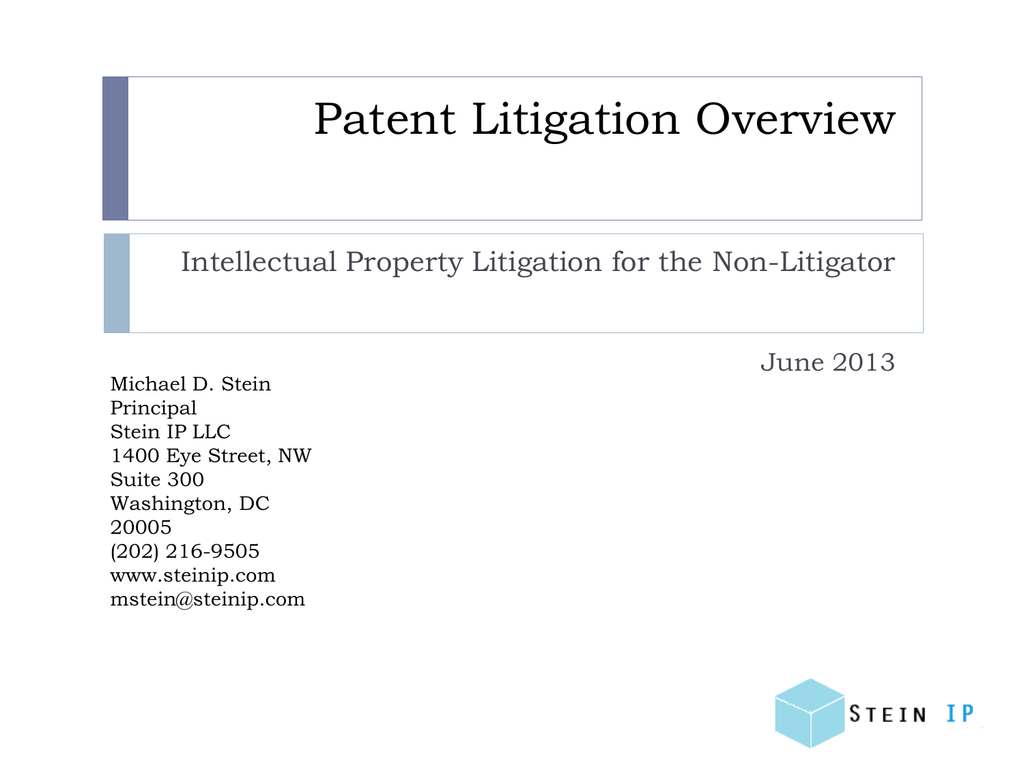 Patent Litigation Overview
Intellectual Property Litigation for the Non-Litigator
Michael D. Stein
Principal
Stein IP LLC
1400 Eye Street, NW
Suite 300
Washington, DC
20005
(202) 216-9505
www.steinip.com
[email protected]
June 2013
Table of Contents
Overview ....................................................................................................................
Pre-filing Considerations …………..............................................................................
Suit Attacking Intellectual Property .............................................................................
Filing the Suit..............................................................................................................
Responding to the Complaint......................................................................................
Other Procedural and Pretrial Issues .........................................................................
Remedies....................................................................................................................
1
2
3
16
18
20
21
28
Overview

Pre-Filing Considerations

Suit Attacking IP

Filing the Suit

Responding to the Complaint

Remedies
2
Pre-filing Considerations
 Patent:

Issued U.S. Patent.



Can only sue in federal court to stop
infringement, seek damages, or seek a declaration
on non-infringement/invalidity


3
Cannot sue until issues
Can recover damages (possibly) for preissue
publication, but only when issues
Also USPTO proceedings for invalidity
Also ITC for purely injunctions
Pre-filing Considerations (cont.)
Cost Considerations


Need to do a cost/benefit analysis


What are expected litigation costs for litigation versus expected
remedies and outcome.
AIPLA Report of the Economy Survey 2011

Median costs with $1 million to $25 million at risk:



Median costs with $25 million or more at risk:


4
to end of discovery: $1.5 million;
to judgment: $2.5 million total.
to end of discovery: $3 million;
to judgment: $5 million total.
Pre-filing Considerations (cont.)

Pre-filing investigations for infringement

How much investigation is enough?

Whatever is reasonable under the circumstances



5
Is reverse engineering possible?
What is available publically?
See Performing A Pre-Filing Investigation When Samples Are Not Available
Pre-filing Considerations (cont.)
Pre-filing investigations need to account for invalidity issues


Especially since attempting to enforce patents known to be invalid can
be an antitrust violation

Walker Process Equipment Inc. v. Food Machinery and Chemical Corp., 382
U.S. 172 (1965)

Patent owner had sworn to the patent office that the claimed invention had
not been in public use




6
The patent owner had known this was false at the time.
Patent owner sued to enforce the resulting patent,
Supreme Court found that, by knowing of the fraud and attempting to enforce the
invalid patent, the patent owner was violating the Sherman and Clayton Acts.
Worse than Rule 11 sanctions
Pre-filing Considerations (cont.)
Strength, Weakness of Patent Case











7
Closeness of infringement? Literal and/or doctrine of equivalents arguments available?
If doctrine of equivalents is to be argued, must consider "Prosecution History Estoppel"
issues per Hilton Davis and Festo.
Past enforcement activities of patentee? Are there licensees? Have the claims been
challenged in court, in reexamination, in foreign opposition/litigation? Press Releases,
Internet searching (e.g., chat rooms) can provide information.
Importance of patent to patentee's business plan?
Importance of allegedly infringing product/process to alleged infringer?
Closeness of prior art? Hypothetical claim analysis?
Applicable law? Generally rather consistent since the Court of Appeals for the Federal
Circuit ("CAFC") started, so no longer have differing Circuit Court law.
Has any new prior patent or publication been recently discovered which raises a
substantial new question of patentability of any claim? Consider filing a re-examination
request.
Is there any defect in the patent, which arose without any deceptive intent? Consider filing
a reissue request. (see problem in Chef America Inc. v. Lamb-Weston, Inc)
Are patentee's maintenance fees paid?
Pre-filing Considerations (cont.)
Seek Temporary Restraining Order ("TRO") or Preliminary
Injunction?



Court balances:




8
No longer easy to get
likelihood that plaintiff will have reasonable success on the merits;
"irreparable harm", i.e., the plaintiff does not have an adequate
remedy at law (i.e., money alone won't solve problem);
the threat of injury to plaintiff outweighs any damage to defendant
that would be caused by injunction; and
granting the preliminary injunction will not be contrary to the public
interest. See FRCP 65.
Pre-filing Considerations (cont.)
Timing:


Aggressive timetable, e.g., "rocket docket" (E.D.Va., E. D. Tx),
serving discovery immediately and working for preliminary
injunction immediately, or a more controlled pace.
Jury demand?


Either party can request. Pros and Cons (e.g., Sympathetic
party or local party).

9
If a jury, need a Markman hearing.
Pre-filing Considerations (cont.)

Alternate Proceedings?

Send a cease and desist letter and perhaps offer a license.

Be careful as any letter can be grounds for Declaratory Judgment.

For patents, file for reissue or reexamination to correct errors in patent
or to address new prior art, respectively, which can strengthen
patentee's case.

Bring an action in the International Trade Commission ("ITC") first or in
addition to a federal district court action. See discussion of ITC
proceedings below.

Seek mediation/arbitration? Binding or non-binding?
10
Pre-filing Considerations (cont.)

Related Rights and Countersuits

Search for other patents of opponent.



Has any related patent been litigated/licensed?
What prior art was cited therein and was it cited in the subject
patent?
Search for ownership issues for asserted patent

Does the plaintiff actually own the patent?

11
E.g., Bd. of Trs. of Leland Stanford Junior Univer. v. Roche Molecular Sys., Inc., 583
F.3d 832 (Fed. Cir. 2009), aff 'd, 131 S. Ct. 2188 (2011) (Plaintiff sued
Defendant only to discover Defendant was equitable owner)
Pre-filing Considerations (cont.)

Who Is Subject to Patent Suit?

35 U.S.C. Section 271:



12
Direct Infringers - anyone who makes, uses, sells, offers to sell or
imports into the U.S (e.g., manufacturer, wholesaler, retailer,
customers/users)
Inducing Infringer (e.g., knowingly gives instructions on how to
infringe)
Contributory Infringer (e.g., knowingly makes components which,
when used with other components, infringe, and otherwise are not
capable of substantial non-infringing uses)
Pre-filing Considerations (cont.)

Choosing forum can be complex

Personal jurisdiction: Is it fair to sue



Subject matter jurisdiction – what is the right court



For patents, any Federal Court (28 U.S.C. § 1338)
State court deals with contractual agreements regarding patents, e.g.,
assignments/licenses
Venue – where is convenient


13
- due process - must be able to give fair notice of suit.
May need to look to "substantial contacts" between out-of-state corporation and
the state in which the federal district court sits.
28 U.S.C. § 1400 (1) where defendant resides (corporation resides where incorporated) or (2)
committed infringing act and has a regular and established place of business
Pre-filing Considerations (cont.)
Limitations


Statute of Limitations:

14
Patents - 6 years for damages – 35 U.S.C. Section 286

Laches - Wait too long?

Estoppel (e.g., agreement reached w/Defendant's
predecessor, implied license, etc.)
Pre-filing Considerations (cont.)

Who Will Represent You?

Should the firm that prosecuted the patent handle the suit dealing with
the patent?

Positives:


Know technology
Problem:

Inequitable conduct is standard defense



15
Prosecuting attorney may be a fact witness at trial
Can lead to disqualification of entire firm.
E.g., Crossroads Systems (Texas) Inc. v. Dot Hill Systems Corp, 82
USPQ2d 1517 (W.D. Tex. 2006) (firm which did opinion work for party
disqualified due to conflict of interest)
Suit Attacking Intellectual Property

The Declaratory Judgment Act, 28 USC § 2201

16
Who can maintain Suit?

Anyone "threatened".

Usually, a party accused of patent infringement may bring a DJ action
against the patent holder prior to being sued for infringement
(thereby selecting the venue for the lawsuit). Conversely, the
defendant in a patent infringement that has already been filed will
often bring DJ counterclaims of non-infringement, invalidity and
unenforceability of the patent.
Suit Attacking Intellectual Property
(cont.)

Where can suit be filed?



Need Personal and Subject Mater Jurisdiction
Venue - where all defendants reside or where claim arose
When can suit be filed?

There must be an actual or implicit charge of infringement and the actual
controversy must be present before the DJ action is ripe for adjudication.

To establish the existence of a case of actual controversy between the parties:
(1)
(2)

Low standard after MedImmune Inc. v. Genentech Inc., 81 USPQ2d 1225 (2007)

17
the defendant must have engaged in conduct giving rise to a reasonable apprehension on plaintiff's part
that it will face an infringement suit or the threat of one if it commences or continues the activity in
question, and
the plaintiff must have actually produced the accused device or have actually prepared to produce it.
The threat of serious business injury presented a sufficient controversy for Article III jurisdiction
Filing the Suit
Preparing the Complaint – Form 16 of FRCP


Jurisdictional Statement

Statement of the Claim(s)

Patent:



Exhibits?



18
By the patentee: patent is infringed
By the accused infringer: patent is being used by patentee to threaten and
accused infringer needs declaration of invalidity / non-infringement /
unenforceability
Copy of patent registration,
Certificate of correction
Threatening letter
Filing the Suit (cont.)

Joinder of Required Parties – FRCP 19

Patent owner must be joined

19
Tricky where licensee enforcing patent
Responding to the Complaint
"Answer" In General


Manner of Response 
"admit" or "deny" or "lack sufficient information"


Must be cautious since fraudulent denials subject to Rule 11 Sanctions

Affirmative defenses (e.g., invalidity by fraud, prior art, noninfringement, etc.)

Counterclaims

By the accused Infringer


E.g., misuse, antitrust, infringement of a patent of defendant)
By the patentee in a declaratory Judgment action –

20
Can also admit in part and deny in part if allegation only partially true
infringement of the patentee's patent.
Other Procedural and Pretrial Issues

Matters Respecting the Forum




Motion for Transfer - Change of Venue
Motion for Stay:
 E.g., Defendant filed for reexamination of the patent, so defer the court case
until the PTO has decided reexamination.
 Plaintiff filed a Section 337 proceeding at the ITC, so stay the federal court
action until issues are determined in the ITC?
Motion to Consolidate:
 Defendant already filed a separate action for DJ in another jurisdiction.
 Plaintiff sued other defendants on same patent recently in another forum.
Combine these related cases?
Move for Temporary Restraining Order/Preliminary Injunction
21
Other Procedural and Pretrial Issues (cont.)

Expert Witnesses?


Will one be needed?





Regarding the technology of the patent?
Regarding patent or trademark law?
Regarding a survey on "niche" market for dilution fame?
Regarding damages (economist), etc?
Can increase costs significantly and raise tough questions regarding discovery.


Considerations in IP litigation
Whether an expert that you hired who prepared an opinion, but was later replaced by
another expert, must have the opinion disclosed?
Need to prepare an Expert's report early on. FRCP 26.

22
The court may appoint its own expert if it believes that would be helpful, but this is rare.
Other Procedural and Pretrial Issues (cont.)
Markman Hearing - With Jury Trial Only


Timing
 Judge defines claim terms prior to going to the jury.



23
An objective test of what one of ordinary skill in the art at
the time of the invention would have understood the term to
be.
Judge tells jury what claims mean, and jury tells Judge if there
is infringement
Court may at first limit discovery to claim interpretation
issues only, since the issue may be dispositive of the case.
Other Procedural and Pretrial Issues (cont.)
The infringer briefs those terms which it believes are indefinite, etc.,



Relies on the specification, statements made by applicant during prosecution about the
prior art as it relates to the claims, dictionary definitions, etc.
Defendant tries to raise as many terms as possible as being indefinite.

The patentee provides its own brief arguing that the terms are not
indefinite and/or arguing the meaning of the terms.

The court usually has a hearing (no jury) in which these terms are
discussed, perhaps with the help of experts, and the judge renders a
written decision with supporting analysis on what the terms mean.


24
The patentee seeks an interpretation that preserves the validity of the claims over the
prior art and that would likely lead to a finding that the defendant has infringed,
preferably literally, but at least under the doctrine of equivalents.
The alleged infringer wants an interpretation that leads to either non-validity or noninfringement.
Other Procedural and Pretrial Issues (cont.)
Result of hearing often leads to settlement or disposition of
the case on summary judgment regarding infringement.



Claim interpretation is subject to de novo review on appeal.


25
Depending upon which party the claim interpretation is favorable to, may promote
move of one party for summary judgment
If favorable to neither party, may promote settlement
The standard appellate review is error, not clear error.
Other Procedural and Pretrial Issues (cont.)

Discovery

Both sides are permitted to




26
Request documents of other side that are not privileged
Request responses to interrogatories for information that is not
privileged
Depose people with knowledge of business or technical issues related
to the suit
Consult with experts who are not related to either party on issues
relating to the suit, such as economic issues, technical issues
Other Procedural and Pretrial Issues (cont.)
If the case goes to trial, the judge advises the jury of the
claim interpretation in the "jury instructions" just before
the jury retires from the courtroom to deliberate

27
Remedies

Determination of the Award

Patent:

Injunction. 35 U.S.C. § 283





Exceptional case

28
Actual Damages not less than reasonable royalties (established or hypothetical?).
Can be tripled if there has been willful infringement, and can include interest and
costs. 35 U.S.C. § 284.
Damages do not begin to accrue until patent "notice" (i.e., marking) used, alleged
infringer notified in writing or suit brought. 35 U.S.C. § 287.
Attorneys' fees.
E.g., alleged infringer obtained opinion that there was a high risk of infringement, but
did not even attempt to design around, written notice of infringement sent, and
alleged infringer was obstructionist during discovery and trial). 35 U.S.C. § 285.