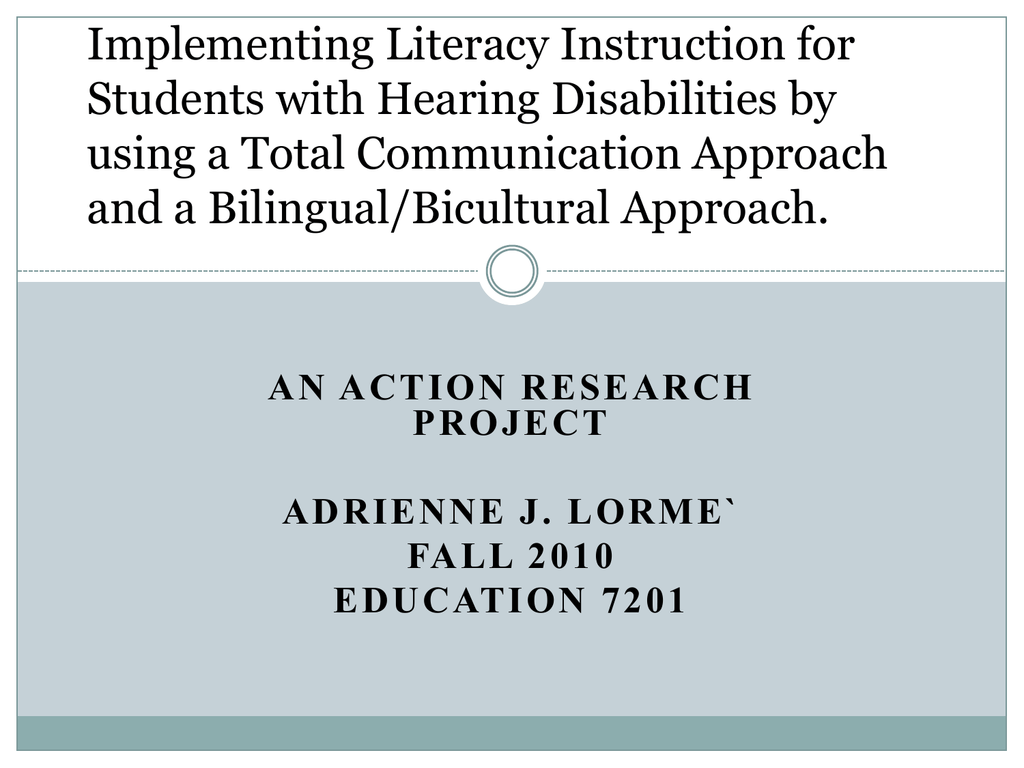 Implementing Literacy Instruction for
Students with Hearing Disabilities by
using a Total Communication Approach
and a Bilingual/Bicultural Approach.
AN ACTION RESEARCH
PROJECT
ADRIENNE J. LORME`
FALL 2010
EDUCATION 7201
Table of Contents
• Abstract
• Introduction
-Statement of the Problem
-Statement of the Hypothesis
-Review of Related Literature
3
4
5-11
• Method- Coming soon to a PowerPoint near you
-Participants
-Instruments
-Experimental Design
-Procedure
Table of Contents
 Results
• Discussion
• Implications
• References
• Appendices
-Appendix A
-Appendix B
-Appendix C
12-15
Statement of the Problem
Students with hearing disabilities struggle to read and
write mainly because of their inability to phonetically break
down a written word. This limits and delays their ability to
develop acquisition of vocabulary and effectively reduces
literacy opportunities normally available to their hearing
counterparts. Therefore, hearing impaired students will benefit
from a more structuralized phonetic instruction that allows
them to use a variety of strategies that will help with vocabulary
growth and comprehension.
Hearing impaired students are taught how to read by a
variety of approaches such as: Total Communication and
Bilingual/Bicultural. Both approaches incorporates phonics by
using ASL and spoken language but use different instructional
strategies.
Statement of the Hypothesis
The same reading lessons will be taught
to two classes at School X, in New York City.
Students who are taught using a TC approach
will perform better than students using a Bi/Bi
Approach. Students using a TC approach will
demonstrate higher vocabulary acquisition
and comprehension than those using a Bi/Bi
approach.
What is the Total Communication
Approach?
• Allows students to blend speech,
ASL, and lip reading together.
• Students can switch back and
forth between these methods in
order to use the best approach to
help them comprehend the text .
•
( WA LW O R T H , M O O R E S , & O ' R O U R K E . , 1 9 9 2 ) .
What is the Bi/Bi Approach?
• C h i l d re n l e a r n t o s i g n f i r s t a n d t h e n
later learn Spoken English.
(Ramsey & Padden, 1998;)

Review of the
Literature
The Importance
of Phonic
Instruction
Children with hearing disabilities have weak phonological
awareness of the alphabet and this weakness correlates to
their inadequacy with reading.
(Bergeron, Lederberg, Easterbrooks, Miller, & Connor, 2009).
•
Phonic instruction leads to language acquisition.
(Ling, 1988).
•
Helps students develop an understanding of how words are
used in sentences.
(Shankweiler & Liberman, 1989).
•
Experiences in linguistics increases their knowledge of how
words should be read in a sentence.
(Marschark, Sapere, & Convertino, 2009).

Helps students develop a face-to-face form of their spoken
language
(Mayer, 2007).
TC and Bi/Bi
approach
incorporating
Phonics
Researchers and
Theorists who are
against both
approaches

Students fall behind in reading because they are not given
adequate reading time to comprehend the material.
(Donne & Zigmond, 2008).

Hearing impaired students lag in reading because they
often lack metacognitive skills and syntactic knowledge.
(Miller, 2005).
 Reading development is contingent on a
fully developed primary language.
Therefore, incomplete or inconsistent
signed or spoken language may affect the
development of reading proficiency.
(Chamberlain , 2002).
TC Approach
PRO'STheorists/Prationers who
support a TC Approach
 Increases interaction with
spoken language and
therefore allows students to
better comprehend how a
word is used in a sentence.
(Mayer, 2007; Council for Exceptional
Children, 2010; )
 Students who used an oral
approach were able to
comprehend the text better
than students who were
signed the text.
(Marschark et.al, 2009).
CON's-Theorists and who
are against a TC Approach
 Signers/speakers alter
their messages to
accommodate signing
or speaking and
therefore messages and
comprehension
become tangible.
(Cerney, 2007).
BI/BI Approach
Pro's- Theorist and
Practioners who support
Bi/Bi
Con's-Theorists and
Practioners who are
against Bi/BI
 Helps students find and embrace
 ASL and English do not share a
their identity within the Deaf
Culture
(Chaleff and Ritter, 2001; Evans, 2004).
phonological system that is remotely
similar on many levels.
(Haptonstall-Nykaza & Schick, 2007).
 Students will never learn to efficiently
use their residual hearing, develop
speech or correct phonemes-graphemes
of words.
(Lynas, 2005).
 Gives children the maximum amount of
comprehensible input and foster
cognitive development that is needed for
literacy.
(Eisenbraun, Johnstone, Lazarus, Liu, Matchett,
Moen, & Quenemoen, 2009).
Strategies used for Reading Instruction
TC Approach
Bi/Bi Approach
 Fingerspelling
 Fingerspelling
 Lip Reading/Speech
 ASL
Reading
(Harris and Moreno, 2006).
 ASL
 Visual-Auditory
Learning
 Cued Speech
 Spoken English
References








Bergeron, J.P., Lederberg, A.R., Easterbrooks, S.R., Miller, E.M., & Connor, C.M. (2009).
Building the Alphabetic Principle in young children who are deaf or hard of hearing. The
Volta Review, 109(2-3), 87-119.
Cerney, J. (2007). Deaf education in America: Voices of children from inclusion settings.
Washington, DC: Gallaudet University Press.
Chaleff, C & Ritter, M. (2001). The use of miscue analysis with deaf readers. The Reading
Teacher, 55(2), 190-200.
Chamberlain, C. (2006). Reading skills of deaf adults who sign: Good and poor readers compared.
Unpublished doctoral dissertation, McGill University, Montreal.
Donne, V., & Zigmond, N. (2008). Engagement during reading instruction for students who are
deaf or hard of hearing in public schools. American Annals of the Deaf, 153(3), 294-303.
Evans, C. (2004). Literacy development in deaf students: Case studies in bilingual teaching and
learning. American Annals of the Deaf, 149(1), 17-30.
Harris, M & Moreno, C. (2006). Speech reading and learning to read: A comparison of 8-year-old
profoundly deaf children with good and poor reading ability.
Haptonstall-Nykaza, T & Schick, B. (2007). The transition from fingerspelling to English print:
Facilitating English decoding. Journal of Deaf Studies and Deaf Education, 12(2), 172-183.
References








Ling, D. (1988). Foundations of spoken language for hearing-impaired children.
Washington, DC: Alexander Graham Bell Association of the Deaf.
Lynas, W. (2005). Controversies in the education of deaf children. Current Paediatrics,
15, 200-2006.
Marschark, M., Sapere, P., & Convertino, C. (2009). Are deaf students' reading challenges really
about reading? American Annals of the Deaf, 154(4), 357-370.
Mayer, C. (2007). What really matters in the early literacy development of deaf children.
Journal of Deaf Studies and Deaf Education, 12(4), 411-431.
Miller, P. (2005). Reading comprehension and its relation to the quality of functional
hearing: Evidence from readers with different functional hearing abilities. American
Annals of the Deaf, 150(3), 305-323.
Ramsey, C., & Padden, C. (1998). Natives and newcomers: Gaining access to literacy in a
classroom for deaf children. Anthropology and Education Quarterly, 29(1), 5-24.
Shankweiler, D., & Liberman, (Eds.). (1989). Phonology and reading disability: Solving
the reading puzzle. Unknown, MI: The University of Michigan Press.
Walworth, M., Moores, D., & O'Rourke, T. (1992). A free hand: Enfranchising the
education of deaf children. Springfield Springs, MD: T.J. Publishers.