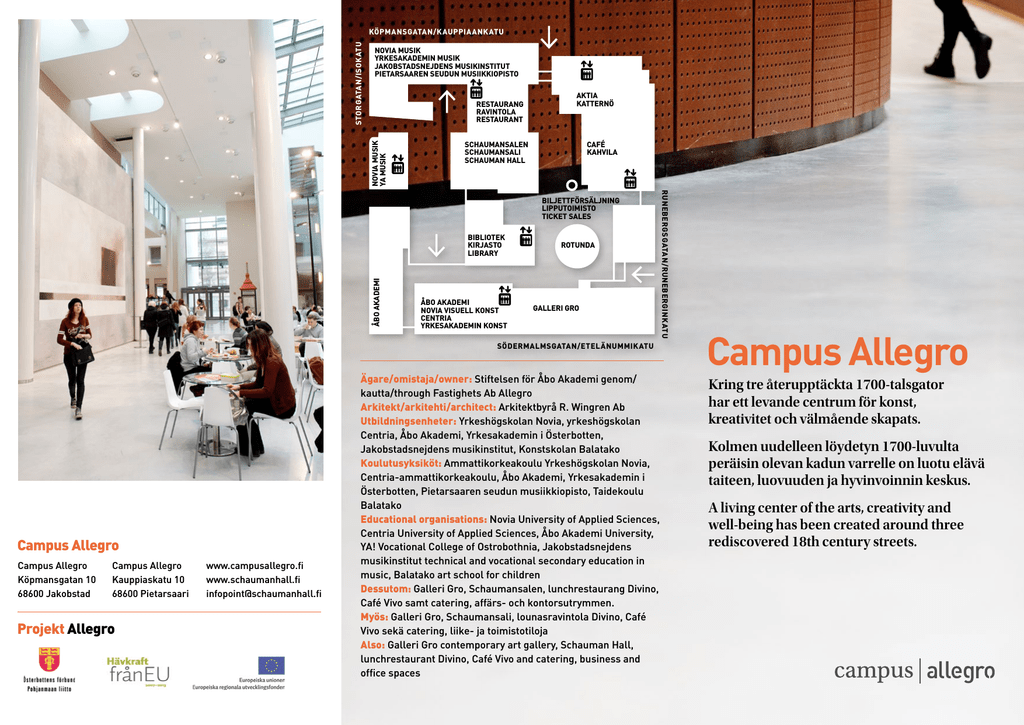 NOVIA MUSIK
YRKESAKADEMIN MUSIK
JAKOBSTADSNEJDENS MUSIKINSTITUT
PIETARSAAREN SEUDUN MUSIIKKIOPISTO
RESTAURANG
RAVINTOLA
RESTAURANT
NOVIA MUSIK
YA MUSIK
STORGATAN/ISOK ATU
KÖPMANSGATAN/K AUPPIA ANK ATU
AKTIA
KATTERNÖ
CAFÉ
KAHVILA
SCHAUMANSALEN
SCHAUMANSALI
SCHAUMAN HALL
ÅBO AKADEMI
BIBLIOTEK
KIRJASTO
LIBRARY
ÅBO AKADEMI
NOVIA VISUELL KONST
CENTRIA
YRKESAKADEMIN KONST
ROTUNDA
GALLERI GRO
SÖDERMALMSGATAN/ETEL ÄNUMMIK ATU
Campus Allegro
Campus Allegro
Köpmansgatan 10
68600 Jakobstad
Campus Allegro
Kauppiaskatu 10
68600 Pietarsaari
Projekt Allegro
www.campusallegro.fi
www.schaumanhall.fi
[email protected]
Ägare/omistaja/owner: Stiftelsen för Åbo Akademi genom/
kautta/through Fastighets Ab Allegro
Arkitekt/arkitehti/architect: Arkitektbyrå R. Wingren Ab
Utbildningsenheter: Yrkeshögskolan Novia, yrkeshögskolan
Centria, Åbo Akademi, Yrkesakademin i Österbotten,
Jakobstadsnejdens musikinstitut, Konstskolan Balatako
Koulutusyksiköt: Ammattikorkeakoulu Yrkeshögskolan Novia,
Centria-ammattikorkeakoulu, Åbo Akademi, Yrkes­akademin i
Österbotten, Pietarsaaren seudun musiikkiopisto, Taidekoulu
Balatako
Educational organisations: Novia University of Applied Sciences,
Centria University of Applied Sciences, Åbo Akademi University,
YA! Vocational College of Ostrobothnia, Jakobstadsnejdens
musikinstitut technical and vocational secondary education in
music, Balatako art school for children
Dessutom: Galleri Gro, Schaumansalen, lunchrestaurang ­Divino,
Café Vivo samt catering, affärs- och kontorsutrymmen.
Myös: Galleri Gro, Schaumansali, lounasravintola Divino, Café
Vivo sekä catering, liike- ja toimistotiloja
Also: Galleri Gro contemporary art gallery, Schauman Hall,
lunchrestaurant Divino, Café Vivo and catering, business and
office spaces
RUNEBERGSGATAN/RUNEBERGINK ATU
BILJETTFÖRSÄLJNING
LIPPUTOIMISTO
TICKET SALES
Campus Allegro
Kring tre återupptäckta 1700-talsgator
har ett levande centrum för konst,
kreativitet och välmående skapats.
Kolmen uudelleen löydetyn 1700-luvulta
peräisin olevan kadun varrelle on luotu elävä
taiteen, luovuuden ja hyvinvoinnin keskus.
A living center of the arts, creativity and
well-being has been created around three
rediscovered 18th century streets.
6
Historik/Historiaa/History
Studier/Opiskelu/Studies
utbildningsenheter
koulutusyksikköä
educational organisations
1797
1838
1923
2009
Lindskogska huset/talo/house
Träbyggnad i empirestil/Empiretyylinen
puurakennus/Wooden house in empire style
Lassfolkska spetsfabriken/
Pitsitehdas/Lace factory
Campus Allegro
Campus Allegro i dag/tänään/today
16 900
700
m2 av möjligheter/
m2 mahdollisuuksia/m2 of possibilities
Utrymmen/Tiloja/Spaces
studerande
opiskelijaa
students
4 km
20–120m
2
promenad genom byggnaden/kävely
rakennuksessa/walk through the building
I hjärtat av staden
Kaupungin sydämessä
In the heart of town
Campus Allegro står där tre gator möttes på 1700-talet.
På samma ställe skapar nu företag, studerande och
utbildningspersonal framtidens Jakobstadsregion.
Allegro bjuder på inspiration, kultur och utveckling för
alla att bygga vägar till framtiden.
1700-luvulla Campus Allegron kohdalla kulki kolme
katua. Nyt samalla paikalla yritykset, opiskelijat ja
koulutushenkilökunta luovat tulevaisuuden Pietarsaaren
seutua. Allegro tarjoaa kaikille inspiraatiota, kulttuuria ja
kehitystä rakentaa tulevaisuuden teitä.
Campus Allegro now stands where three roads met in
the 18th century. On that same site companies, students
and educational personel are creating the future
Jakobstad region. Allegro offers inspiration, culture and
development for everyone to build roads into the future.