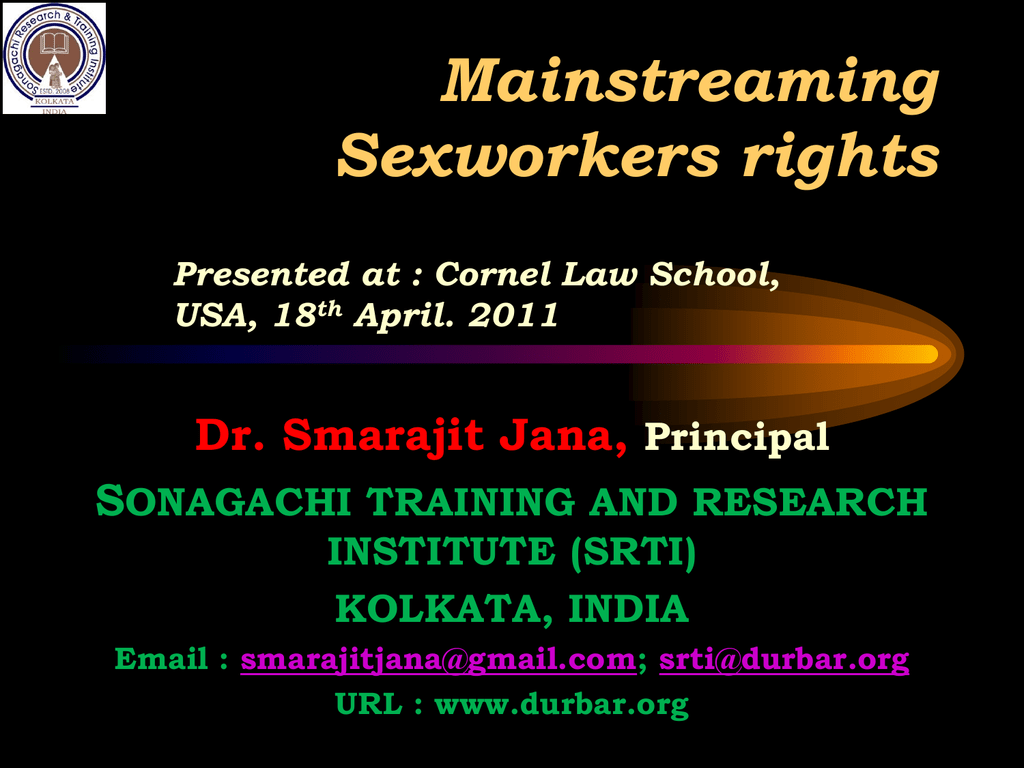 Mainstreaming
Sexworkers rights
Presented at : Cornel Law School,
USA, 18th April. 2011
Dr. Smarajit Jana, Principal
SONAGACHI TRAINING AND RESEARCH
INSTITUTE (SRTI)
KOLKATA, INDIA
Email : [email protected]; [email protected]
URL : www.durbar.org
Scope of the presentation
1.
2.
3.
4.
Background of the development
Why sexworker felt the necessity to collectivize?
The mission and vision of DMSC
Critical review of the health intervention policies and
approaches
5. Strategies of mainstreaming a) Advocacy at policy level for legal changes
b) Legal Intervention
c) Providing leadership in State and National level
network / forums with other categories of workers
d) Institutionalizing participatory management
mechanism
e) Social activism
The Journey : Initiation
of Sonagachi Project
Following a base line study in 1992 a
peer based HIV Intervention Program
was
developed
to
curb
the
transmission of HIV among the sex
workers and their clients in a brothel
named Sonagachi in Kolkata, India.
The Intervention program was
designed following a set of values
(commonly known as 3'R's)
 Respect
:
Basic
human
approach (restoring respect
and dignity of the sex workers
community)
 Reliance : Building trust and
confidence
with
the
community and relaying on
their
skill, strength and
experiences (recognizing the
role of human agency)
 Recognition : Viewing sex
workers like any other worker
in our society
DMSC came into
existence in 1995
As a fallout effect of this
intervention program, sex workers
got inspired and felt the necessity
to collectivize themselves to build
their solidarity and to raise issues
which are pertinent to their life and
occupation.
Vision of DMSC
Durbar's vision: We seek a world where all
the marginalized communities of the world
will live in an environment with equal
Respect, Rights, Status and Dignity. We
hope for a social order where there will be no
discrimination based on class, caste, gender,
religion or occupation. All the people of the
world will live in peace and harmony.
Mission of DMSC
Durbar's Mission: To enhance a process of
social and political change in order to
establish right, dignity and improvement of
social status vis-à-vis the quality of lives of all
the Sex workers of the world. We consider sex
workers rights movement is the integral part
the global movement to establish the rights of
all marginalized communities of the world.
Why sex workers develop
their organization?
• To fight against police raid and
atrocities.
• To address stigma and
discrimination.
• To create supportive social
environment for them and for their
children.
Slowly but steadily sex workers
community started recognizing that the
Health Intervention Program won't be
able to fulfill their aspiration :
• Because of the inherent limitation of the
HIV program
• The 'fixed mind set' and the social
attitude towards sex and sex workers'
community
• The Law and the legal environment what
'criminalizes' sex work, worker and work
environment.
Gaps in the Programme
(Ignoring "status syndrome")
 In general HIV Intervention Program
Strategies does not look into the
position
/
social
status
of
the
individual and in the process ignore
all
underlying
vulnerability.
factors
behind
her
Sex Workers' Rights
Issues
A. Human Rights related issues – sex worker being a
citizen of the country is protected by the
constitution and by other legal instruments. It is
expected that all these structure should promote
and protect Human Rights of Sex Workers.
B. Rights to Self determination – Adult Individuals'
Rights to choose any Occupation as a Livelihood
Option i.e. Right to Sex Work.
What is the ground
reality?
• Sexworkers' rights are compromised in
our society as two interlinked human
rights issues (in case of sex workers) are
in conflict with the 'moral stand' of the
society
• As a result of which sexworker has
become the common recipient of all
possible abusive practices by police and
administrations.
The policy framework of
DSMC
To promote and to protect sex workers
rights – they believe that 1. Sex work and sex work environment must
be decriminalized.
2. Sex work should be recognized as work.
3. Social attitude towards sex and sex
workers has to be changed.
Strategies for change
• To create a supportive environment for
legal change.
• Influence the lawmakers and to bring
them to their side.
• Legal Intervention.
• Social activism
Process for mainstreaming
sexworker rights
1. Help collectivization and mobilization of sex workers
based on their issues and agenda.
2. Make best use of 'Collective bargaining power' in
negotiating with policy maker.
3. Building broader alliances with other categories of
workforce in the country
Creating social and political
space for the sexworkers
• Holding workshop, seminars / discussion
sessions with the academicians and
intellectuals
• Organizing mass communication program
through organizing 'open ground festivals'.
• Opening discourse with policy makers at
regular interval.
Durbar's advocacy work
to influence lawmakers
• Policy level Advocacy
– Meeting with the
parliamentarians
– Meeting with the
aspirant candidates
prior to election
– Arranging field visits
Building broader alliance
– Holding National Conference of Entertainmant
Workers (2005)
– Holding State level convention with unorganized
labor
– Holding 100 years of women's day celebration
through organising Mela.
– Being a part of various social campaign movement
eg. 'Rights to Food', 'Rights to information' etc,
DMSC enhance their visibility.
Building broader alliances
Establishing DMSC- as
responsible civil society
organization
• Organize relief program for
flood/drought affected population
• Engage in 'city cleaning' activities
• Support victims of domestic violence
• Run development program for similar
marginalized occupational groups
[Domestic worker, construction
worker, Truck drivers and helpers.
Social and Political
Activism
•Street level demonstration and procession
Parliament March (2006)
Midnight Procession
Political activism-the
known face of DURBAR
• Held proceesion/demonstration on issues of
social/political interest [eg. Against the attack of 9/11.
Vandalism by Taliban in Afganistan, Communal violence
in Gujrat, Attempt to gag cultural expression of artist,
film director by the fundamentalists etc]
• On social issues eg child marriage and dowry system
• Fought for the rights of stigmatized entertainment
communities and their due recognition as artist.
• Support and collectivize indigenous communities [tribal]
to establish their rights and entitlement.
• Held Parliament March through mobilizing sex-workers
all across the country to change the law regulation sextrade.
DURBAR's role in Championing
issues of Marginalized Communities
Durbar support development program for Tribal
community. Helf domestic and construction workers in
achieving their rights and social justice
Legal Intervention
• DMSC sued National Government to
repeal clause no. 3, 4, 7, 18 and 20
ITPA Act.
Major responses from
Press and Media
Creating new platform (to
institutionalize self-regulatory
mechanism)
 Institute a participatory mechanism in controlling sex
sector with the involvement of other stakeholders
 To ensure rights and social entitlements of
workers and their children
sex
 To address all types of violence including state
mediated violence in sex sector
 To prevent trafficking and entry of minor in sex work
followed by their reintegration
 To create alternative
livelihood options
opportunities for aged and unwilling sex worker
and
SELF REGULATORY BOARD – COMPOSITION
The Board is comprises of members from community and from
different Government departments as well as representation
from civil society organizations.


51% of members are from sex workers community with
equal representation from central and local committees of
sex workers
Remaining 49% of members – Representing following
categories
a) Local elected members;
b) Representative from Dept. of Health and Family
welfare,
c) Representative from Social Welfare Dept.,
d) Representative from Labour Department.
Self Regulatory Board – How it
operates to stop trafficking
Monitoring entry of minor girls or
forced entry into sex trade through
A batch of peers and volunteers
Assessing the age
Physical appearance, conversation, documentary
evidence, medical examination & advanced
investigations like bone scan if and when required
Adult: Assess Willingness
Minor
Counseling &
Offering Options
Return to families (DMSC
ensures acceptability of families
before returning the girls)
Support Homes
Boarding Schools
Vocational Training
Involving in other occupation
(Elicit reasons for entry)
Forced into
sex trade
Willing
Counseling
Information about DMSC
Services
STI/HIV/AIDS
Social support
Education
Removal of underage and
trafficked women
Year
Underage Girls
Unwilling Women
Total
2001
29
02
31
2002
26
07
33
2003
53
08
61
2004
129
20
149
2005
21
14
35
2006
82
23
105
2007
61
16
77
2008
72
78
150
2009
88
105
193
2010
42
67
109
Total
603
340
943
The impact of selfregulatory Board
The proportion of minor (age<18 years) girls in red light areas shows
decline over the period
Year
1992
1995
1998
2001
2005
2008
2010
% of Girls <18
years
25.29
21.47
3.56
3.12
2.5
2.15
1.95
The median age of sex workers in the red light district has gone up
Year
1992
1995
1998
2001
2005
2008
2010
Median Age (in
years)
22
22
27
28
28
28
28.15
The change in the wind…
Durbar's strategies to mainstream sex worker's rights
agenda has made significal change in the social
milieu..
• Sex workers could stall the introduction of
amendment of ITPA Act in the Parliament in 2008.
• A recent survey conducted among the commoner
who participated in the mela held in Kolkata shows
78% of them support sexworkers rights agenda.
• A pre poll campaign among the aspirant
parliamentarian
during
…
(2010)
shows
overwhelming support for sexworkers rights 67% of
them signed in favour of the sexworkers 3 primary
demands.
The change in the
wind…(contd.)
• A recent meet (2011) of the parliamentarians in
Delhi which was attended by 16
parliamentarians (including ministers) agreed to
support all three sex workers rights agenda.
• DMSC is one of the convener of the state level
committees of the unorganized labour
organization. [There are around 450 million
work force belonging to unorganized labor
sector]
• They have been accepted as a member of the
National Trade Union.