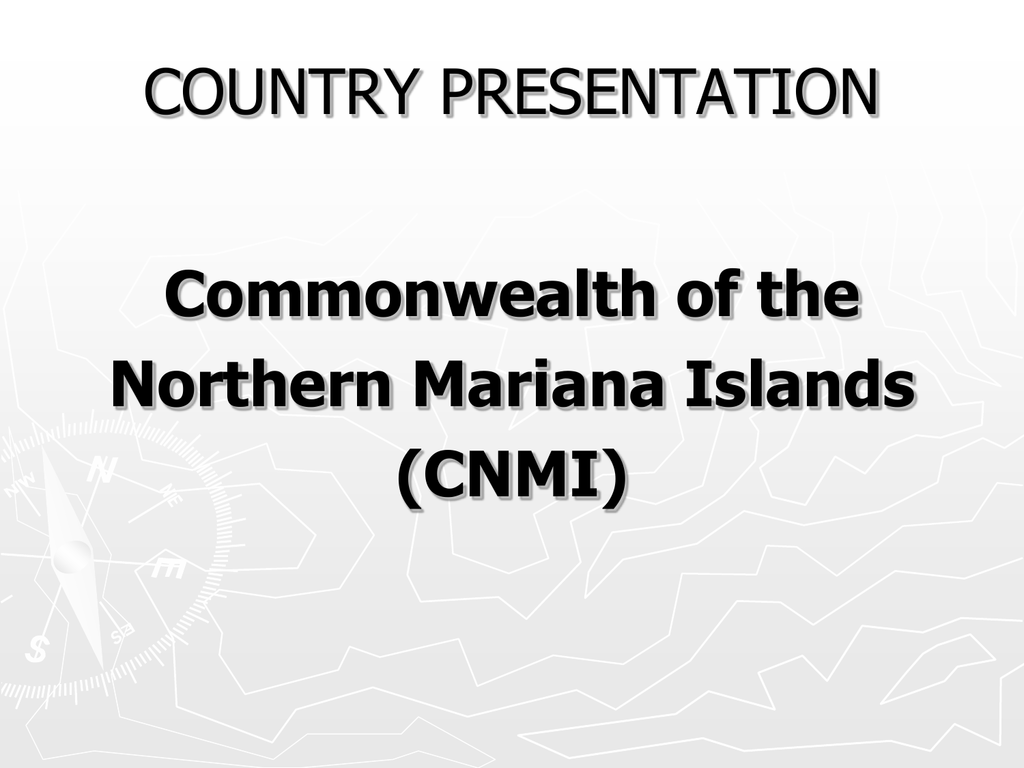 COUNTRY PRESENTATION
Commonwealth of the
Northern Mariana Islands
(CNMI)
Overview
*CNMI: 14 islands; 3 Primary Inhabited Islands
-Saipan, Rota and Tinian
-Population: 53,883 (2010 Census)
*Former DPH now CHCC
-Public Law 16-51 effective October 1, 2011
- Board of Trustees, CEO, Corporate Officers
-Semi-autonomous public governmental agency
-from a $38M Budget to $5M in FY2012
-1 public hospital located in Saipan
-Divisions: Hospital, Public Health, THC, RHC
*Top 3 CHCC Priority Issues: 1. Financial instability
2. Declining resources
3. NCDs
NCDs and Associated Risk
Factors
7 out of every 10
deaths in the
CNMI
Fig 1. Number of New RD Patients by Year, 2009-2011.
30
27
25
20
23
18
15
10
5
0
2009
2010
2011
Childhood Obesity
According to a CNMI
Nutrition Survey, 45% of 710 year olds were obese or
overweight.
Source: CNMI Nutrition Cluster Survey, Paulino, et al.2008
Does CNMI have a Health Plan?
No.
No comprehensive "whole of society"
health plan in place nor a CHCC
strategic plan.
CDC NPHII…
4 Main Health Plans by 2012
1.
2.
3.
4.
Community Health Assessment
Community Health Improvement Plan
Governor's Healthcare System
Assessment
CHCC Strategic Plan
What plans are in place?
What plans are in place?
*2007 Strategic Plan
*2008 CNMI HRH Action Plan
*2008 NCD Plan
*2012 Six months Division of Public Health
Strategic Plan
Plan
Process
Stakeholders
Guide Strategic
Direction
2007
Strategic Plan
Paid off-island
Consultant
Doctors and
Hospital Mgt
NO. DOA.
2008 HRH Plan
PIHOA
Governmental
Agencies
Needs to be
updated.
2008 NCD Plan
WHO
Community &
Gov't Agencies
Yes.
PH Mgt Team
Yes.
2012 PH Strategic PIHOA
Plan
Plan
2007
Strategic Plan
Weaknesses
Lack of Awareness by
Leadership
Strengths
Well written report
Hospital-centered
2008 HRH Plan
No funding
Identified Staff
No Follow-up
Inter-agency
involvement
Regional Initiative
2008 NCD Plan
Government Agency
controlled
Lack of Awareness
2012 PH Strategic Plan
3 year SPC Funding
Community Involvement
Regional Initiative
Competing Priorities
PH Mgt Team
involvement
Lack clear objectives
Relevant
Lessons Learned on "the Plans"
*Designate staff /champion with decision-making
influence to keep the plan "Alive"
*Keep Plan "Front & Center" horizontally and
vertically (e.g. Active Collaboration &
Engagement)
*Secure and align funding (e.g. NA Program, NCD
Plan)
* Regular and consistent reporting of progress at all
levels (e.g. Dashboards, targeted communication
strategies)
Si Yu'us ma'åsi' yan Ghilisoow!