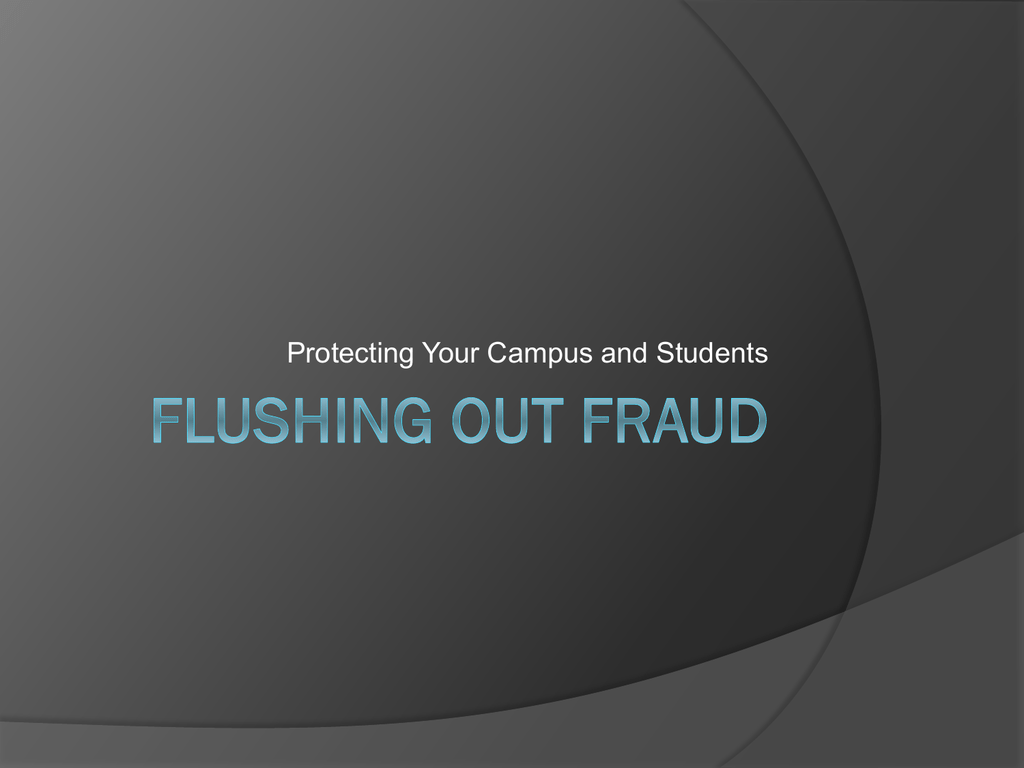 Protecting Your Campus and Students
Panel
Jenifer Roberts
Director of Student Financial Planning
New England College of Business and Finance

Kim Tibbetts
Associate Director of Financial Aid
Wentworth Institute of Technology

Dora Espitia
Senior Assistant Director of Financial Aid
Wentworth Institute of Technology

Andy Tsui
Supervisory Special Agent
IRS Criminal Investigation - Boston Field Office

Mark Deckett
Special Agent
Department of Education - Office of Inspector General

Overview of the Types of Fraud
 Identity
 Tax
Theft
Fraud
 Financial Aid
 Check
Fraud
Chasers
Segment 1: Identity Theft and Tax
Fraud

Types of Identity Theft
 Financial/Credit Card
 Insurance
 Medical
 Criminal
 Driver's License
 Social Security
 Child ID Theft
Segment 1: Identity Theft and Tax
Fraud

What is Tax Refund Identity Theft?
 Occurs when someone uses your personal
information without your permission to
commit tax fraud (Federal Income Taxes).
 ID Theft with Puerto Rican Identities
 ID Theft with Prisoner Schemes
 ID Theft with Retires/Elderly
 ID Theft with Students
 Violation of Title 18 U.S.C. § 1028
Why is it Important to You?
2011 – IRS Identified 2.2 Million fraudulently
filed tax returns. 940,000 of them claiming
$6.5 Billion involved identity theft.

Who are the victims?
 Institutions of Higher Education
○ Internal data theft from employees/contractors
○ External data theft from hacking, email fishing, etc…
 Students
○ They may not find out for years if they do not file tax
returns.
○ Other Id Theft crimes may have occurred (credit
cards, loans, etc…)
How can Students and
Institutions Protect Themselves?

Students
 Advise students to obtain tax transcripts from IRS
even when they are not required to file a tax return
 Educate students on the problem of ID theft with tax
fraud and other types of fraud
 Focus on protecting personal information (shred
documents, don't give out info in suspect situations,
don't download or open suspect electronic files,
etc…)


IRS ID Theft http://www.irs.gov/uac/Taxpayer-Guide-to-Identity-Theft
FTC http://www.ftc.gov/bcp/edu/microsites/idtheft2012/
How can Students and
Institutions Protect Themselves?

Institutions
 Promote campus-wide information campaign
○ Incorporate information into student
orientations
○ Provide after hours seminars on ID theft
 Create, disseminate and enforce a policy on
protecting Personally Identifiable Information
(PII)
 Provide a readymade packet of resources
for victims of ID theft
Alabama Woman Sentenced for Stealing Identities of
Student Loan Borrowers and Filing False Tax Returns
12/21/ 2011 Montgomery, Ala.,
Janika F Bates, of Millbrook, Ala., was sentenced to 94 months in prison and
ordered to pay $246,064 in restitution to HSBC Taxpayer Financial Services
and $30,211 in restitution to the IRS.
Bates was convicted by a trial jury in September 2011 of identity theft, wire
fraud, aggravated identity theft and conspiracy to make false claims for tax
refunds. According to evidence introduced at trial, Bates obtained the names
and Social Security numbers of student loan borrowers from the databases at
her former employer and conspired to use the stolen identifying information to
file false tax returns.
Several victims testified that they did not consent to the use of their names
and Social Security numbers on tax returns and they testified that they did not
receive any money from refunds generated from the false documents filed
with the IRS. Evidence also revealed that Bates and her co-conspirator,
Keshia Brayboy, fraudulently obtained refund anticipation loans from a bank
predicated on the fraudulently filed tax returns. Brayboy pleaded guilty in
2009 to filing a false tax return and served two years in federal prison.
South Florida Man Sentenced for Identity
Theft Related Charges

09/04/2012 Fort Lauderdale, Fla.
Loverson Gelmine was sentenced to 40 months in prison
and three years of supervised release for possession of
fifteen or more unauthorized access devices and
aggravated identity theft.
According to the factual proffer, Gelmine admitted that he
had been involved in stealing identity information from a
medical center. Gelmine admitted that he took pictures of
patient files with his phone and then sold the identity
information. He estimated that he sold approximately fifty
identities in each of two prior transactions.
A warrant for the search of Gelmine's phone revealed
approximately 1,100 photographs of patient records
containing the personal identity information of patients.
Former Customer Service Representative
Sentenced for Stealing Customers' Identifying
Information to File False Income Tax Returns

07/23/2012 Fort Worth, Texas
Youlanda Rochelle Wright was sentenced to 78
months in prison and ordered to pay $166,384 in
restitution. Wright pleaded guilty in December
2011 to one count of false claims and one count of
identity theft.
According to court documents, Wright worked as a
corporate Customer Service Representative in a
call center. In that role, she often received
customers' personal identifying information,
including social security numbers. Wright used
that information to file U.S. income tax returns in
customer's names to claim refunds.
Segment 2: Financial Aid Fraud

Who may be targeted
 Schools with online programs
 Institutions driven by enrollment numbers

Implications
 CDRs
 Audit Reviews
Segment 2: Financial Aid Fraud

Identifying patterns and quality assurance
 # of phone calls from the same area code close




to start date
Cross reference email addresses
Become knowledgeable about geographic areas
from where fraud is originating
Utilize Google Maps to research address (i.e.,
homes may no longer exist due to hurricanes,
tornados or other natural disasters
Engage with students on the phone
Segment 2: Financial Aid Fraud

Implementation of interdepartmental
policies to combat fraud
 Admissions should request proof of identity
 Other offices should pay attention to small
details
○ Registrar's withdrawals
○ FA verification documents
○ Bursar refunds
 Educate the staff how to deal with individuals
who threaten to call the Department of
Education
Segment 3: Check Chasers
What are 'Check Chasers'
 Identifying potential fraud

 Pulling NSLDS records on all incoming students
○ Review previous school history regarding Pell and
loans
○ Do they have open loan periods or potential
overlapping loan periods
 Do they have transfer credits from several other
schools
 Student is hesitant to provide more information
 Student knows your refund policy in and out
Segment 3: Check Chasers
 Implementation of interdepartmental policies
○ SAP policy will flush them out
○ Schools can adjust COAs
Inspector General Act of
1978
…to prevent and detect fraud,
waste and abuse and improve
the economy, efficiency and
effectiveness of Education
Department programs and
operations.
17
Statutory and Regulatory Access to Records

Under the Inspector General Act of 1978, as amended, OIG can access
any records available to the Department of Education in order to
perform audits, investigations and inspections of Department programs
and operations.

The Family Educational Rights and Privacy Act (FERPA) requires
schools receiving funding from the Department of Education to protect
the privacy of student education records. In many cases consent must
be received from a parent or student before records can be disclosed.

FERPA provides that consent is not required in order to disclose
student records to the Office of Inspector General. The regulations
provide that representatives of the Secretary, which include OIG, may
have access without prior consent in connection with an audit,
evaluation, or enforcement of legal requirements related to the
Department's programs.
FERPA regulations can be found at 34 C.F.R. Part 99,
http://www2.ed.gov/policy/gen/guid/fpco/index.html
18
Criminal Penalties
Education Fraud
Title 20 U.S.C. § 1097 (a)
 Any person who knowingly and willfully embezzles, misapplies, steals,
obtains by fraud, false statement, or forgery, or fails to refund any funds,
assets, or property provided or insured under this subchapter and part C of
subchapter I of chapter 34 of Title 42, or attempts to embezzle,….

Persons convicted of a felony shall be fined not more than $20,000 or
imprisoned for not more than 5 years, or both.

Attempt is defined as, "an undertaking to do an act that entails more than
mere preparation but does not result in the successful completion of the
act."
19
Identity Theft Fraud Schemes
Evugeni Tetioukhine aka Finnoghal Maceoghan


Convicted in Rhode Island on charges of using a false
social security number, student loan fraud, wire fraud,
immigration fraud and false statements.
Tetioukhine was a Russian national that was living in
Rhode Island 1990's. After the collapse of the Soviet
Union, he fraudulently assumed the identity of Finnogal
Maceoghan, a U. S. Citizen who was living in Ireland.
Using the stolen identity he obtain federal student aid, a
home mortgage and U.S. Passport. The victim
Maceoghan discovered that his identity had been stolen
while using Facebook. After a jury trial, Tetioukhine
was sentenced to four years in prison and deportation.
20
Example of OIG Investigation
Distance Education Fraud
These fraud rings generally target institutions with low tuition in the context of distance
education programs and involve a ringleader who:
• Obtains identifying information from "straw" students by promising financial gain.
• Completes multiple financial aid applications using the information collected.
• Applies for admission under the institution's open admissions program.
• Participates minimally in the amount of on-line interaction to secure disbursements.
Once the institution draws down Federal student aid funds, deducts the institutional
charges assessed the straw student, and disburses the credit balances to the straw
student by check or debit card.
Straw students then give a portion of the proceeds to the ringleaders while keeping the
remaining portion.
21
Examples of
Title IV Fraud Schemes
Related to Schools








Ghost students
Leasing of eligibility
Default rate fraud
90/10 Rule manipulation scheme
Financial statement falsification
Falsified last date of attendance
Obstruction of a federal audit or
program review.
Fraud/Theft by School Employees





FAFSA fraud- enrollment
Falsification of GEDs/HS Diplomas
Falsification of attendance and
Satisfactory Academic Progress
Falsification of grades
Failure to make refunds Loan theft/
forgeries
22
23
How You Can Help
Ensure that staff receive necessary Title IV training.
 Review documents thoroughly.
 Question documents/Verify authenticity.
 Request additional information from the students or
parents.
 Compare information on different documents.
 Contact the OIG if you suspect fraud.
 Cooperate with the OIG in connection with an audit or
investigation.

24
34 CFR § 668.16
Standards of Administrative Capability
The Secretary considers an institution to have administrative
capability if the institution:
(f) Develops and applies an adequate system to identify and
resolve
discrepancies in the information that the institution
receives from
different sources with respect to a student's
application for financial
aid under Title IV.
(g) Refers to the Office of Inspector General…any
credible information indicating that an applicant for Title IV, HEA
program assistance may
have engaged in fraud or other
criminal misconduct in connection with his or her application.
Schools must also refer to the OIG any third-party
servicer who may
have engaged in fraud, breach of fiduciary
responsibility, or other illegal conduct involving the FSA Programs.
Summary
Join forces with other departments
 Educate families and students
 Develop, disseminate and enforce PII
policies
 Utilize available tools

 NSLDS
 Staff
 Student Budgets

Report any suspected fraud
Regulations that Support Your
Efforts to Prevent Fraud
Dear
Colleague Letter GEN 11-17
(October 20, 2011)
Institutions are required to have processes
to verify identity that are subject to review
by the institution's accreditor (34 CFR
602.17(g))
Other Resources
Dear Colleague Letter GEN 12-15
(August 14, 2012)
Discharge of loans which were fraudulently
certified

Inspector General's Hotline
1-800-MIS-USED
http://www2.ed.gov/about/offices/list/oig/hotline.html
Questions?