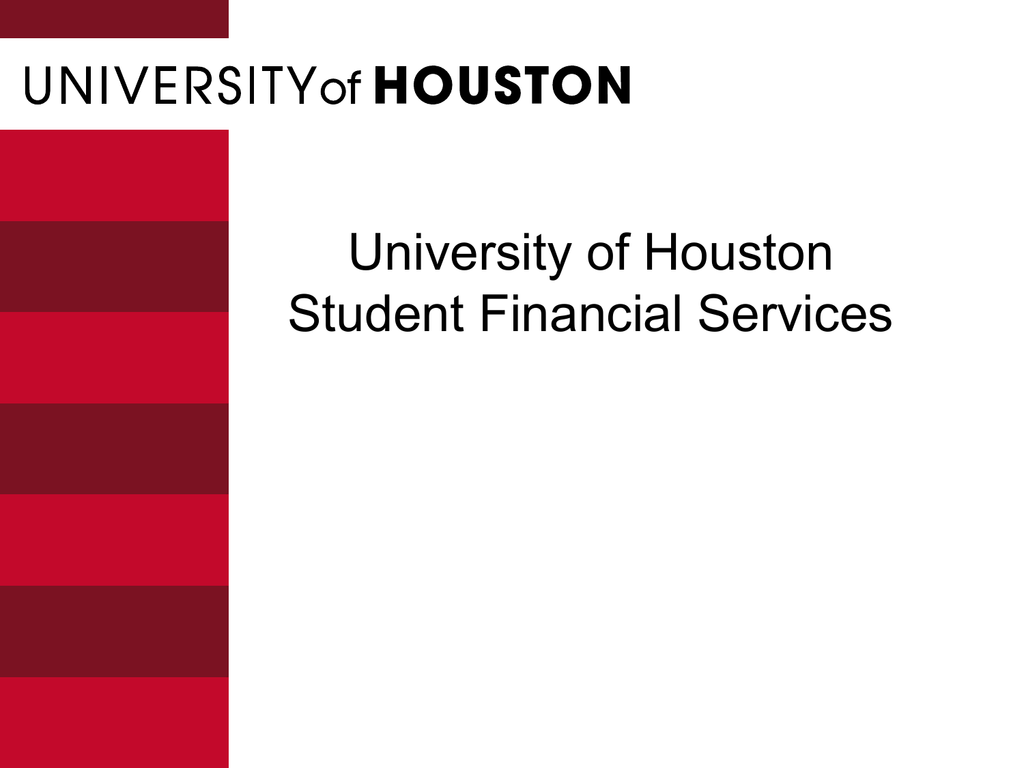 University of Houston
Student Financial Services
Primary Areas of Responsibility






Billing of student tuition and fees
Process tuition and fee payment
Process student refunds
Process waivers
Bill third party sponsors
Please pay attention to payment due dates
located at:
http://www.uh.edu/about/offices/enrollment-
services/student-financial-services
Payment Options
Payment Plans
Payment Methods
 90 Day
Deferment
 45 Day
Deferment
 Installment Pay
Plan
 Cash or check
 Credit card
 Online
recommended
Student Refunds
 After payment of your balance due, any
remaining funds (e.g. financial aid) will be
refunded to you.
 The University issues student refunds
electronically.
 Your student refund can be deposited
directly into your bank account.
 How do you let University of Houston
know how you wish to receive your
funds??
Choose How to Get Your Refund
 Higher One Packet
 Important information regarding how to
establish refund preference.
 University recommends you select direct
deposit. (ACH to 3rd party bank).
 Keep card in a safe place or destroy.
Bring Your Bank to Campus
The University of Houston encourages you
to bring your bank to campus.
 Easier to pay tuition and fees by
check.
 Payments can be paid online by
electronic check.
 We encourage you to consider
opening an account if you do not have
one.
Contact Information
We are located at the Welcome Center.
You may contact us by phone or email at the
following:
(713) 743-1010, option 6
[email protected]
http://www.uh.edu/about/offices/enrollmentservices/student-financial-services/
We wish you success! Go Coogs!