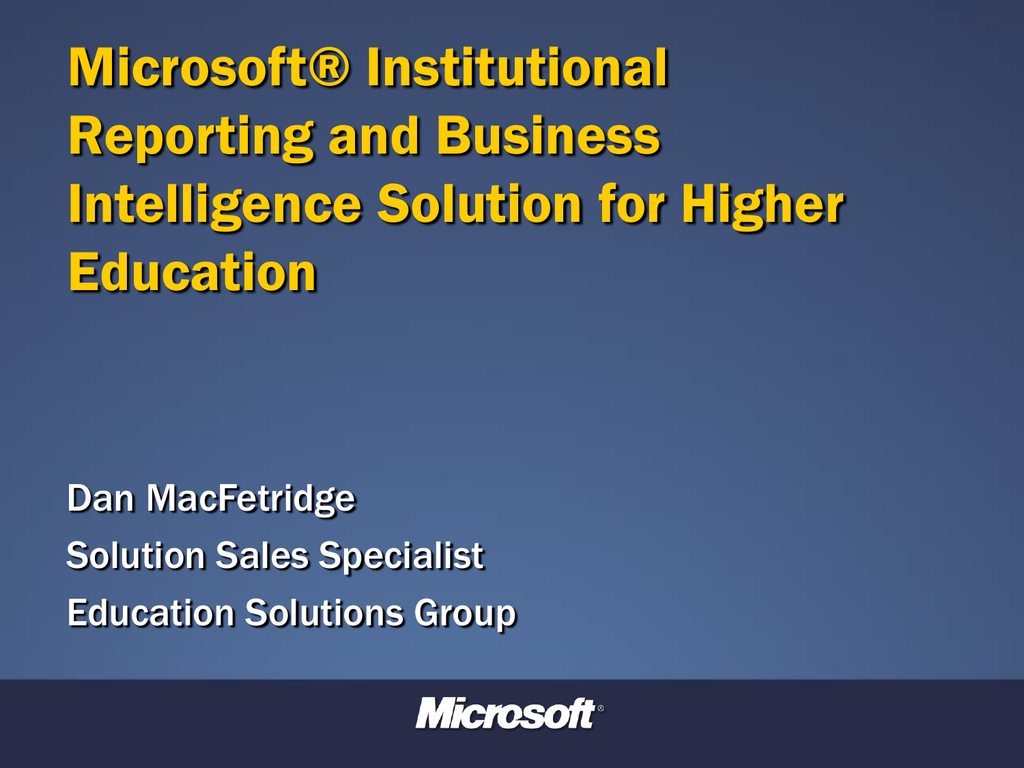 Microsoft® Institutional
Reporting and Business
Intelligence Solution for Higher
Education
Dan MacFetridge
Solution Sales Specialist
Education Solutions Group
Agenda
• Hi Ed Business Intelligence Opportunities
• Customer BI Issues
• The Impact on Higher Education
• Critical BI Partner Components
• Business Intelligence Data Flow
• Deploying with Partners
• Success Factors & Next Steps
• Additional Resources
The BI Hi Ed Market Opportunity
•
•
•
•
•
Funding/ERP are top issues among institutions
94% of all Hi Ed Institutions do not have a DW
80% of US students are non-university attendees
Annual Hi Ed ERP expenditures at $3 Billion
ERP spend is increasing at 20% annually
*Source: EDUCAUSE 2003 Survey
Data Warehouse Relevancy
• Few institutions have all of the major institutional
data areas available
• Most start with either student data, human
resources, or finance data
• Their goal is to evolve toward a comprehensive
set of data elements and reports
*Source: EDUCAUSE 2003 Survey
Is this what you are hearing?
"How do we make
decisive
improvement
decisions
when we
can't drill
down into
our data to
uncover
the cause-andeffect patterns
that affect our
institution?"
"We have
enormous
amounts of
data available
to us, but by
the time our
department
can access
it we are in
a reactive
mode."
"Our users are
demanding
so much
information
that our
systems are
bogged down
from a huge
backlog of
unanswered
requests."
"How can
I efficiently
empower my
staff to see
day-to-day
operations
and align their
efforts with
the institution's
long-term
strategy?"
"Our users
lack the tools
to easily
interpret
and make
decisions
based on
available
data."
Hi Ed's Economic Challenges
• Increased accountability for the university's use of public funds
– Current economy has led to increasing enrollment and less
funding
• Increasing enrollment leads to complex curriculum planning
– Efficient space and resource utilization is a critical success factor
• Matching faculty to the needs of curriculum delivery
– Overcoming academic culture of autonomy and decentralization
• Accountability to the public for the contributions of faculty
– Higher accountability due to collecting and analyzing data
• Declining funds force tough resource allocation decisions
– Administrative and academia are historically reluctant to change
Hi Ed's Infrastructure Challenges
• Data Collection
– Data is locked in different systems
– Manual processes required to extract available data
• Reporting
– Administrators scramble to pull data from different sources
– Work is tedious, time-consuming and driven by deadlines
• Analysis
– Lack of robust tools available for in-depth data analysis
– Data analysis is basic and non-conclusive
• Information Distribution
– Information is manually updated to websites
– Much of the information and results are not accessible
• Institutional Approach Changes
– Changes are not driven by scientific methods
Adding Value to Solve the Problem
• What products or services do you currently provide that
can help overcome these challenges?
• What specialized BI knowledge does your business have
that can be leveraged in Hi Ed?
• What are the key differentiators you utilize when selling to
Hi Ed?
• Does your technology roadmap complement upcoming
Microsoft releases for Hi Ed?
• Who do you generally sell to in HiEd?
What if you could deliver…
An improvement in their long term planning through timely,
accurate report delivery?
A reduction in their facilities expenditures through more
accurate space planning?
An improvement in their proactive decision making through
access to higher quality, readily available data?
More efficient use of their institutional funds through better
analysis of projected expenditures and revenues?
Business Intelligence for Higher Education:
Microsoft Solution Components
Data
Collection
Creating a
Closed-Loop
Process...
Institutional
Improvement
Analysis and
Reporting
…To Improve
Institutional
Achievement
Information
Distribution
Data Collection Capabilities
Collect and consolidate
data from different sources
Data
Collection
Institutional
Improvement
Analysis and
Reporting
Information
Distribution
–
–
–
–
–
–
–
–
–
–
Student Information
Colleges
Human Resources
Admissions
Library
Finance
Purchasing
Continuing Education
Alumnus
Information Technology
Partner Value in Data Collection
Simplify data collection to improve
timing, accuracy and relevancy
• Establish a central data source
– Conflicting data is eliminated by
entering once and automatically
propagating to other applications
• Interoperate with existing systems
– Standards-based approach leverages
current infrastructure and reduces
support costs
• Automate processes
– Processes must be automated and
facilitate the movement of
information through workflow
management
Analysis and Reporting Capabilities
Identify improvement
areas, discover root
causes and meet
reporting requirements
Data
Collection
Institutional
Improvement
Analysis and
Reporting
Information
Distribution
–
–
–
–
–
–
–
Anything by Anything
Individual and Subgroups
Longitudinal Analysis
Fixed Format
Flexible Format
Available Anytime
Field Level Security
Partner-led Analysis and Reporting
Help identify improvement areas
through data-driven analysis
• Determine where improvements are needed
Report by subgroups over time and across different
measures and dimensions
• Determine how to make improvements
Perform rapid, sophisticated analysis on
institutional data, resources, and outcomes
• Data mining
Discover previously unknown factors that
may be affecting organizational performance
• Closed-loop analysis
Measure business impact and identify best
practices for replication
Information Distribution Capabilities
Communicate across
the institution, faculty,
departments, students
and community
Data
Collection
Institutional
Improvement
Analysis and
Reporting
Information
Distribution
– Administrative access to
organization-wide data
systems
– Faculty access to classroom
details
– Data integration via open
standard tools
– Security procedures
implemented
– Office Integration for
analysis, charts, reports
– Community & Alumnus Web
access
Add Value to Information Distribution
Make it easy to share accurate
information with appropriate users
• Quick access to relevant information
through web portals
Integrated information presented through
a definable and customizable interface
• Collaboration and document management
Web discussions and document sharing
across project, student, faculty, and
administrative levels
• Information distribution
Easy web publishing for generating
reports, applications, information, and
other institutional materials
Improvement Capabilities
Implement institutional
changes based on timely
data analysis
Data
Collection
Institutional
Improvement
Analysis and
Reporting
Information
Distribution
–
–
–
–
–
–
Research based decisions
Predictive analysis
Automatic data collection
Online collaboration
Rapid information access
Anytime anywhere security
controls for all users
– 'What if' scenario construction
Collaborative Improvement
Align your resources for improved results
• Institutional scorecard
Deliver data aggregation to monitor key
institutional metrics for trend analysis and
proactive decision making
• Cause and effect relationships
Provide drill down for data comparison to
understand of cause and effect relationships
• Closed-loop feedback
Encourage continuous improvement by
tracking ongoing performance results
Microsoft Hi Ed Solution Platform
• Provides capabilities for an "institutional scorecard"
– Monitor key metrics
– Apply trend analysis
– Deliver proactive decision making
• Allows drill down for data comparison
– Improve understanding of cause-and-effect relationships
• Establishes rich analysis capabilities supporting
key decision making processes
– Finance
– Admissions
– Enrollment
– Accreditation
– Curriculum
– Facilities planning
• Provides distribution and communication
methods across institutional constituencies
–
–
–
–
Administration and staff
Faculty
Students
Public
End-to-End Solution Elements
Student
Information
Other Admin
Systems
Single Sign-in
Notifications
Web Portal
XML
XML
APPLICATION
INTEGRATION
XML
ERP Systems
XML
Central Data
Repository
Data
Warehouse
HR Systems
Analysis Services
Reports
Business Intelligence Data Flow
ELEMENTS OF THE PROCESS
Source
Systems
Data Marts
and Cubes
Data
Warehouse
Clients
SQL Server
Data
Warehouse
1
Design the
Data Warehouse
2
•Query Tools
•Reporting
•Analysis
•Data Mining
3
Populate
Data Warehouse
Create
OLAP Cubes
4
Query
Data
Partners Build on Microsoft Solutions
Where does your business integrate
into the overall Solution?
STUDENT INFO
SYSTEMS
HUMAN
RESOURCES
COLLECTION
& STORAGE
REPORTING
& ANALYSIS
CONTINUING
EDUCATION
COMMUNICATION
& COLLABORATION
Microsoft Business Intelligence for Higher Education Solutions
IMPLEMENTATION AND SUPPORT
Local Services
VAR
Service Provider
National ISV
SI
Hardware Vendor
Scalable Tools for Rapid Deployment
MICROSOFT PRODUCTS
ENABLING FEATURES
SQL Server
• Database management and analysis
• Data warehousing solutions
• Analysis Services (OLAP)
• Closed loop analysis
• Data Mining/Data Transformation Services (DTS)
• Multipurpose network operating system
• Full support of .NET for scalability
• Application integration to improve access to data
• Variety of adapters and tools for standard applications
• Web portals
• Information sharing across servers, databases, public folders
Windows Server
BizTalk Server
SharePoint Portal Server
Office System
Data Analyzer
• Accessible results and analysis
• Different views to share and present data
• Visualization and analysis with dynamic charts and graphs
Solution Advantages
• Easy Deployment
– Familiar and highly productive tools and user interfaces
• Closed-Loop Approach
– Integrates data collection, reporting, analysis
and communication systems
• Comprehensive
– Part of the Microsoft end-to-end framework for
delivering education solutions
• Open Standards-based
– For reliable, accessible technology innovation
• Interoperable
– .NET Framework, XML, and IMS ensures interoperability
• Economical
– Low TCO including ease of use and ready integration
with existing applications
What you want to hear from customers…
"With our
institutional
scorecard,
I can now drill
down into the
data that is
important to me
to understand
cause-and-effect
factors that
I couldn't see
before."
"We can now
compare
housing
enrollment and
classroom seat
numbers to
deliver more
accurate
planning and
reduce facility
expenditures."
"We've
significantly
reduced the
costs
associated
with ad-hoc
requests by
enabling selfservice
inquiries by
our users."
"My staff can
now identify
data anomalies
as they occur
and determine
on their own
what
information is
relevant for
real-time
analysis."
"Our individual
departments
now have a
consistent way
to monitor,
identify, and
compare key
metrics and
help make
more informed
decisions."
Business Intelligence Go-To-Market:
Direct Marketing Campaign
• Direct marketing campaign to Higher Education
– Direct Mail Drop: Feb. 27, 2004
– Target Audience: BDMs and TDMs (8k+)
• CTA: Register via WebProfiler and be entered in
sweepstakes to win:
– MS Press book: Business Intelligence: Making Better Decisions
Faster
– SQL Server 2000 online training vouchers (retail value $199)
– BI Evaluation Kit: includes SQL Server 2000 with Reporting
Services Eval, Office Enterprise Eval, BI Within Reach Resource CD,
and Custom Thank You Letter
• Other customer resources available via WebProfiler:
– Executive Circle on-demand webcast recorded Feb. 16, 2004
http://go.microsoft.com/fwlink/?LinkId=23002
– BI technical whitepaper Data-Driven Decision Making in Higher
Education
– Penn State video case study
Business Intelligence Go-To-Market:
Direct Mail Brochure
Business Intelligence Go-To-Market:
BI WebProfiler
Business Intelligence Go-To-Market:
Partner Engagement
• Partner Revenue Opportunity: $50K-$1M+
• Partner Type: ISV, SI, Services, Resellers
• Education-specific Partner resources available via
www.microsoft.com/education/partner
– Readiness and Sales Aids
– To-customer presentations
• Through Partner Marketing Materials:
–
–
–
–
Direct Marketing Materials (via CCT)
Sample Email/letters
Web Profiler Examples
Available March 15, 2004 via www.microsoft.com/education/partner
• BI Training Resources:
– Microsoft has developed an abundance of BI training resources for partners
– Includes Microsoft Official Curriculum; Training Courses; Certifications;
Deployment Kits; Hands-On Labs; MS Press Materials and more.
– Skills matrix found at www.microsoft.com/partner/bi.
Next Steps
• Contact your local Partner Engagement Manager
www.microsoft.com/education/partner for a regional map
Engage in sales opportunities
• Profile your company and solution in Partner Central
 https://microsoftuspartnernet.allegis.com
 Support – Email [email protected]
 Contact Partner Program Manager for any additional
assistance
Stacy McCannon ([email protected])
Additional Resources
• Education Partner Web Site
www.microsoft.com/education/partner
• Microsoft in Education
http://microsoft.com/education/
• Education eNewsletter
http://www.microsoft.com/education/?ID=newsletters
• MSDNAA
www.msdnaa.net
• HSC information
[email protected]
Thank You
© 2004 Microsoft Corporation. All rights reserved.
This presentation is for informational purposes only. Microsoft makes no warranties, express or implied, in this summary.