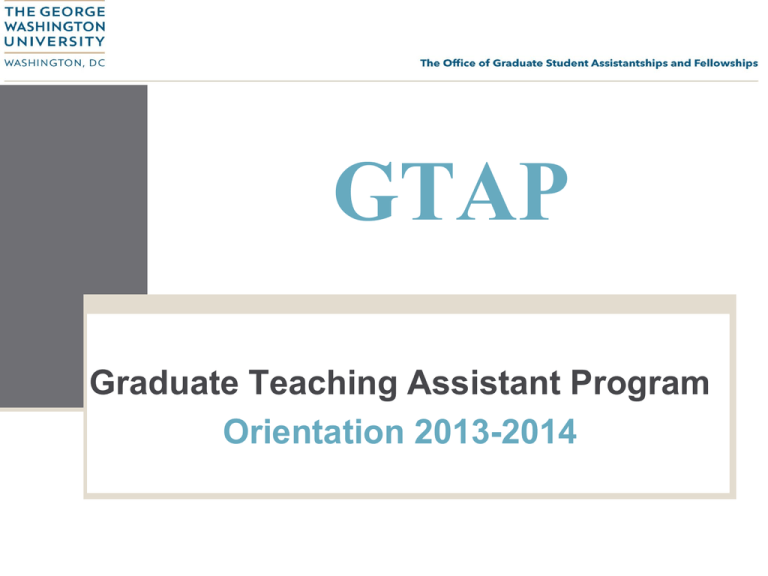 GTAP
Graduate Teaching Assistant Program
Orientation 2013-2014
Introductions
 Geri Rypkema, Assistant Provost,
Graduate Student Assistantships and
Fellowships
 Lisa Rice, Associate Professor,
Special Education and Disabilities
Studies, and Instructor for the Online GTA Course
Quote to Guide Us…
"It is necessary for us to learn from
others' mistakes. You will not live long
enough to make them all yourself."
Admiral Hyman G Rickover
Why Are You Here?
 Benefits the GW students you serve
 Benefits you




Learn to be a professor
Prepare for ANY position in which you do
presentations, training
Hone other employment skills
(communication, teamwork, technology
literacy)
Really learn the material you teach
GAs
Graduate Assistant (full package)
 Typically given a package of support (salary, stipend,
and tuition award)
 Usually full-year appointment
 GTAP required
 Eligible for $1,500 payment (excluding students in
SPHHS, SMHS or GWLS) if enrolled in GW student
health insurance plan
Graduate Assistant (partial)
 Typically given a salary only
 Usually a semester appointment
 GTAP required
 Not eligible for $1,500 payment related to student
health insurance enrollment
Perks
 Domestic GAs (with full packages) ONLY:
Health Insurance Support: Aetna Student
Health plan is $2,258 for a full year; GW
reimburses $1,500, after enrollment is verified
via additional stipend (or $750 per semester if
you enroll in one semester at a time).
 International GAs ONLY:
Health Insurance Support: All international
graduate students will be automatically
enrolled in the Aetna Student Health Plan
and the cost added to your student account
($1,129 on Fall 2013 invoice and $1,129 on
Spring 2013 invoice. As an enrollee, you will be
eligible for a $1,500 payment toward the cost of
the plan ($2,258: $750 in the fall and $750 in
the Spring). If you are a GA with a full
package.
Perks (Cont.)
 GA Parking: For discount,
complete form at Student
Parking Services in Colonial
Central, Marvin Center,
Ground Floor
 Services:
DoIT training in Word, Excel,
PowerPoint; use of
Instructional Technology Lab
in Gelman, Blackboard
training, etc.
Elements of GTAP
 GTAP Orientation: Today's workshop
on GA requirements, privileges,
campus resources, and teaching
ideas to get you started
 Instructional Presentation: Today's
mini-teaching demonstrations, with
feedback on presentation skills
 (If Native Language is not English)
Oral English Proficiency Screening
with Speech and Hearing Clinic
Elements of GTAP
 Online Certification Course UNIV
0250. DE: Readings/resources
and short assignments in
Blackboard—No charge, passfail, MUST COMPLETE to:
 Have
GTA Certification appear
on transcript
 Continue as a GA!
More Elements of GTAP
 Departmental Training and Guidance:
Most important: Seek feedback
 Evaluation: You will give us feedback on
your experiences. We will seek
evaluations of you by your mentors
 Advanced Teaching Appointments
Broad Responsibilities as an Instructor
(Society for Teaching and Learning in Higher Education in Canada)
1.
2.
3.
4.
5.
6.
7.
8.
9.
Display content competence
Display pedagogical competence
Deal sensitively with sensitive topics
Foster student development
Avoid dual relationships
Maintain confidentiality
Show respect for colleagues
Perform valid assessments of students
Show respect for the institution
You're Not Alone!
 Faculty mentor
 Department chair: if you have problems
with your faculty mentor
 GTAP website:
www.gwu.edu/~fellows/GTAP
 Online GTA course: great web
resources on teaching
 Counseling Center (4-5300): help for
psychological problems; stress mgt.,
study skills, test anxiety, time mgt.
workshops; peer tutoring program
You're Not Alone!
 Teaching and Learning Collaborative
(994-4026, tlc.provost.gwu.edu):
Blackboard training, help preparing
multimedia instructional materials,
teaching tips, e-Community for GTAs
and IAs
 Academic Technology Support (9947900): equipment, training to use
equipment, help if equipment doesn't
work, in classrooms and computer
labs
You're Still Not Alone!
 Gelman (or Himmelfarb) Library: reference
Desk (4-6558) for help researching topics &
training students in library research skills
 Division of Information Technology (IT): The
IT training unit (4-4948, teachme@gwu.edu,
http://it.gwu.edu/training) provides both
classroom and online training in PowerPoint,
Excel, Word, Dreamweaver, Photoshop, and
more if you sign in through Skillport or
GLearn
You'll Never Walk Alone!
 Academic Integrity Office (4-1977): help
with cases of cheating
 Writing Center (4-3765): help with
papers; see also University Writing
Program website, www.gwu.edu/~uwp,
especially the WID Studio, for guidance
on teaching writing
 Disability Support Services (4-8250): help
for students needing accommodations
 International Services Office (4-4477):
help for international students
You're a Student First!
 #1 priority is your own studies.
 Take your GA responsibilities
seriously, but don't let them
consume you.
 You should not put in more than 20
hours/week on average.
Your view of a learner?
A vessel to be filled...
or
A live wire to be activated...