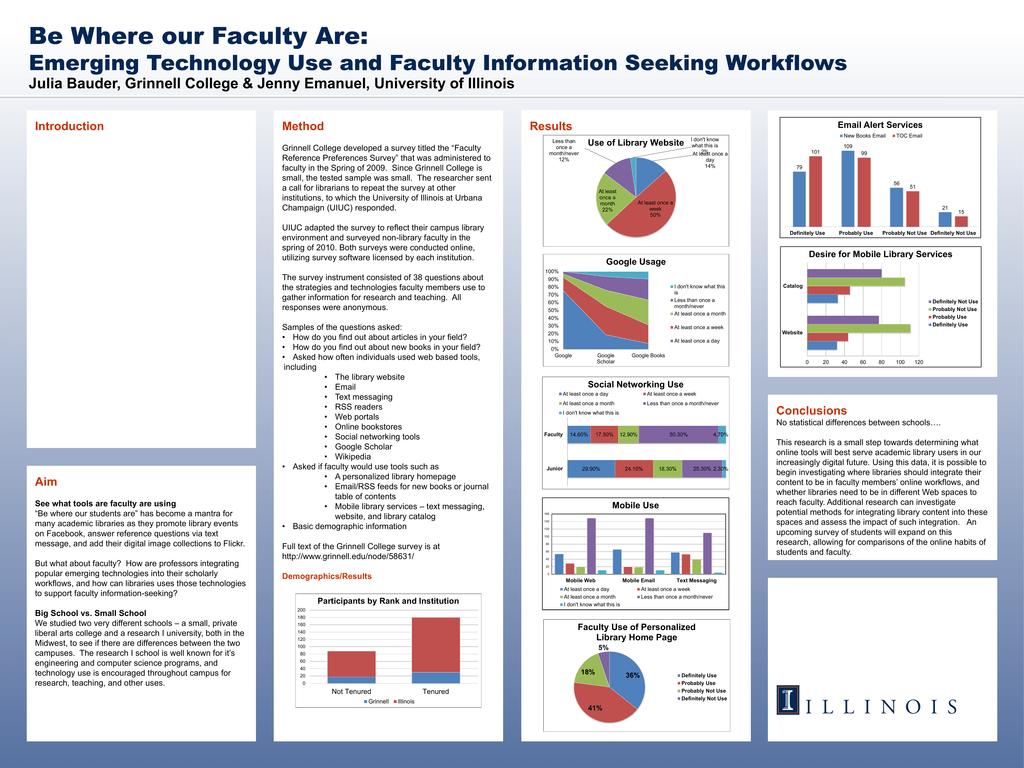 Be Where our Faculty Are:
Emerging Technology Use and Faculty Information Seeking Workflows
Julia Bauder, Grinnell College & Jenny Emanuel, University of Illinois
Introduction
Method
Email Alert Services
Results
Less than
once a
month/never
12%
Grinnell College developed a survey titled the "Faculty
Reference Preferences Survey" that was administered to
faculty in the Spring of 2009. Since Grinnell College is
small, the tested sample was small. The researcher sent
a call for librarians to repeat the survey at other
institutions, to which the University of Illinois at Urbana
Champaign (UIUC) responded.
Use of Library Website
day
14%
Aim
See what tools are faculty are using
"Be where our students are" has become a mantra for
many academic libraries as they promote library events
on Facebook, answer reference questions via text
message, and add their digital image collections to Flickr.
But what about faculty? How are professors integrating
popular emerging technologies into their scholarly
workflows, and how can libraries uses those technologies
to support faculty information-seeking?
Samples of the questions asked:
• How do you find out about articles in your field?
• How do you find out about new books in your field?
• Asked how often individuals used web based tools,
including
• The library website
• Email
• Text messaging
• RSS readers
• Web portals
• Online bookstores
• Social networking tools
• Google Scholar
• Wikipedia
• Asked if faculty would use tools such as
• A personalized library homepage
• Email/RSS feeds for new books or journal
table of contents
• Mobile library services – text messaging,
website, and library catalog
• Basic demographic information
At least
once a
month
22%
Big School vs. Small School
We studied two very different schools – a small, private
liberal arts college and a research I university, both in the
Midwest, to see if there are differences between the two
campuses. The research I school is well known for it's
engineering and computer science programs, and
technology use is encouraged throughout campus for
research, teaching, and other uses.
100%
90%
80%
70%
60%
50%
40%
30%
20%
10%
0%
Google
I don't know what this
is
Less than once a
month/never
At least once a month
Google
Scholar
Definitely Not Use
Probably Not Use
Probably Use
Definitely Use
0
20
40
60
80
100
120
Social Networking Use
At least once a day
At least once a week
At least once a month
Less than once a month/never
I don't know what this is
Conclusions
No statistical differences between schools….
Faculty
Junior
14.60%
17.50%
12.90%
29.90%
50.30%
24.10%
18.30%
4.70%
25.30% 2.30%
Mobile Use
160
140
120
80
60
40
Mobile Email
At least once a day
At least once a month
I don't know what this is
Text Messaging
At least once a week
Less than once a month/never
80
60
18%
0
Grinnell
Catalog
Google Books
5%
Not Tenured
Probably Not Use Definitely Not Use
At least once a day
100
20
15
Website
Faculty Use of Personalized
Library Home Page
40
Probably Use
At least once a week
180
120
51
Desire for Mobile Library Services
200
140
79
Google Usage
Mobile Web
160
99
Definitely Use
0
Participants by Rank and Institution
101
21
20
Demographics/Results
109
At least once a
week
50%
100
Full text of the Grinnell College survey is at
http://www.grinnell.edu/node/58631/
TOC Email
56
UIUC adapted the survey to reflect their campus library
environment and surveyed non-library faculty in the
spring of 2010. Both surveys were conducted online,
utilizing survey software licensed by each institution.
The survey instrument consisted of 38 questions about
the strategies and technologies faculty members use to
gather information for research and teaching. All
responses were anonymous.
New Books Email
I don't know
what this is
2% once a
At least
Tenured
Illinois
41%
36%
Definitely Use
Probably Use
Probably Not Use
Definitely Not Use
This research is a small step towards determining what
online tools will best serve academic library users in our
increasingly digital future. Using this data, it is possible to
begin investigating where libraries should integrate their
content to be in faculty members' online workflows, and
whether libraries need to be in different Web spaces to
reach faculty. Additional research can investigate
potential methods for integrating library content into these
spaces and assess the impact of such integration. An
upcoming survey of students will expand on this
research, allowing for comparisons of the online habits of
students and faculty.