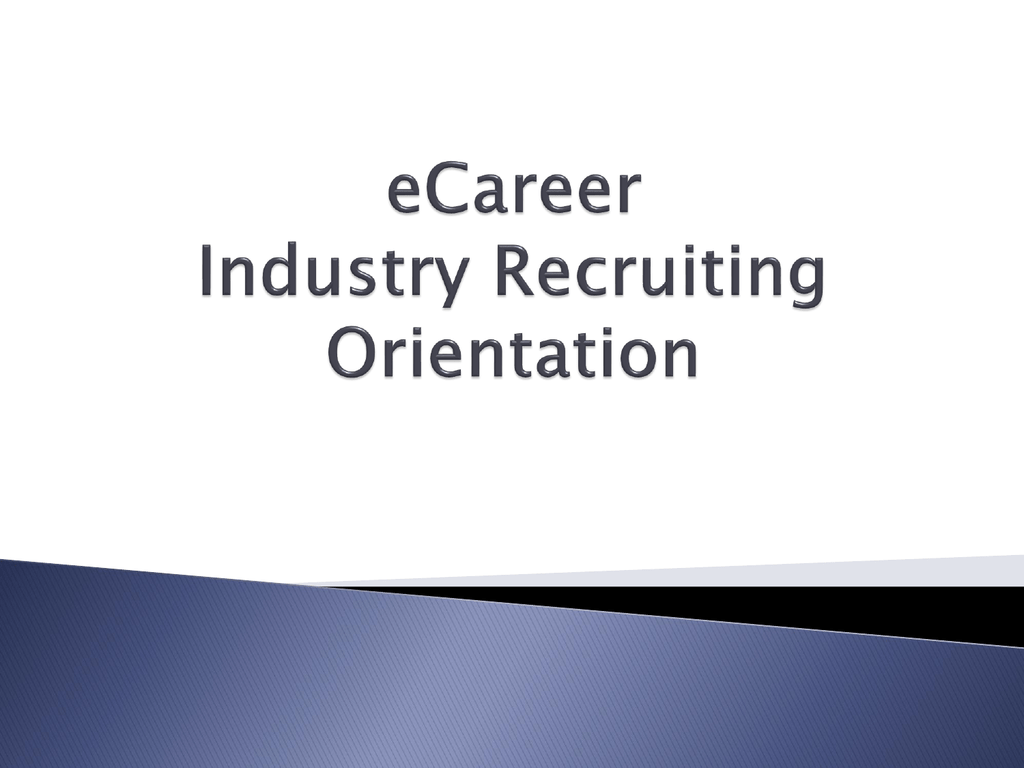 


eCareer is a free online job search system that lists
available co-op, internship, and entry-level full-time
opportunities at hundreds of companies and
government agencies across the country and around
the world. Job descriptions are posted by employers
seeking Penn State students or graduates and are
reviewed and pre-approved by our staff to ensure
their technical relevance.
eCareer is available to all undergraduate and
graduate students in the Colleges of Earth and
Mineral Sciences and Engineering, as well as recent
alums from these colleges.
You may use eCareer to view information about oncampus recruiting (interviews), available positions
(for employers not coming to campus), and employer
information sessions, events, and presentations.

Once submitted, students will receive an email in their psu.edu account. This e-mail
contains a link to verify e-mail account
validity. Students must click the link in the email to move forward in the registration
process.
Once verification is complete, a second e-mail
will be sent to the student that includes log in
instructions for future logins.
Documents
Resume Tips and Examples
Heading
Include your name, Penn State email address (e.g.,
[email protected]) or other professionally-appropriate email
address, phone number, and campus and/or permanent address
details. If you have a LinkedIn account and/or a personal website
that would be of interest to an employer, include links to those as
well. Make sure any web content you link to is professional in
content and style.
Employers need to be able to reach you by phone. Make sure the
voicemail message at the phone number you provide is clear,
concise, and professional.
Objective
An objective statement is not generally necessary (especially if you
are submitting a cover letter as well) although, at the request of
employers, we require one for all co-op- and internship-seeking
résumés submitted through our eCareer job search system.
If you are including an objective statement, it should be no longer
than two lines and should briefly describe your current goal,
including the semester in which you are seeking a position (e.g., "To
obtain an internship in energy engineering for summer 2015").
Education
List your major or anticipated major, degree or anticipated degree, graduation date or anticipated date,
and cumulative grade point average; you may also choose to include your in-major GPA, if desired.
Please note that if you are using our eCareer job search system, GPA information is required in order for
your résumé to be approved. Also, the official name of this institution is The Pennsylvania State
University. If you attend the University Park campus, the official city designation should be University
Park, PA (not State College).
It can also be helpful to include the names—not course numbers—of 3–6 relevant courses you have
taken (e.g., courses related to your field of study or intended career), especially if you have little careerrelated work experience.
Work Experience
Include all current and past paid positions you have held, including both engineering-related and nonengineering-related positions; include the title you hold/held, the name of the company or
organization, location, and months/years of employment. Also, include volunteer positions and student
projects, if applicable.
Begin each bullet point under each job title with an action word to describe specific responsibilities, and
quantify whenever possible (e.g., "Provided assistance to 35 customers"; "Increased customer
satisfaction with company procedures, as evidenced on 80 percent of customer surveys between 2013
and 2014"). In general, include no more than five bullet points to describe each position. Do not use
pronouns (e.g., "I"). Descriptions of job responsibilities in current positions should be in the present
tense (e.g., "Supervise front-line operations"); descriptions of responsibilities in past positions should
be in the past tense. International students: When describing previous work experience in your home
country, provide additional information about the company that will help to put your experience into
context for an American employer who might be unfamiliar with it (e.g., "one of the top marketing
companies in Sweden", "second-largest automotive technology company in Germany", etc.).
If you don't have much relevant experience (i.e., engineering or technical experience), emphasize the
transferable skills that you may have used or developed in non-technical positions you have held. For
example, management skills are important to most employers; if you successfully managed a fast-food
restaurant, many employers will also conclude that you are capable of managing an engineering project
or team. You should make these kinds of connections explicit during any interviews you obtain.
Skills
Avoid using general, subjective descriptors of your skills (e.g., "good communicator",
"hard worker"). Instead, include specific technical skills, including computer
programs related to your major that you would use in the position, or special training
that would be relevant to the position.
Make sure you are reasonably proficient in any program you list as a "skill"—an
employer might follow up to see how much you really know!
Non-technical skills can be helpful to include as well—for example, include foreign
language skills if you have them, especially if you are interested in working overseas.
If you are an international student, avoid listing English language proficiency as a
skill; employers in the United States will expect you to be proficient in English.
Include any experience or training you have had involving leadership or public
speaking.
Activities, Honors, and Awards
Include membership in honor societies or academic, professional, or interest-related
organizations. Specify those in which you took a leadership role (if applicable). If you
are a first-year student at Penn State, it's okay to include high school activities,
clubs, or accomplishments; by the time you are a sophomore, junior, or senior,
however, your résumé should include only college-level information.
If you have received any academic or professional awards at Penn State or from a
previous employer or other source, include these as well. For any award you list, be
sure to include information about what the award was for—the name of an unfamiliar
award will mean little to employers.
References
Avoid listing "References Available Upon Request" at the bottom of your
résumé; employers who are interested in you will ask for your references
anyway.
Prepare a reference list, separate from your résumé, that you can provide
to employers upon request. Include at least three references with their full
contact information, including name, title if available, phone number, email
address, and professional relationship to you. For example:
John Smith
Associate Director, ABC Engineering (Bellefonte, PA)
814-555-1212
[email protected]
Summer internship supervisor, 2014
References should be current or former employers, professors, instructors,
or other professionals. Do not use family members, friends, or significant
others as references. Make sure you check with the people you want to use
as references and get their permission before putting them on your list!
In order to give you the best possible recommendation, references need to
be prepared for a potential employer's call. Provide each reference with any
necessary job descriptions and a copy of your résumé so he or she will be
able to prepare appropriate comments.

International Students
University Office of Global Programs
410 Boucke Building
University Park, PA 16802
814-865-6348

Walk-in hours:
Monday, Tuesday, Wednesday: 1:30 – 4:30 pm
Thursday, Friday: 8:30 am – 11:30 am
http://careerfairs.psu.edu/
 Tuesday, Wednesday & Thursday
September 16-18, 2014
11:00 a.m. – 4:00 p.m.
Bryce Jordan Center
Tuesday, Sept. 16: Non-Technical Full-Time Recruiting Day
Wednesday, Sept. 17: Internship/Co-op Recruiting Day
Thursday, Sept. 18: Technical Full-Time Recruiting Day
Suggestion:
Instead of handing employers your resume, hand employers a business card.
Most employers do not accept resumes during the career fair.


Info Session Attire – If you are coming
straight from class, jeans or whatever you
wore to class is fine. First impressions are
key and looking presentable makes a great
impression!
Interview Attire – Business suits for men and
women. If you do not have a suit, wear
something clean, pressed, and presentable.
Questions ???