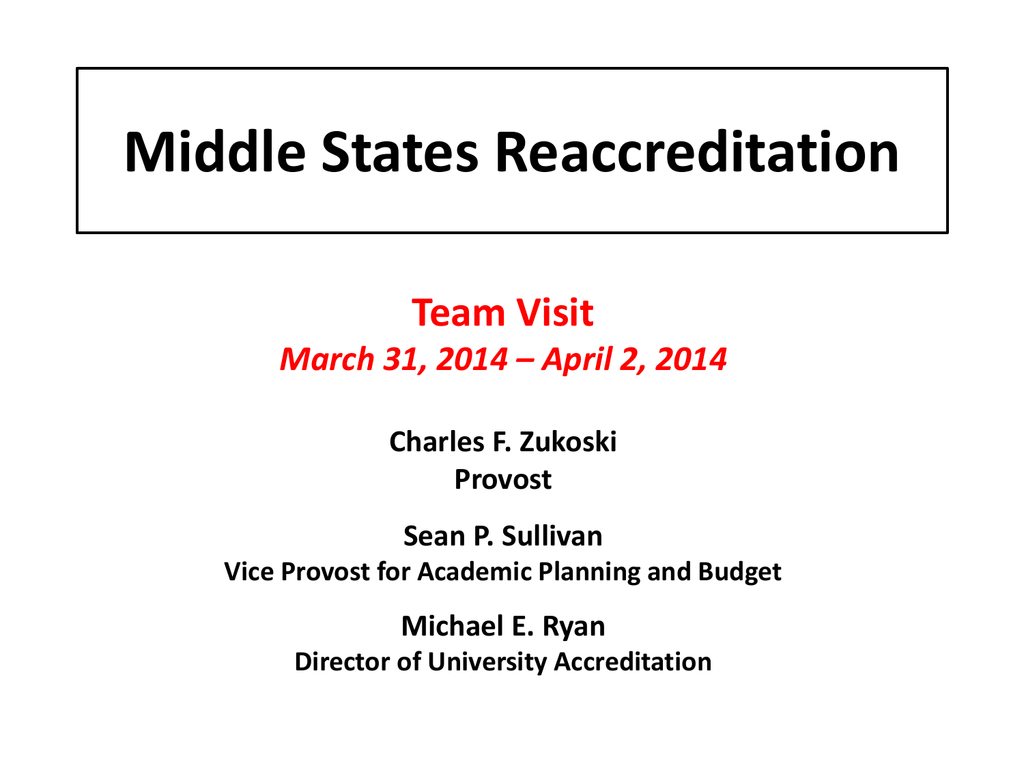 Middle States Reaccreditation
Team Visit
March 31, 2014 – April 2, 2014
Charles F. Zukoski
Provost
Sean P. Sullivan
Vice Provost for Academic Planning and Budget
Michael E. Ryan
Director of University Accreditation
Regional Accrediting Organizations
Aims of Accreditation
• Accreditation is about accountability and is intended to
strengthen and sustain the quality and integrity of higher
education by establishing and enforcing standards of
excellence.
• Accreditation is about continuous self-improvement and
involves a process of peer review adopted by the higher
educational community for its self-regulation. The
process is not intended to be adversarial but rather
collegial in helping institutions improve their practices
and attain their mission.
Team Chair and Team Support
Team Chair
Patricia Beeson, Senior Vice Chancellor and Provost
University of Pittsburgh
Chair and Team Support
Juan Manfredi, Vice Provost for Undergraduate Studies
University of Pittsburgh
Dan Kubis, Assistant to the Provost
University of Pittsburgh
SUNY Representative
Linnea LoPresti, Assistant Provost for Academic Programs
SUNY System Administration
Middle States Evaluating Team Members
Bryan Andriano, Executive Director, Global and Experiential Education, School of Business
George Washington University
Nivia Aurora Fernandez Hernandez, Professor, College of Natural Sciences
University of Puerto Rico – Rio Piedras
Maria Maricela Fuentes-Martin, Associate Vice President and Dean of Students
University of Texas-Pan American
Christina A. Hannah, Collegiate Professor and Program Director
Business and Executive Programs
University of Maryland
Betty J. Harper, Senior Planning and Research Associate
Office of Planning and Institutional Assessment
Pennsylvania State University
Maureen Diana Sasso, Director, Information Services Division, Gumberg Library
Duquesne University
Gene A. Vincenti, Former Executive Vice Chancellor for Administration
Rutgers, The State University of New Jersey
Calvin Yu, Assistant Professor, Director of Assessment
Rutgers, The State University of New Jersey
Middle States Standards for Accreditation
1. Mission and Goals
2. Planning, Resource Allocation, and Institutional Renewal
3. Institutional Resources
4. Leadership and Governance
5. Administration
6. Integrity
7. Institutional Assessment
8. Student Admissions and Retention
9. Student Support Services
10. Faculty
11. Educational Offerings
12. General Education
13. Related Educational Activities
14. Assessment of Student Learning
Self-Study Report
Framework for Excellence
Executive Summary
Chapter 1 - Charting the Course to Excellence:
Mission, Vision, Leadership, Integrity
Addresses Standards 1, 4, 5, 6
Chapter 2 – Building a Foundation for Excellence:
Strategic Planning, Resource Allocation and
Institutional Renewal
Addresses Standards 2, 3, 7
Chapter 3 – Educating for Excellence:
Faculty
Addresses Standard 10
Chapter 4 – Educating for Excellence:
Instructional Programs
Addresses Standards 11, 12, 13, 14
Chapter 5 – Fostering Student Learning and Achievement:
Admissions, Retention, and Student Support Services
Addresses Standards 8, 9
Chapter 6 – Conclusions
Sources
293 sources cited
Self-Study Report
• Framework for Excellence
– http://www.buffalo.edu/provost/acredit/middle-states/selfstudy-report.html
• Characteristics of Excellence in Higher Education
– http://www.msche.org/publications/CHX-2011-WEB.pdf
Team Schedule and Meetings
• Sunday, March 30, 2014
– Welcome Reception and Dinner
• Monday, March 31, 2014
–
–
–
–
–
–
–
–
–
–
President Tripathi
Coordinating Committee
UB 2020/Realizing UB 2020
Senior Leadership
Student Admissions
Academic Programs
Financial Planning
Deans
Department Chairs
Student Retention/Support
Services
– Assessment of Student Learning
– Resource Allocation Processes
– International Education
• Tuesday, April 1, 2014
–
–
–
–
–
–
–
–
Campus Life/Support services
General Education
Capital Planning
UB Council
Students
IT Support/Distance Education
Faculty Senate
Unit Standards and Impact
• Wednesday, April 2, 2014
– Exit Summary and Debriefing
Materials for Evaluating Team
Materials for Evaluating Team
• Self-Study Report
– Framework for Excellence
• Sources and Evidence
– Data, Documents, Reports, Websites, etc.
• Document Roadmap (>350 sources of evidence)
– Provides linkage between standards, source
documents, and citations in the Self-Study
• Flash Drive for Evaluators
– All evidence and related materials with embedded
links
• Document Workroom
Recent Commission Actions
November 21, 2013
• 2 institutions granted initial accreditation status
• 2 institutions granted "Candidate for Accreditation" status
• 1 institution had "Accreditation Readiness Report"
accepted
• 55 institutions had accreditation reaffirmed
• 1 institution had reaffirmation postponed
• 3 institutions were placed on probation
• 2 institutions were placed on warning
• 3 institutions were continued on warning
• 4 institutions had warning removed
• Various actions regarding 69 other institutions
Campus Preparation for Team Visit
•
•
•
•
Communications to the Campus
Logistical Planning and Arrangements
Assembly of Evidence
Preparation and Rehearsal (March 2014)
– Identification of session moderators and
participants
– Preparation of anticipated issues, questions, and
discussion points
Self-Study Report
Framework for Excellence
Highlights
•
•
•
•
•
•
Implementation of strategic planning initiatives through UB2020 and Realizing
UB 2020
Revision of the resource allocation model to support planning and meet current
funding realities
Significant campus transformations including the "downtown" campus, new
buildings, and major renovations
Replacement of aging administrative systems with a consolidated, state-of-theart database-driven infrastructure
Enhancement of institutional assessment, including comprehensive program
reviews
Promoting a culture assessment to support academic programs and enhance
student learning outcomes
• Significant advancement over past 10 years despite 4 years of significant budget cuts
Metric
2004
Today
Undergraduate
17,838
19,915
Graduate
9,438
10,025
Total
27,276
29,940
Faculty FTE
1,383
1,571
4-year graduation
34%
47%
6-year graduation
67%
72%
Median SAT
1150
1160
Median GRE
1163
1222
URM Students (FT)
10%
12%
• Increase in student diversity
International Students
12%
22%
• Increase in international students
$127K
$172K
• Increase in research expenditures
Research $/faculty
Notable Changes
• Increased enrollments
• Surge in faculty hiring
• Increased graduation rates
• Improvement in student quality
Looking Forward
Realizing UB 2020
• Communities of Excellence
• Curricular distinction
o
o
o
o
Revised general education
Experiential learning
Significant international experience
Capstone requirement
•
Key infrastructure improvements – operational
excellence
•
Strategic Communications
•
Unit success – achieving three-year plan goals
o Faculty growth
o Research and scholarly achievement
o Enrollment stability
Questions?