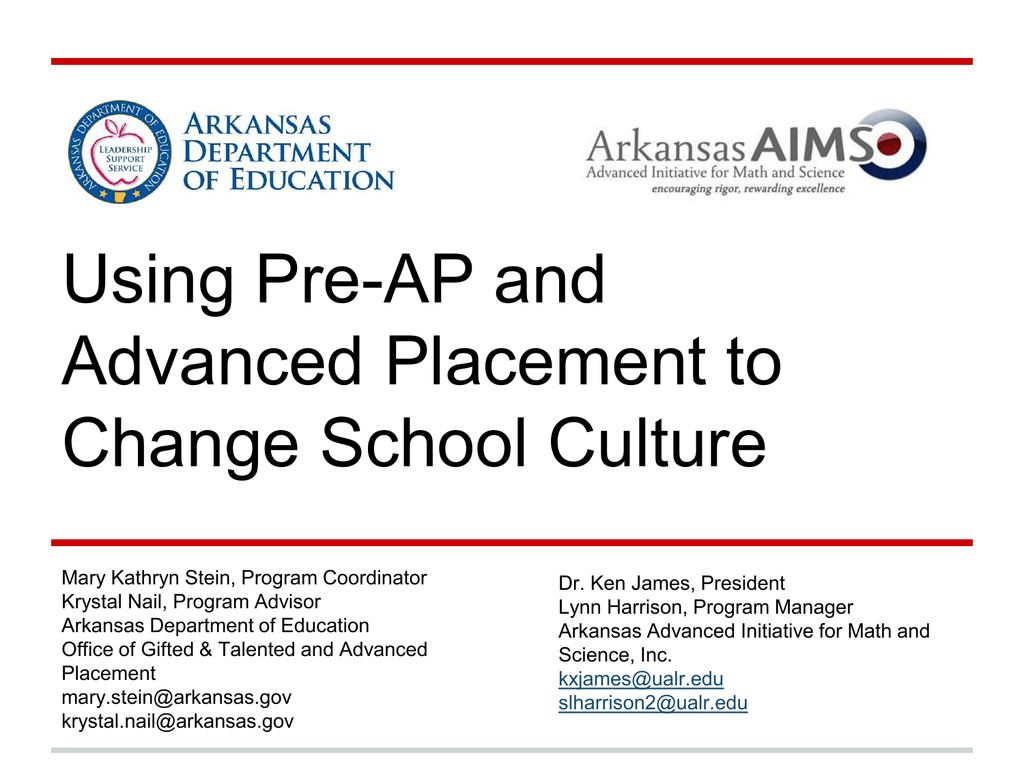 Using Pre-AP and
Advanced Placement to
Change School Culture
Mary Kathryn Stein, Program Coordinator
Krystal Nail, Program Advisor
Arkansas Department of Education
Office of Gifted & Talented and Advanced
Placement
[email protected]
[email protected]
Dr. Ken James, President
Lynn Harrison, Program Manager
Arkansas Advanced Initiative for Math and
Science, Inc.
[email protected]
[email protected]
Why Advanced
Placement?
It's the law. AP courses in the 4 core subject areas have
been required in school districts since the 2008-2009
school year.
What are the advantages of AP?
● Students may take college-level
classes while still in high school.
● Each course has a rigorous national
exam, and most colleges will give
credit for scores of 3, 4, or 5 on these
exams. Scores range from 1-5 on the
exams.
Advantage
Taking AP courses demonstrates to college
admission officers and scholarship adjudicators
that students have sought the most rigorous
curriculum available to them.
Advantage
Each AP course is
modeled upon a
comparable college
course and each AP
teacher's syllabus
has to be reviewed
and approved by
College Board
Advantage
Research indicates that students who
score a 3 or higher on an AP Exam
typically experience greater academic
success in college and are more likely
to earn a college degree than non-AP
students.
What can we do to promote AP in our
district?
Take advantage of state
funding for teacher
training for Advanced
Placement and PreAdvanced Placement
teachers. Build an
effective Vertical team of
teachers to increase
participation and success
on AP exams.
What can we do to promote AP in our
district?
Apply for AP Material and Equipment grants for
new AP courses, AP courses being revised, or
courses that have not received funding in the
last three years. Commissioner's Memo in
August ($1000 per course)
What can we do to promote AP in our
district?
Use the data from the PSAT to target and
recruit students to take AP courses. The ADE
and College Board will be offering a webinar
about how to do this in the fall.
What can we do to promote AP in our
district?
Help your AP teachers to understand how
to improve their instruction. The ADE and
College Board are providing a free webinar
to help AP Teachers use their Instructional
Planning Reports to improve their success
rate. It's on August 5th at 1 PM.
Join College Board and the Arkansas Department of Education at a free
webinar to learn more about how to use the AP Instructional Planning
Guide to improve instructional planning. The webinar will help teachers
target areas for increased attention and focus in the curriculum. Session
participants should have a copy of their AP Instructional Planning Report to
reference during the webinar.
Webinar participants will
·
Register online for our upcoming session on August 5, 2014, from 1
pm – 2 pm.
There is a link on the arkansased.org website in the lower right hand list
of Calendar of Events.
What can we do to promote AP in our
district?
The state provides $50 per AP score of 3 or
higher. It is fine to give the money to the
students who earn the scores as an
incentive for students to take AP courses
and exams.
What can we do to promote AP in our
district?
Provide more Pre-AP classes with trained
Pre-AP teachers to promote the skills
needed to be successful in AP classes.
AP in Arkansas
AP in Arkansas
AP in Arkansas
AP in Arkansas
AP in Arkansas
College Board Resources
AP Program
Free Resources Ordering
Counselor Resources
Big Future
AP Advocacy
Advocacy
Finding your passion
A lighter look
Own-the-turf
Video Clips
Turning it around
Jumpstart to college
Neither parent went to college
AP and College Admissions
Human Geography Class video on AP
AR AIMS Slides
Thank you for listening!
Here is the QR code for the powerpoint of
today's presentation.