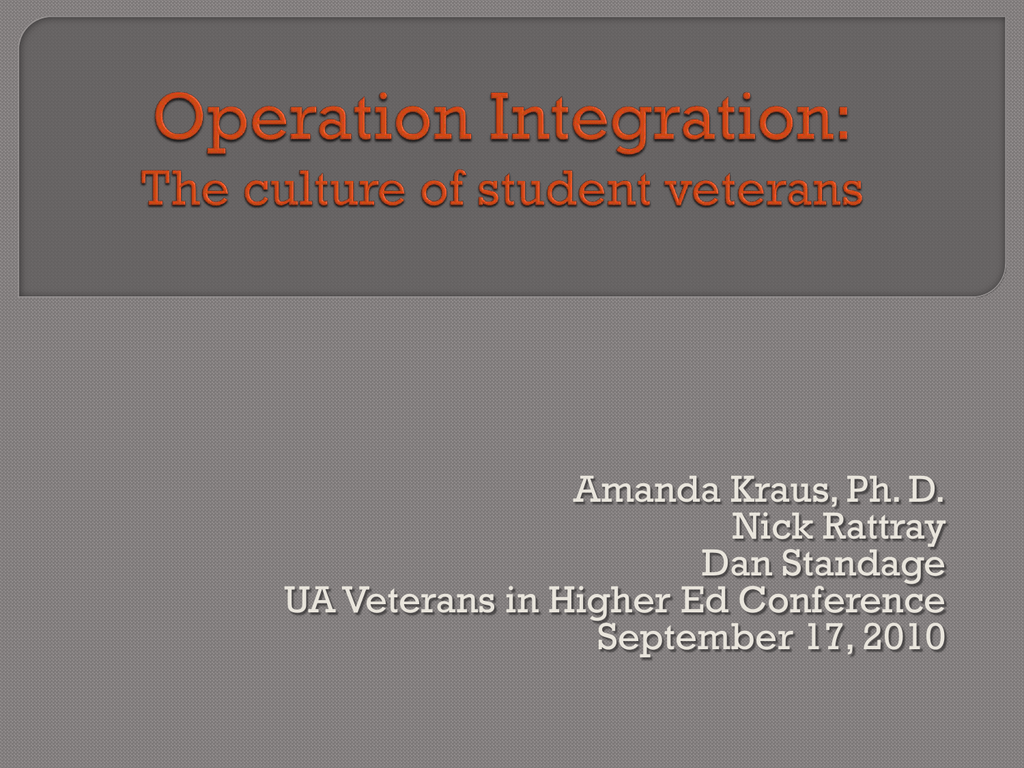 Amanda Kraus, Ph. D.
Nick Rattray
Dan Standage
UA Veterans in Higher Ed Conference
September 17, 2010

Influx of student veterans to higher
education
 Enrollment in Community Colleges or Vocational
Institutions on the rise

Post-9/11 G.I. Bill expanded benefits

Complex transitions to civilian life and
life with disability

Students with military experience make up about 4% of
undergraduate students.

Compared to traditional undergraduate students, veterans
tend to be older and are more likely to be non-white.

Although only seven percent of the armed forced were
women in 2006, 27% of all student veterans in 2007-08 were
women.

Around half of undergraduates with military experience
received veterans educational benefits at public four-year
universities. In 2007-2008, 12 percent of military
undergraduates attended for-profit institutions, which is a
rate three times higher than traditional undergraduates.

As of September 2009, the number of American
troops who have been injured is 35,390, 46% of
whom could return to duty within 72 hours.

The rate for mental health and cognitive issues
following return from deployment was 14% for
major depression, 14% from PTSD, and 19% for a
probable Traumatic Brain Injury (TBI). RAND
estimates that the cost from PTSD-related and
depression costs could range from $4.0 to $6.2
billion over two years.

Philosophy on program development

Disabled Veterans Reintegration
and Education
Project

Veterans
Education and
Transition Services
(V.E.T.S.) Initiative








VETS Office
Student Veterans of America at the
University of Arizona
SERV Classes
GI Bill counseling
Network of point people on and off campus
PTSD support group and on-site VA
counseling
Veterans in Higher Education Conference
Veterans in Higher Education National
Clearinghouse

Identity

Norms

Rites of passage

Language

Shared experiences

Access issues related to higher education

Cohort mentality

Consider student
veterans as a
cultural group.

How does your
campus support
this identity?

What are the challenges associated with
supporting this identity?

Department of Defense disability statistics

VA disability rating and benefits

Physical versus "other" disabilities

Self-imposed "hierarchy"
 Combat-related injury
 Service-related injury
 Non-service-related injury

"Wounded warrior" and "battalion"– language in
rehabilitation

Potential of adaptive athletics

Universal design of office
 Physical access
 Assistive technology on all computers

Partner with DRC events
 Athletics
 Philanthropy




DRC/Mental Health marketing in VETS
Office
First-hand referrals
DRC contacts
Strong relationship with local VA

The social model of disability promotes
disability as a sociopolitical construct, not an
individual impairment.

What challenges do the DOD disability statistics
and the VA disability rating system pose to
operationalizing the social model of disability?
Disability identity?

Reflect on the "hierarchy"
students veterans
use to make
meaning of disability? What
implications might this have
for service provision?

UA V.E.T.S.
studentaffairs.arizona.edu/vets

Radford, A. W. (2009). Military service members and veterans in
higher education: What the new GI bill may mean for
postsecondary institutions. Washington, D.C.: American Council on
Education.

US Department of Defense
(http://www.defenselink.mil/news/casualty.pdf).

Tanielian, T., & Jaycox, L. H. (2008). Invisible wounds of war :
Psychological and cognitive injuries, their consequences, and
services to assist recovery. Santa Monica: Center for Military
Health Policy Research, RAND.

U.S. Census Bureau, 2005-2007 American Community Survey.