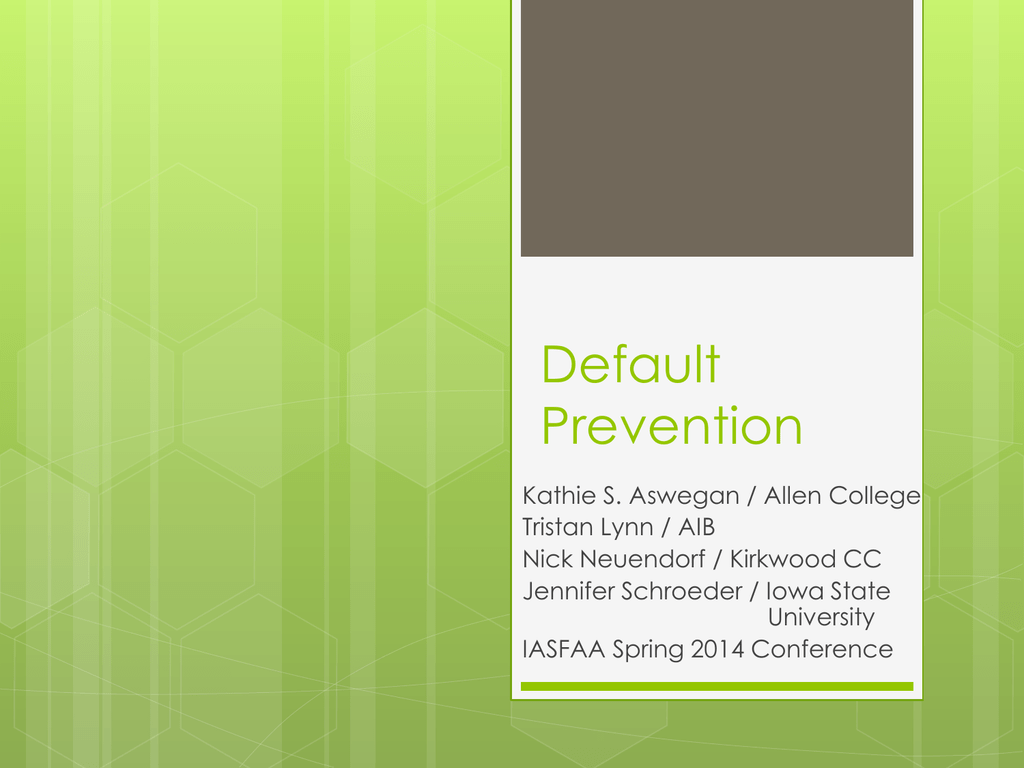 Default
Prevention
Kathie S. Aswegan / Allen College
Tristan Lynn / AIB
Nick Neuendorf / Kirkwood CC
Jennifer Schroeder / Iowa State
University
IASFAA Spring 2014 Conference
Why? It may be required.
 Required
time.
for schools using DL for the 1st
34 CFR 668.14 (b)(15)
 Required
for schools using DL & have had
a change in ownership.
34 CFR 668.14 (b)(15)
 Required for schools with a default rate of
30% or higher.
34 CFR 668.217
Why? You may be interested
 If
you aren't interested in CDR, you should be.
 Improve student success
 Save tax dollars
 It's strongly encouraged by D. E. (Gen-05-14)
 It's the right thing to do for students!!
Who?
 Team
approach
 Default prevention is not only the
responsibility of the financial aid office.
 Increase ideas
 Suggested members: financial aid,
admissions, registrar, student services,
bursar/BO, academic advising
What to do next?
 Educate





the team
CDR – current and historical
% of students receiving financial aid
% of students graduating with debt
Average debt
Who is defaulting?
Evaluate your current activities
 What
are you currently doing on your
campus that may or may not have an
impact on your default rate?




Entrance counseling
Exit counseling
Timely enrollment reporting to NSLDS
SAP. Do you share information across your
campus?
What else could we do?
 Analyze
default information
 Delinquent borrower follow up
 Additional attention/follow up to students
who withdraw
 Reminder notice during grace period
 Additional in school counseling
 Defaulted borrower out reach &
encourage loan rehabilitation
 Financial Literacy…
Financial Literacy…Budgeting,
Borrowing, & Repayment
1.
Budgeting
A Financial
Literacy program
2.
Borrowing
should include
these elements
3.
Repayment
Create a plan
 Create
a unique plan based on your data.
 What are other schools doing?
 ED's sample default prevention &
management plan
www.ifap.ed.gov/qahome/qaassessments/
defaultmanagement.html
 If you have questions, contact
[email protected]
What's next?
 Communicate
your plan across campus.
 Implement 1 item at a time.
 Collect data about activities and the
number of students served, etc..
U.S. D.E. Tools

StudentAid.gov
o
o
o
Budgeting
Borrowing
Repayment

National Student Loan Data System as a tool for both
schools and students http://www.nslds.ed.gov/

Financial Awareness Counseling Tool (FACT)
http://studentaid.ed.gov/about/announcements/fact

Direct Loan Repayment Estimator
https://studentloans.gov/myDirectLoan/counselingIn
struc
Panel member information







Tristan Lynn, Director of Financial Aid
AIB College of Business
[email protected]
515-246-5354
2010 3yr CDR 12.2% (46 students)
2011 3yr draft CDR 7.9% (31 Students)
Current activities:
 Monthly delinquency report from NSLDS, 100 day or less,
letter and phone call immediately, 365 days or less, letter
every 3 months
 Letter contains information on default and prevention
methods along with Economic Hardships and
Unemployment Deferment request forms.
 Currently evaluating data of defaulted students to
determine characteristics and develop strategy to educate
while they are still students.
Panel member information













Nick Neuendorf, Financial Aid Advisor
Kirkwood Community College
[email protected]
319-398-7783
2009 3yr CDR 15% (606 students)
2010 3yr CDR 22.9% (1,061 students)
2011 3yr draft CDR 24.6% (1,448 students)
Current Activities:
·Outreach Program (Communicate with former students & graduates to educate them on current
options with their federal student loans) We use the NSLDS Delinquent Borrower Report to contact our
delinquent borrowers on a monthly basis
1)
Early Stage Delinquent Borrowers (30 – 120 days delinquent) –Receive friendly reminder email
every 90 days
2)
Mid Stage Delinquent Borrowers (121-240 days delinquent) –Receive a more urgent email
every 60 days
3)
Late Stage Delinquent Borrowers (241-360 days delinquent) –Receive a very serious email every
30 days, if no email on file, then we send a letter. We also call this group every 30 days
· Financial Literacy Program (Communicate with the current student population to increase financial
literacy so they are better prepared to manage student loans upon graduation)
Students activating an Unsubsidized Stafford Loan must complete Financial Awareness Counseling
through www.studentloans.gov in order to receive the UNSUB loan
Financial Literacy 101 Presentation (presented to our traditional students in their 1st semester on
campus enrolled in the College 101 course)
Educates students on the financial aid process, creating a budget, repaying student loans, using
credit cards responsibly, monitoring your credit report
Panel member information







Jennifer Schroeder, Student Loan Counselor
Iowa State University
[email protected]
515-294-2223
2010 3yr CDR 5.4% (253 students)
2011 3yr draft CDR 5.1% (263 students)
Current Activities:



90-120 days delinquent, sending letter informing student
of their delinquent status, service contact information,
and options to rectify the delinquency.
Encouraging more in person exit counseling sessions.
Currently looking into ways to inform students while in
school about servicer information, and encourage them
to set up an online account with their servicer prior to
graduation.
Panelists will tell you more.
Question & Answer
A big thank you to all the panelist
for baring their souls for all of us
today!!!!