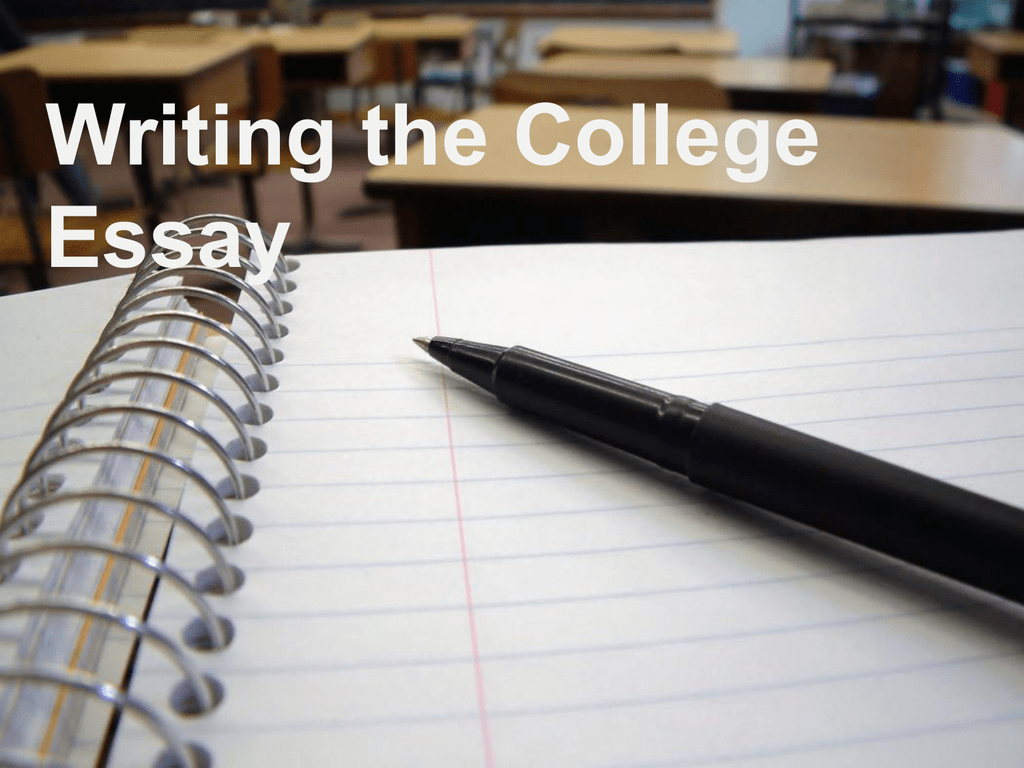 Writing the College
Essay
College Essay/Personal Statement
• Mandatory part of many college and
scholarship applications
– Common Application (Private Schools)
– UW Madison
• Chance to explain to admissions why you
are a good fit for their campus/award.
• Where you become more than just a
number.
• Share personality, goals, experiences, and
obstacles that have affected your academics.
Think of it this way….
Personal Statement
• Adds clarity, depth and meaning to other
parts of your application.
• Distinguishes yourself from others.
• Enables you to make the best possible case
for admission.
• Much like interviewing for a job.
Message from the UW….
It is acceptable
to receive
feedback from
others, but
applicant
statements
should reflect
your own ideas
and written by
you alone!
What do colleges look for?
Admissions counselors seek applicants who are:
Motivated
Enthusiastic
Independent
Ethical
Mature
Confident
Creative
Curious
The essay is an opportunity to show you are a
unique, well-rounded and confident person who is
committed to succeed in life.
Structuring Your Personal
Statement
A typical personal statement will consist of the following:
✓An introductory paragraph that provides your essay's
controlling theme.
✓2-4 body paragraphs that develop your theme through
examples and detailed experiences and build upon each other.
The final body paragraph will contain your most poignant
information.
✓A conclusion that widens the lens and wraps up your essay
without summarizing or repeating what has already been
written.
**Be mindful of word/character limitations**
"Common Application" Questions
•
Evaluate a significant experience, achievement, risk you have taken, or ethical
dilemma you have faced and its impact on you.
•
Discuss some issue of personal, local, national, or international concern and its
importance to you.
•
Indicate a person who has had a significant influence on you, and describe that
influence.
•
Describe a character in fiction, a historical figure, or a creative work (as in art,
music, science, etc.) that has had an influence on you, and explain that influence.
•
A range of academic interests, personal perspectives, and life experiences adds
much to the educational mix. Given your personal background, describe an
experience that illustrates what you would bring to the diversity in a college
community or an encounter that demonstrated the importance of diversity to you.
•
Topic of your choice.
UW Application Essay #1
The University of Wisconsin values an educational
environment that provides all members of the campus
community with opportunities to grow and develop
intellectually, personally, culturally, and socially. In order to
give us a more complete picture of you as an individual,
please tell us about the particular life experiences,
perspectives, talents, commitments and/or interests you will
bring to our campus. In other words, how will your presence
enrich our community?
What do they mean?
• What service activities have you been
involved in that you will continue in college?
• What ethnic diversity do you bring to the
campus?
• What leadership can you bring to a campus?
• Do you have a unique talent or ability?
• What sets you apart from other applicants?
• What is unique about you?
UW Essay #2
Tell us about your
academic goals,
circumstances that may
have had an impact on
your academic
performance, and, in
general, anything else
you would like us to
know in making an
admission decision.
What would they want to
know?
• Why do you want to go to UW-Madison?
• What do you hope to gain from studying at and
graduating from UW-Madison?
• What are some challenges you have had in school
and how did you overcome them? (Disabilities, for
example)
• Evidence of a hardship in your family.
• First in your family to attend college.
• Personal illness or other personal issues and how
you overcame them.
• Character-defining moments.
• See your counselor if you have questions.
Turn Negatives into Positives
• It's OK to have flaws!
Example:
• If you earned a poor grade but chose to retake
the class to improve the grade.
• Shows perseverance
Readers don't want to hear complaints about
poor grades or circumstances, but rather how
you have overcome them!
Characteristics of a Good Personal
Statement
Is thoughtful and honest
Strives for depth, not breadth
Follows conventions of good writing
Conforms to guidelines
Answers the questions!
Benefits from several drafts and feedback
Contains a catchy introduction that keeps the reader
interested
• Demonstrates your knowledge of the major/college.
• Exudes confidence – you will be successful no
matter what
•
•
•
•
•
•
•
Essay Blunders
• Repeats information contained elsewhere in
the application
• Writer complains about circumstances rather
than take ownership/explains them
• College prestige as reason for applying
• Gimmicks
• Wrong college name!
• Errors, clichés
• Too long or too short
Lastly…
• Follow instructions
carefully
• Proofread,
proofread,
proofread!
When you have questions
about the college application process,
please stop in to see us.
Good Luck in the application process!