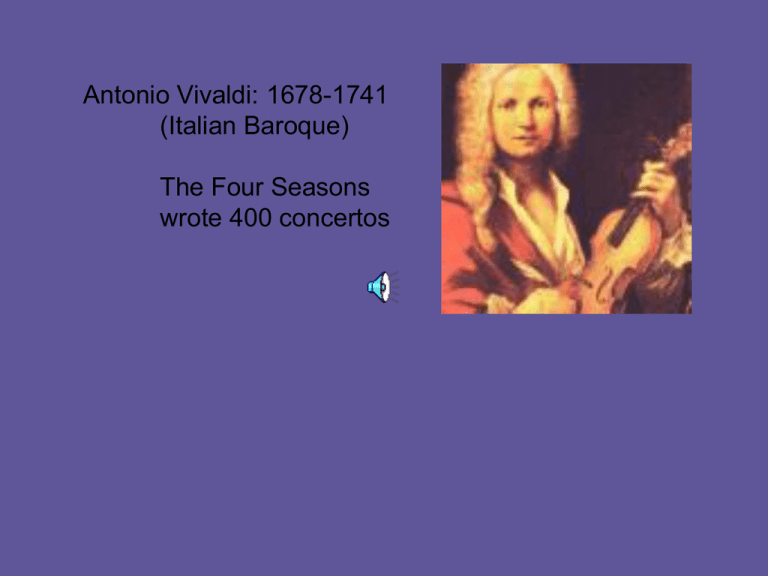 Antonio Vivaldi: 1678-1741
(Italian Baroque)
The Four Seasons
wrote 400 concertos
George Frideric Handel: 1685-1759
(Baroque)
Messiah
Water Music
Music for the Royal Fireworks
Johann Sebastian Bach: 1685-1750
(Baroque)
Brandenburg Concertos
The Well-Tempered Clavier
St. Matthew Passion
Joseph Haydn: 1732-1809
(Classical)
Known as Father of the Symphony
Farewell Symphony
Surprise Symphony
Wolfgang Amadeus Mozart: 1756-1791
(Classical)
Operas: The Magic Flute
Don Giovanni
Jupiter Symphony
A Little Night Music
Ludwig Van Beethoven: 1770-1827
(Romantic)
Symphony No. 3 in E-Flat (Eroica)
only wrote one opera: Fidelio
"Ode to Joy" - last movement of 9th symphony
Moonlight Sonata
Für Elise
known for his 9 symphonies
deaf in later life
Giocchino Rossini: 1792-1868
(Italian Opera)
The Barber of Seville
Overture to William Tell
Felix Mendelssohn: 1809-1847
(Romanticism)
Overture to A Midsummer
Night's Dream
Wedding March
Frederic Chopin: 1810-1849
(Romanticism)
lover of George Sand (the female novelist)
Polish pianist
Minute Waltz
Franz Liszt: 1811-1886
(Romanticism)
one of the greatest pianists in history
Hungarian Rhapsodies
Richard Wagner: 1813-1883
(Romanticism)
German opera
The Flying Dutchman
Tannhauser
Lohengrin
Tristan and Isolde
The Ring of the Nibelung
Giuseppe Verdi: 1813-1901
(Foremost Italian opera composer)
Rigoletto
La Traviata
Aida
Otello
Johann Strauss II: 1825-1899
(The Waltz King)
By the Beautiful Blue Danube
Tales from the Vienna Woods
Die Fledermaus (The Bat - operetta)
Stephen Foster: 1826-1864
(US composer of
popular songs)
Beautiful Dreamer
My Old Kentucky
Home
Oh! Susanna
Swanee River or Old
Folks at Home
Johannes Brahms:: 1833-1897
(Classical)
Brahms Lullaby
Academic Festival Overture
Symphony No. 1 in C Minor
Violin Concerto in D
Quintet for Clarinet and
Strings in B Minor
Georges Bizet:: 1838-1875
(French)
Carmen (opera)
Peter Ilich Tchaikovsky:: 1840-1893
(Russian)
1812 Overture
First Piano Concerto
Nutcracker Suite
Sixth Symphy, the Pathetique
Swan Lake
Sleeping Beauty
Sir Arthur Sullivan: 1842-1900
(the other half of W. S. Gilbert
known for their comic operas)
The Mikado
H. M. S. Pinafore
The Pirates of Penzance
Onward Christian Soldiers
Claude Debussy: 1862-1918
(French pianist known for
musical
Impressionism)
Prelude to L'Apres-Midi
d'un Faune
(Afternoon of
a Faun
The Preludes
Clair de Lune
Scott Joplin: 1868-1917
(Pulitzer Prize-winning American pianist and
father of ragtime)
Maple Leaf Rag
Maurice Ravel: 1875-1937
(French Composer)
Bolero
Igor Stravinsky: 1882-1971
(Russian Composer)
Petrushka
The Firebird Suite
The Rite of Spring
Sergei Prokofiev: 1891-1953
(Russian Composer)
Peter and the Wolf
Romeo and Juliet
George Gershwin: 1898-1937
(U.S. Composer)
Rhapsody in Blue
An American in Paris
Porgy and Bess (opera)
songs:
Summertime
I Got Plenty o' Nuthin'
Bess, You Is My Woman Now
It Ain't Necessarily So
other songs:
I Got Rhythm
Let's Call the Whole Thing Off
Someone to Watch Over Me
They Can't Take That Away from Me
Aaron Copland: 1900-1990
(U.S. Composer)
Rodeo (ballet)
Appalachian Spring (written for Martha Graham's
dance company)
Billy the Kid (ballet)
Fanfare for the Common Man
John Philip Sousa - The March King
The Stars and Stripes Forever
Irving Berlin
-Alexander's Ragtime Band
-Blue Skies
-God Bless America
-White Christmas"
-There's No Business Like Show
Business
Baroque Period
Three of the greatest geniuses of this period were
Vivaldi, Bach and Handel. During this time, the first operas
appeared in Italy. The orchestra began to take its modern
shape, and forms like the sonata (for piano and one other
instrument) and concerto (for solo instrument and
orchestra) emerged. Most Baroque music is highly
decorated with very complex melodies.
Classical Period
The death of Johann Sebastian Bach in 1750
signaled the end of the Baroque period and the introduction
of a style of music now called Classical, which is plainer
and more disciplined. Classical music was often written on
a larger scale, and its finest expression is the fourmovement symphony. Haydn and Mozart, the greatest
composers of the Classical period, also brought the sonata
and the concerto to a high degree of perfection.
Romantic Period
Ludwig van Beethoven, who began as a Classical
composer, broke the mold with his revolutionary "Eroica" in
1804 and dominated the musical scene until 1827.
European music would never be the same again. Precise
forms became less important than the expression of
powerful feelings, and Romantic composers like Schubert,
Mendelssohn and Tchaikovsky put emotion into music as
no one had ever done before. At the same time, Liszt,
Dvorak and Grieg began using music to express patriotic
sentiments.
Modern Period
The early 1900s saw the beginning of the Modern
period, which is much more diverse and complicated. All
the traditional rules of music have been challenged,
including seemingly basic principles of harmony and
rhythm. Some 20th-century music is harsh and difficult to
appreciate. But Modern composers like Holst, Debussy,
Stravinsky and Copland have entered the mainstream and
will be enjoyed for as long as music is played.