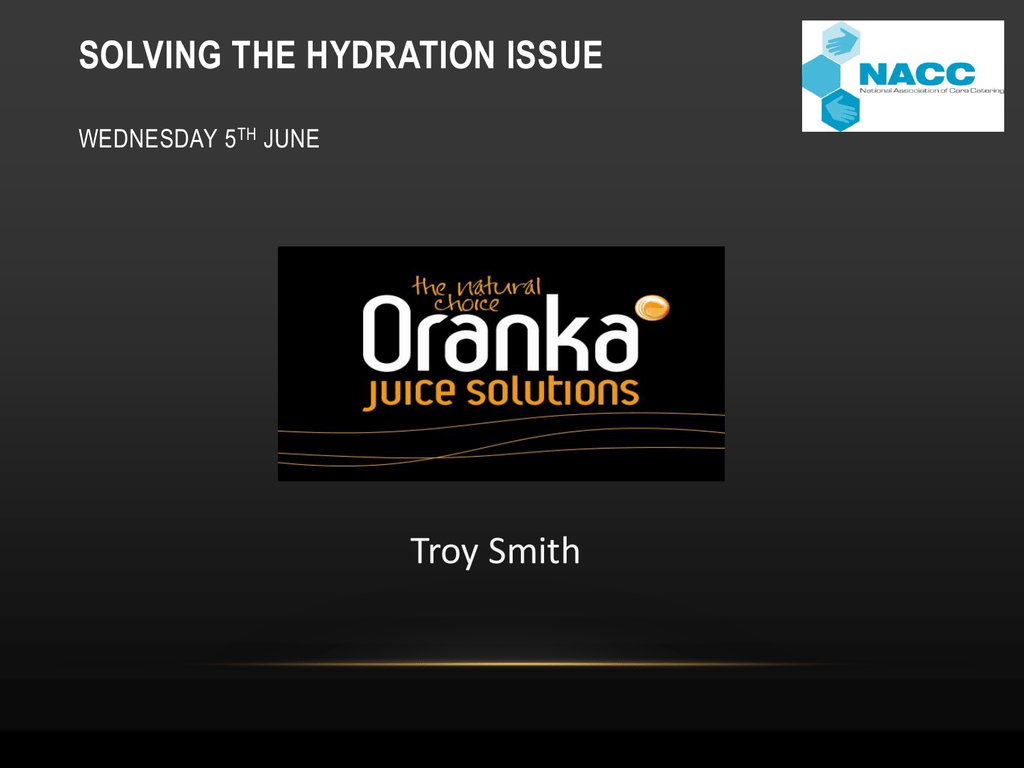 SOLVING THE HYDRATION ISSUE
WEDNESDAY 5 TH JUNE
Troy Smith
Introduction
• Marco Brandriet CEO
• Troy Smith Managing Director
• Christopher King Sales Director
• Debra Green Operations Director
• Amy Pomeroy Internal National Accounts Manager
Oranka Fruit Juices
• A Dutch family run business
• In the UK since 2002
• Well established in Holland & Belgium
• In Germany 40% Care Home market
Hospitality sectors :-
Hotels/ Contract Catering/ Healthcare
Fruit Juice
• 74 types of fruit Juice
• 16 types of orange juice alone
• All ambient storage
2 Formats
• 1)Ready To Drink & 2)Concentrates
Ready to Drink
Freshly pressed, organic, fruit nectars, smoothies and our new super
smoothies (samples in delegate packs)
Fruit Juice Cont……
Concentrates
100% Pure Juice, 100% Pure Post Mix BIB Juice, Fruit Nectar
Juice, Hydration Juice Plus and Hydration Juice.
Specific for the Care
Concept
HYDRATION IS PARAMOUNT
700 deaths over 5 years in care
homes due to dehydration –
almost
2 per week
HYDRATION IS PARAMOUNT
Unfortunately,
the thirst sensation
diminishes
as you get older, so it becomes increasingly
difficult for elderly people to realise they are becoming
dehydrated
.
ORANKA HYDRATION CONCEPT
• Choice – 21 juice options to help keep the interest up
• Chilled juice on tap
• Encourages independence NOT having to ask for help
• Dispensers placed in all active areas of the home
• Fruit display on top of the tank – easy recognition
• Intensify flavours – for less sensitive taste buds
• Added Vit C and now added Zinc
• Low in sugar suitable for diabetics
HYDRATION JUICE PLUS
• 17 flavours available – incl new Rhubarb
• Added Vit C
2 glasses = RDA recommended daily allowance
• Added Zinc for immune system & reduce bruising
• Low in sugar suitable for diabetics
• 20% fruit juice when diluted
• No artificial flavourings/colourings
• Ambient storage 1 year shelf life
• 95% reduction in storage space required vs Tetra packs
• Works with free on loan Eskimo dispensers
"NEW" HYDRATION JUICE
• 40% cheaper than Hydration Juice Premium
• 4 Flavours available
• Orange Lemon Blackcurrant Apple
• Real Fruit Juice 3 x more than squash
• 95% reduction in storage space required vs Tetra packs
• Ambient product long shelf life
• Works with free on loan Eskimo dispensers
ESKIMO DISPENSERS
• Free on loan – no contracts
• Small compact (30cmsq 60cm high)
• Secure lid/lockable tap
• More hygienic sealed tank
• Aroma cap – retains vitamin c help preserve the juice
• Magnetic spinner – even temperature no settling
• Dishwasher Safe
• HACCP Certificate/Patent No.19501238
• Easy to assemble
• 1 Dispenser per 8.5 residents (17cups per day)
FILL LINE JUG 2.5 LITRE & CARAFE'S
• Plastic dishwasher safe 2.5 litre Jug
• Simply lined for exact measure:1+4 Premium
1+9 Breakfast
1+19 Hydration/Plus
• Rubber sealed pouring lid
• Open cartons have 30 day refrigerated
shelf life
• Available free on loan
COST OF HYDRATION VS. CARE?
Hydration Juice Plus = 50p litre (avg price)
Hydration Juice = 30p litre (avg price)
Tetra Packs = 70p litre(avg price)
"We need to stop using Oranka because we are
spending a bit more than we used to"?
"We need to stop using Oranka because the residents
are drinking too much"?
TESTIMONIALS
"OAK HOUSE" CARE ESTABLISHMENT OF
THE YEAR 2012
Hi Troy
I wanted to let you know about the great feedback we have had after
installing the Oranka Juice system. Residents, relatives all enjoy the
variety of flavours. It is a big improvement having chilled juice
available 24hrs and fantastic to see the residents drinking more.
Preston Walker
Kitchen Manager/Director
Oak House Residential Home
CASE STUDY
• Harrogate Neighbours Housing Association
• Sue Cawthrey Chief Executive
• NACC Northern Chair
"By offering Oranka fruit juices & smoothies we're able to give our
residents a nutritious and natural drink, which they find more
appetising than water
Healthier residents and a noticeable increase in activity levels"
UK PARLIAMENTARY HYDRATION FORUM
Baroness Sally Greengross
Dear Troy,
The Parliamentary Hydration Forum were very pleased to receive your offer of funding for our
Hydration Action plan and I wanted to write as Chair and thank you personally for your contribution.
As you know hydration is a key issue in health which is often overlooked and we hope by
developing a unique action plan to support health professionals, older people and their carers we
will be able to promote a better understanding of the importance of good hydration and take steps
to prevent dehydration.
It is a very exciting time for the Forum and I am delighted to welcome you to the Group. I look
forward to working together on this exciting and innovative project.
Very best wishes,
Sally Greengross
FINALLY
"Free Trial Offer"!!!
• Order 3 cases (3 x 12 cartons)
• Receive 1 carton free in each case
• Receive 1 x 12 free mixed flavours
• 150 litres free juice
• Free Eskimo Dispensers (1 per 8.5 residents)
• Free 2.5 litre Jugs
• Free Carafes
THANK YOU FOR
LISTENING
Any questions?