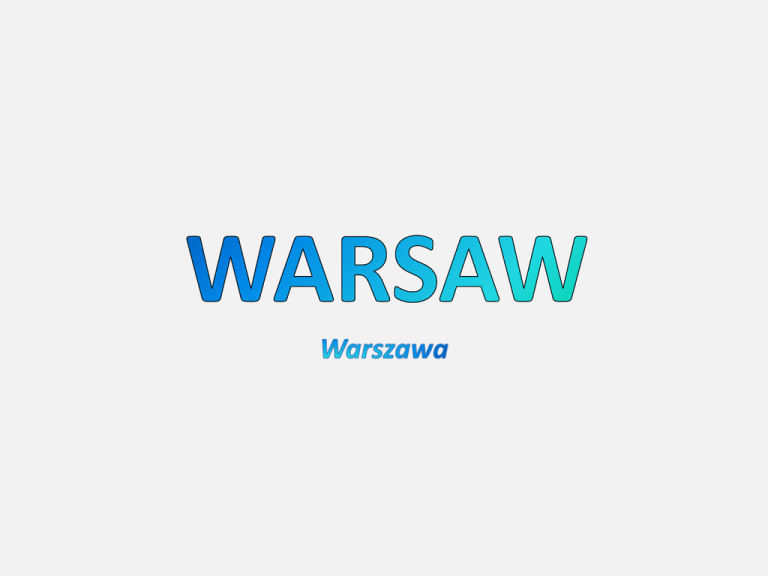 Warsaw- City located in central-east Europe.
It's capital of Poland,
founded in 1323, an area is 517km2.
Warsaw is the biggest city in Poland
in this city is highest building
(237m).
Pałac Kultury i Nauki- built in 1955, the biggest building in Poland (237 m).
In this building there are cinemas, theatres,
schools and sport clubs.
When visiting Warsaw it is worth entering
the top of PKiN.
Stadion Narodowy- one of the four stadiums built for Euro 2012. It was
built in years 2008-2011. The stadium can seat 58 000 people.
When you are in Warsaw it is worth visiting Stadion Narodowy.
Łazienki Królewskie- palaces and park in Warsaw, founded in about 1850,
an area is 76 ha.
In this park there are many monuments, lakes, palaces. That's very
beautiful place.
Zamek Królewski- baroque-classicist castle bulit in about 1200-1300.
It was destroyed during World War II and rebuilt in the years 1971-1984.
This castle belongs to UNESCO.
Syrenka Warszawska-symbol of Warsaw from 1390. There are many
legends that tell of the Warsaw Mermaid.
A long time ago, swam from the Atlantic to the Baltic two sisters - sirens ; beautiful woman with
fish tails , living in the depths of the seas. One of them took a liking to a rock in the Danish
straits and so far, we see her sitting on a rock at the entrance to the port of Copenhagen.
Second drifted up to the great seaside port of Gdańsk , then Vistula flowed up her gear.
According to legend, at the foot of today's Old Town , roughly where it is now a monument ,
came out of the water on a sandy shore to rest , and that place is liked her , she decided to
stay . Soon the fishermen noticed that when they catch someone churning the waves of the
Vistula , tangling the nets and releasing the fish . But the mermaid enchanted them with her
beautiful singing , she's not done .
Once a wealthy merchant saw the mermaid and her beautiful singing . Quickly calculated
how much money he could make if he captured the mermaid and will be shown at fairs .
Trick put the siren and imprisoned in a wooden shed without access to water . Complaints
sirens heard a young farmhand , son of a fisherman and with the help of friends in the night
it released . Siren of gratitude for the fact that the inhabitants had defended her promised
them that if necessary they can also count on her help . For this reason the Warsaw
Mermaid is armed - a sword and shield to defend the city.