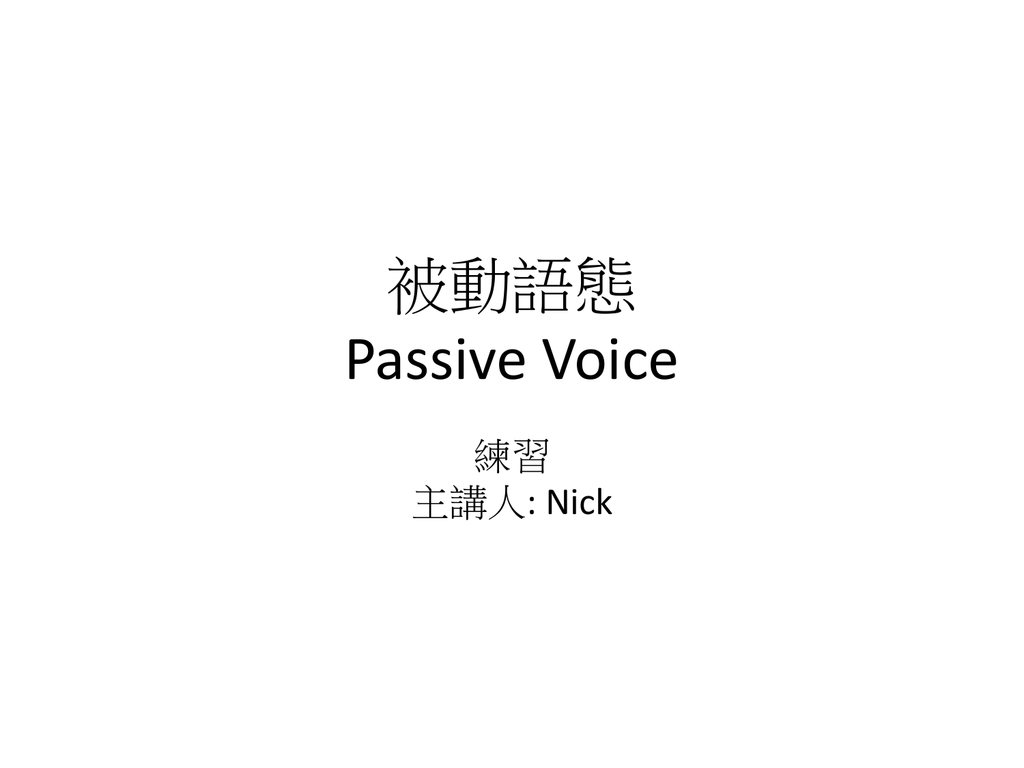 被動語態
Passive Voice
練習
主講人: Nick
將以下句子由主動改成被動:
1. I must give this letter to my
mother tonight.
2. All citizens ought to obey
the law.
3. He is eating all of the cakes.
4. The reporters were taking
pictures when the storm
started.
5. He was finishing the work at
6 p.m. last night.
6. Peter will write that letter.
7. John received my letter.
8. The farmers here grow
apples.
9. He met me last night.
10. They will finish the job on
time.
將以下句子由被動改成主動:
1. The policeman was seen by me.
2. Those two books were written by
me.
3. These sentences were corrected by
my teacher.
4. He was hit by a car.
5. His door was locked by me.
6. His house was built by my father.
7. His boat was given to me by my
father.
8. This bird is rarely seen by people
here.
9. He is liked by every one.
10.They were given ten dollars by their
friends.
將以下句子由主動改成被動:
11.Football is being played by
John.
12.He should be given that lecture
by his father.
13.That report will be written by
him.
14.The letter has been received by
the King.
15.This movie should be seen by
every one.
16.This book ought to be read by
every student.
17.They are being helped by me.
18.The movie is going to be seen
by all of us.
19.This cake can be eaten by kids.
20.He has written three novels.
將以下句子由被動改成主動:
11.This picture was taken by him.
12.Too much wine was drunk by
the young men.
13.I was taught by Mr. Wang.
14.He was helped by his father.
15.They were served by that waiter.
16.His food was prepared by my
mother.
17.His toy was made by my sister.
18.The book was returned to me by
Jim.
19.That song was written by my
brother.
20.I was invited by him to a party.
將以下句子由主動改成被動:
21.He will write that letter.
22.They will sing these songs
tomorrow.
23.He will give the speech.
24.They are painting the house.
25.I have given him three books.
26.I can do this job.
27.He had told me that story
before we went there.
28.Teachers should help the
students.
29.He is writing the report now.
30.The students must read this
book.
將以下句子由被動改成主動:
21.The book was not written by
him.
22.I am not going to be helped by
you.
23.That book has not been received
by John.
24.That song is not liked by college
students.
25.John is not loved by Mary.
26.I will not be met by my student
tomorrow.
27.Meat is not eaten by vegetarians.
28.The door was not opened by me.
29.That ten dollars were not paid
by me.
30.The car was not bought by me.
將以下句子由主動改成被動:
31. I have to give this letter to my
mother tonight.
32. All citizens ought to obey the
law.
33. He has eaten all of the cakes.
34. The reporters were taking
pictures when the storm
started.
35. He had finished the work
before five o'clock last night.
36. Peter will write that letter.
37. John has received my letter.
38. He has proved that theorem.
39. The farmers here do not grow
apples.
40. He did not meet me last night.
將以下句子由被動改成主動:
31. Was the cake eaten by you?
32. Is he liked by all of us?
33. Is that kind of music loved by
every one in Japan?
34. Is fish eaten by old people?
35. Are roses loved by most women?
36. Was he called by you?
37. Is soccer played by John?
38. When was this music written by
Mozart?
39. When was he seen by you?
40. Were they seen by you last
night?
1. I have not written that
letter.
2. John is not going to see that
movie.
3. I did not watch that movie.
4. He does not speak English.
5. He will not speak English.
6. You should not eat that
cake.
7. My mother does not eat
that kind of fish.
8. John has not written that
report.
9. Is he writing a book?
10.Did he write that book?
11. Did you sign that letter?
12. Where did you see that
movie?
13. When did you see that
movie?
14. Has he finished that job?
15. Did mother give you the gift?
16. Did your mother visit you
last night?
17. Do they grow roses?
18. Do they speak English?
19. Did you play that game of
tennis?
20. Will you teach English?