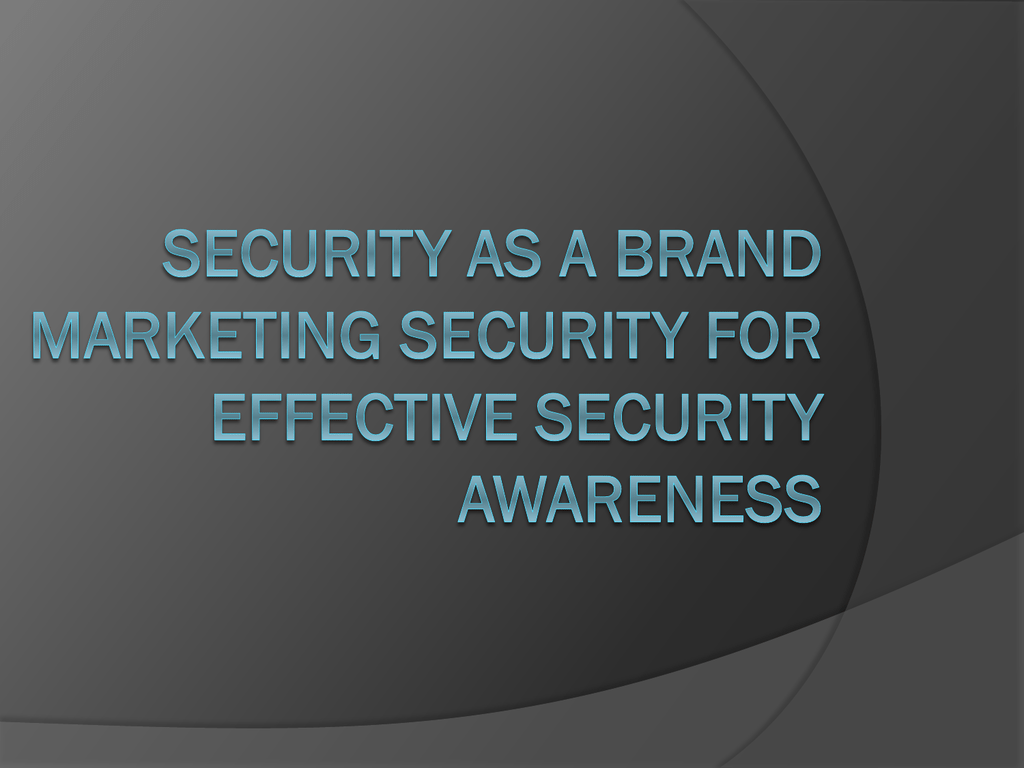 Can I do this?
 How should I be looking at my
department?
 How are our "security" relationships?
 What things could I be doing to sell our
team's services?
 What is my brand?

to give the business everything it wants...
securely
Self Perception
How do you see:
 Yourself?
 Your role?
 Your value?
External Perception
How do they see you?



Company Employees
Department Leaders
Executive Management
Frame Your Mentality
 Approachability – Be That Positive
Interaction
 Leave No For The People Who Say
Can't
 Leave Can't For The People Who Say
No
 Provide Options and Solutions
 Win / Win

will be a recognized center of excellence
will provide proactive security analysis,
develop robust security architectures and
ingrain security awareness into the
environment and culture.
 will work in partnership to support the
organization's mission and goals.
 will continue to foster an open and
collaborative environment that stimulates
the exchange and creation of knowledge
within a unifying culture








we will align ourselves directly with the
business goals and strategies
To provide an exemplary level of expertise we
will at all times:
Be knowledgeable and compliant with
applicable policies, laws and regulations
Increase security awareness for all associates
through training and education
Adopt a risk based approach to information
and systems
Proactively detect, prevent, and investigate all
relevant security threats, incidents, and trends

Who are you?

Define your name

Define your logo
What now?






Who – are you?
What – is this?
When – is this
happening?
Why – should I pay
attention?
What's in it for me?
Be truly genuine…
The power of limited commodity and the fact that you
never know what outside of the box will give you…





Unknown Quantity
Listen
Hear
Offer
Own









Visionary
Consultant
Designer
Architect
Engineer
Admin
Admin Assistant
Communicator
Documentation

" You guys have done a really good job
turning around what was a super tanker
of bad perception".

I just wanted to mention that I really enjoy
reading your articles on the Home page.
If there is anyone who can make security
interesting, it's you =)

kudos to you for effective
communication. Your Spotlight article is
awesome and I really like the
communication Corporate Security is
sending out to associates. Many times I
have forwarded your tips on to my kids to
help them become better information on
social media and other security risks.

I just wanted to thank you for the security
article on the Portal. I have shared it with
family and friends. It was not just
enjoyable to read, it was excellent
information that was so simple yet no one
(including myself) has ever brought up
these "Tips"….Thanks

Creatively presented consequential
information – the type that will stick in
people's minds – have an impact! Nice
work! I'm impressed!

That was beautiful. Your Spotlight things
are the only ones I ever read.

Great article – you made me smile while
giving unexpected but ever so practical
tips.

I wanted to say thanks for your
articles. They've made me more
cautious about responding to emails. I'm
trying to sell my home and this morning,
I received what appeared to be a
response to my submission, I may have
easily given my information away had I
not read your latest this morning.