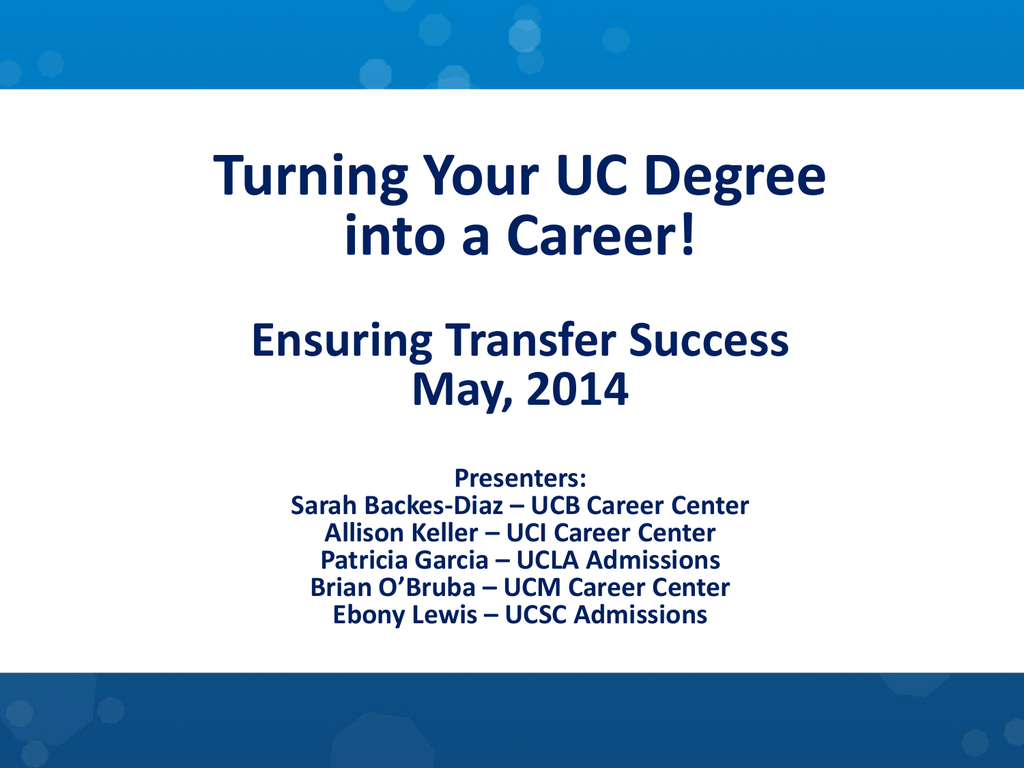 Turning Your UC Degree
into a Career!
Ensuring Transfer Success
May, 2014
Presenters:
Sarah Backes-Diaz – UCB Career Center
Allison Keller – UCI Career Center
Patricia Garcia – UCLA Admissions
Brian O'Bruba – UCM Career Center
Ebony Lewis – UCSC Admissions
Your major is like
the steering wheel of a car;
You decide what direction it will lead you!
A UC major and a future career….
What is the connection?
• The major is a STARTING Point.
• Choosing a major does not mean a student has
chosen a career
• It is not true that most majors lead directly to
particular jobs
• There are a variety of career
paths related to a major
not just one
GUESS THE MAJOR….
• Sonia Sotomayor (Supreme Court
Justice)
• Will Ferrell (Actor/Comedian)
• Carly Fiorina (Businesswoman/Politician)
• Natalie Portman (Actress)
• Michael Jordan (Basketball Legend)
• Oprah Winfrey (Talk Show Host)
ANSWERS….
• Sonia Sotomayor (Supreme Court Justice)
– History
• Will Ferrell (Actor/Comedian)
– Sports Broadcasting
• Carly Fiorina (Businesswoman/Politician)
– Philosophy and Medieval History
• Natalie Portman (Actress)
– Psychology
• Michael Jordan (Basketball Legend)
– Geography
• Oprah Winfrey (Talk Show Host)
– Speech and Drama
WHY DO STUDENTS CHOOSE A MAJOR?
• They based their decision on its
perceived earning potential
• They followed the advice or in
some cases (the demands) of
friends and family
• They drifted into their major
• Other reasons:
-Inspiration from teachers
-Exposure to internships
-Taking a course in the
specific major
WHY THIS IS IMPORTANT?
•
•
•
•
•
Selective/Impacted Majors
What's the Best Fit
Alternative Majors
Time to Degree
Limited Options to Change Majors
CONNECTING MAJORS AND JOBS….
• Many people end up working in careers that are
not directly related to their majors. Why?
– Most jobs are NOT major specific or will consider any
major
– People's interests change as they develop
– People want to study one thing but work in a different
area
– Most majors are theoretical
– Most majors teach very transferrable skills
– Additional experiences paved their career paths
REGARDING MAJORS….
• Many companies seek employees with any
major. Why?
– A college degree says a lot about you
•
•
•
•
•
•
•
•
Hard working
Time management
Team player
Presentation skills
Research skills
Writing abilities
Critical thinking skills
Multi-tasking skills
KEEP IN MIND….
• Employers are often more concerned about your
SKILLS than they are about your specific major.
• Companies are willing to train newly graduated
college students in any major for specific
positions. (e.g. Rotational Program)
• Some companies or organizations might be
looking for specific skills, experience and abilities.
DESIRED SKILLS….
• Multiple languages
• Good Communication Skills
(writing, verbal)
• Interpersonal skills (problem
solving, constructive
feedback, initiative, etc.)
• Management/Leadership
• Evidence of perseverance
• Analytical skills
• Collaboration/teamwork
BUILDING A "TOTAL PACKAGE"
•
•
•
•
•
•
•
•
•
Leadership experience
Internships
Research
Student clubs and activities
Volunteer experience
Studying abroad
Networking
Build a social media presence (ex. Linkedln)
Learn how to put together a good resume
and personal statement and work on your
interview skills
MORE ABOUT INTERNSHIPS
Internships provide:
• Skill development and professional
training
• "Real world" experience and a
chance to apply skills and
knowledge learned in the classroom
• An opportunity to "test drive" a
career
• Mentoring and networking
opportunities
GRADUATE AND PROFESSIONAL SCHOOLS

Law schools/business schools accept any major

You can major in various areas and go to medical
school if you have the requirements for admissions

Masters and PhD programs are looking for you to meet
prerequisites and demonstrate the following:
o Evidence that you can do well in the program and that you
will be able to handle the rigorous work
o A good personal statement and demonstrate interest in the
program
o Reference letters that can attest to your ability and
preparedness for graduate school
o Good graduate test scores and undergraduate grade point
average
PATHS TO A CAREER
• Careers stories are unique - and
people change careers several
times in their lives
• Linear Pathways (e.g. Engineering
major to career)
• Careers that may require more
planning (e.g. advanced degrees)
• Additional Considerations:
- New careers will develop that don't exist today
- Personal skills/interests/values change over time
CAMPUS RESOURCES
– Campus Career Center
•
•
•
•
Free for students
Individual & group advising
Assessment tools
Job Shadow Programs
– Fairs and Special Events
•
•
•
•
Job & Internship fairs
Graduate School Fairs
Multi Cultural Career Conference
Alumni Networking events
OTHER RESOURCES
• Career Advice Videos
http://www.careerspots.com/vidplay_links_ext.aspx?aid=47
4&partid=0&apass=/j8bKfreUnYuxo/GZaXXdQ==&id=1149&
pref=http://careers.ucsc.edu/index.html&src=VLI&
• Career Guide
http://career.ucla.edu/Files/PDF/CareerGuide/2013/CG_201
3_2014_Chapter2_091313.pdf
• Career Map
http://www.onetonline.org/
• Exploring Your Major
http://uncw.edu/career/WhatCanIDoWithaMajorIn.html
OTHER RESOURCES
Campus
UC Berkeley
Name
Career Center
Website
https://career.berkeley.edu/
UC Davis
UC Davis Internship and Career http://icc.ucdavis.edu/
Center
UC Irvine
Career Center
http://www.career.uci.edu/
UC Los Angeles
Career Center
http://career.ucla.edu/
UC Merced
Center for Career & Professional http://hire.ucmerced.edu/
Advancement
UC Riverside
Career Center
http://careers.ucr.edu/
UC San Diego
Career Services Center
http://career.ucsd.edu/
UC Santa Barbara
UCSB Career Center
http://career.ucsd.edu/
UC Santa Cruz
Career Center
http://careers.ucsc.edu/
Questions?