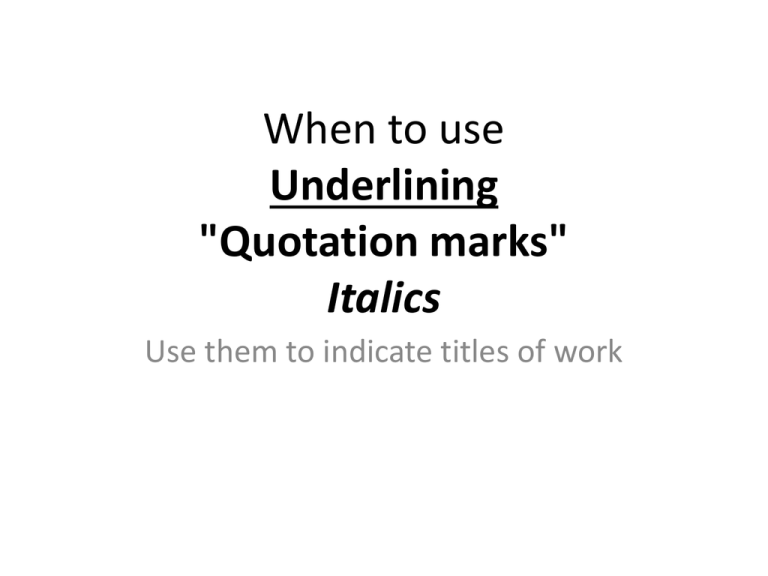 When to use
Underlining
"Quotation marks"
Italics
Use them to indicate titles of work
• My favorite episode is Miley Get Your Gum in
Hannah Montana show.
Italics vs. Underlining
• Both are basically same
• When writing by hand, underline the titles
•
When using a computer, use Italics to indicate
the title.
Quotation Marks
• "Part" of a whole
Quotations
•
•
•
•
•
•
•
•
•
•
•
•
•
"Short Works" & "Sections of Longer Works"
1) "Title of a Short Poem." Ex: "The Raven."
2) "Title of a Short Story." Ex: "Young Goodman Brown"
3) "Title of an Essay" Ex: "The Fiction of Langston Hughes"
4) "Title of a Short Song" Ex "Money Talks"
5) "Title of a Skit or Monologue" Ex: "Madman's Lament"
6) "Short Commercial" "Obey Your Thirst."
7) Title of "Individual Episode" in a Television Series."Sawyer's Past"
8) "Title of a Chapter in a Book" Ex: "Welsh Mountains"
9) "Encyclopedia Article" Ex: "Etruscan"
10) "Title of an Article in a Magazine" Ex: "Training Your Toddler"
11) "Title of an Article in a Newspaper"Ex: "Man Kills Seven in Subway"
12) "One or Two Page Handout Ex: "Old English Verbs: A One Page Guide"
Long Works & Collection of Short
Works
•
•
•
•
•
•
•
•
•
•
•
•
•
•
•
Title of an Epic Poem or Book-Length Poem Ex: The Odyssey
Title of a Novel Ex: The Scarlet Letter
Title of a Collection or Anthology of EssaysEx: Modern Writers and Their Readers
Title of a CD, Cassette, or Album Ex: The Razor's Edge, by AC/DC.
Also: Title of a Ballet or Opera
Also: Title of Long Classical or Instrumental Compositions
Identified by Name, Rather than Number.
Title of a Play Ex: The Importance of Being Ernest
Title of a Film Ex: Star Wars Episode II: Attack of the Clones
Title of a Television Series as a Whole Ex: Everybody Loves Raymond
Title of a Complete Book Ex: A Guide to Welsh Geography
Title of EncyclopediaEx: Encyclopedia Brittanica
Title of the Magazine Ex: Parenting
Title of the Newspaper Ex: The New York Times
PamphletEx: The Coming Kingdom of God and the Millennium.
HANDOUTS RESOURCE:
mentor text
• http://web.cn.edu/kwheeler/documents/Punc
tuating_Titles_chart.pdf
Class Activity:
• worksheet
• http://www.mrshatzi.com/files/punctuatingtitles.pdf
• The chapter Mad Tea Party in Alice's
Adventures in Wonderland have really good
illustrations.
•
We played the song Fireworks from the cd The
Little Mermaid.
•
We read Dolphin Rescue in National
Geographic Kids.