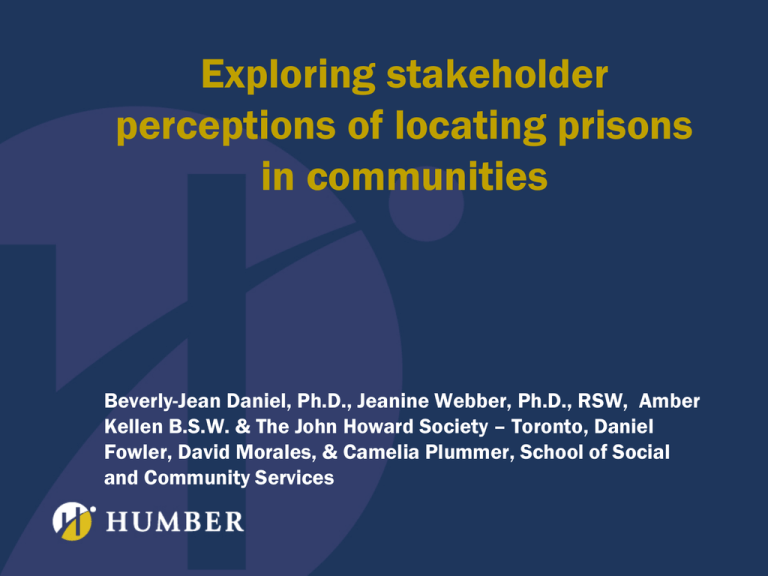 Exploring stakeholder
perceptions of locating prisons
in communities
Beverly-Jean Daniel, Ph.D., Jeanine Webber, Ph.D., RSW, Amber
Kellen B.S.W. & The John Howard Society – Toronto, Daniel
Fowler, David Morales, & Camelia Plummer, School of Social
and Community Services
Agenda
Project overview
Methods
Sample
Results
Limitations
Future directions
Student RA experience
Project Overview
This joint research project between Humber College and
the John Howard Society – Toronto, focused primarily
on:
• Conducting a preventative needs assessment to
determine the impact of locating the Toronto South
Detention Centre within the local South Etobicoke
community
• Identifying the preventative options that can be
introduced to address stakeholder concerns
• Determining actual safety concerns versus the
subjective concerns of stakeholders to identify
strategies for reducing the concerns amongst the
stakeholders.
Methods
This research project utilized a mixed method approach,
including:
•
•
•
•
•
Questionnaires
Focus groups
Community meetings
Quantitative data analysis using Statistical Product
and Service Solutions (SPSS)
Qualitative data analysis – Grounded Theory Approach
Sample
Sample : 203 Respondents
•
•
•
•
•
•
Humber Students (n=80)
Residents (n=53)
Humber Staff (n=28)
Business Owners (n=23)
School Officials (n=10)
Social Agencies (n=9)
Results
The respondents indicated that they anticipate that there
would be a reduction in the value of properties in the
neighbourhood.
Results
The respondents also indicated that their perception of
the neighbourhood would be significantly worse once
the detention centre is opened.
Results
The respondents, particularly women, believed that the
neighbourhood would become less safe when the
detention centre opens.
Results
The following quotes highlight the respondents request
for a heightened police and security presence to help
reduce identified risk and safety concerns:
• Respondent: "More police patrol, neighborhood watch,
more cameras (CCTV)"
• Respondent: "Better security; lighting at night,
cameras & increased security presence"
Results
The following quotes highlight the respondents concern
about the well-being of the releasees and support
reintegration programs:
• Respondent: "Communities to provide employment
opportunities, educational opportunities, recreation
opportunities, transitional help for inmates to the
community"
• Respondent: "Support groups, mental health support,
drugs and alcohol supports, life skills support"
Limitations
With our research project there are two key limitations to
the study:
1) Sample may not be fully representative of each of the
stakeholder groups given small sample size for each
group
2) Detention centre not yet operational therefore no
comparison data available to identify differences
between anticipated and real differences in
neighbourhood safety, reputation, property rates etc.
Future Directions
There are several future indications for this research
project:
1) Expand the study to include a larger and more
representative population sample
2) Develop a longitudinal study that will facilitate the
examination of the theorized versus the actual impact
of the prison
3) Conduct an assessment on the efficacy of the
development of a reintegration hub (as proposed by
the John Howard Society – Toronto) and the resulting
impact on the real differences in the area – real estate
values; conception of the neighbourhood, etc.