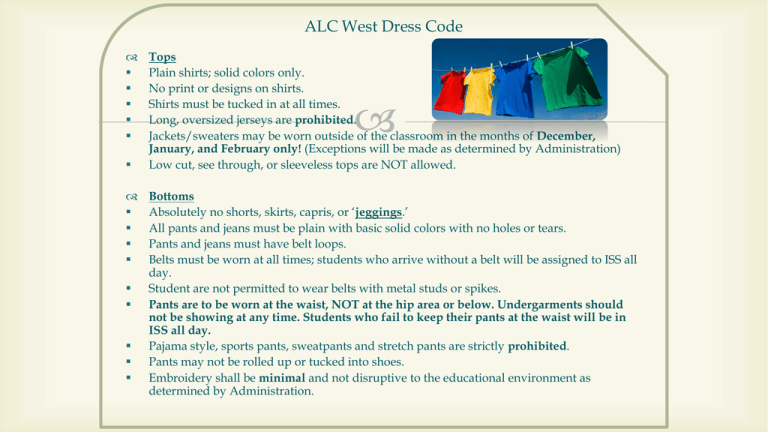 ALC West Dress Code

















Tops
Plain shirts; solid colors only.
No print or designs on shirts.
Shirts must be tucked in at all times.
Long, oversized jerseys are prohibited.
Jackets/sweaters may be worn outside of the classroom in the months of December,
January, and February only! (Exceptions will be made as determined by Administration)
Low cut, see through, or sleeveless tops are NOT allowed.

Bottoms
Absolutely no shorts, skirts, capris, or 'jeggings.'
All pants and jeans must be plain with basic solid colors with no holes or tears.
Pants and jeans must have belt loops.
Belts must be worn at all times; students who arrive without a belt will be assigned to ISS all
day.
Student are not permitted to wear belts with metal studs or spikes.
Pants are to be worn at the waist, NOT at the hip area or below. Undergarments should
not be showing at any time. Students who fail to keep their pants at the waist will be in
ISS all day.
Pajama style, sports pants, sweatpants and stretch pants are strictly prohibited.
Pants may not be rolled up or tucked into shoes.
Embroidery shall be minimal and not disruptive to the educational environment as
determined by Administration.
 Shoes
 Sneakers or casual dress shoes are required.
 The following are not permitted: open-toe shoes/sandals,
high-heels/pumps, boots, roller sneakers, slippers.

 Jewelry
No jewelry of any kind will be allowed, including:
 No Piercings of any kind.
Covering earrings or putting in clear spacers is not acceptable.
 No rubber bands or wrist bands
 Headgear
 Hats, caps, bandanas, hoods, sweatbands and sunglasses are prohibited.
The Administration reserves the right to make changes based on individual
student situations.