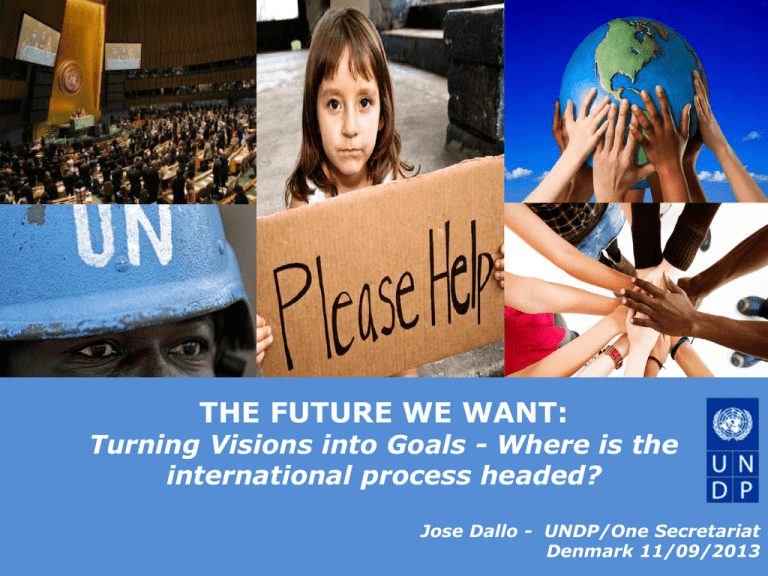 THE FUTURE WE WANT:
Turning Visions into Goals - Where is the
international process headed?
Jose Dallo - UNDP/One Secretariat
Denmark
11/09/2013
© United Nations
Development Programme
A turning point
Key inputs
Key inter-governmental
processes at the UN...
OWG, HLPF, Expert Committee
SD, Special event
SIDS, CC, Hyogo…
Reports
UN TT, HLP, GC, SDSN, RC, UNSG
5 UN commissioned reports
They are coherent and complementary.
They reflect a high degree of convergence on key issues such as:
1)
2)
3)
4)
5)
6)
7)
Complete the unfinished job of the MDGs
Universality of the post/2015 agenda with one set of goals
Ending poverty in the context of sustainable development
Institutions, good governance, peace and security
Addressing inequalities
Positioning of women's empowerment and gender issues
Environmental sustainability with climate change as a priority
3
UNDG: open and inclusive consultations
Post-2015
development agenda
INCLUSIVENESS
EQUITY
SUSTAINABILITY
UNDG Initiative - 3 pillars of work – 1.3 million participants
1. 88 National
consultations:
Lead by the UN
Resident Coordinators
and building on ongoing consultations,
2. 11 Thematic
consultations:
with academia,
media, private
sector, employers,
trade unions, civil
society, and decision
makers on themes
such as inequalities,
health, and energy
3. Global
Outreach:
MY World Survey
(on-line and off line)
worldwewant2015.or
g web platform
Messages from the peoples of the UN
• MDG issues remain the building blocks of human
development
• Ideas about how to improve the MDGs
• People are asking for an expanded agenda to address
new and persistent challenges
Call for a unified and universal agenda
centered on poverty eradication
in the context of sustainable development
Global Partnership for Development: The
Challenge We Face
• ODA declined and failed to reach the 0.7%
• Trade gap between countries continues to
narrow
• HIPC and MDRI have reduced HIPC's debt
burden an average of 90%
• Medicines are not always available and/or
affordable
• ICT use has grown in all regions
25th September – High Level Event
Strong report from the SG combined with
effective political leadership from the Special
Event and the Forum could provide decisive
momentum for the process :
• Some initial substantive agreements
• A road map
• UN system support to the discussion
Moving to consensus building in the framework
of intergovernmental processes
1)
2)
3)
4)
5)
6)
Member states must have full ownership
UN coordinated services have to be fully in sync with the
intergovernmental process
UN task is to inspire not to prescribe. Need to reinforce
outreach and communications
Strengthen credibility of MDG acceleration
Prepare the transition from the MDGs. We need to be 'fit for
purpose'
Maintain the dialogue and engagement at country level
and with global stakeholders
8
Challenges in the way forward
Notwithstanding areas of emerging consensus, there remain
difficult areas where contention and divergence may occur:
• Necessity of a paradigm shift;
• North/south divide
• Not dropping the ball on poverty while fully incorporating
sustainability
• Peace and security
• Addressing Human Rights and Universality
9
Post-2015 Framework
A possible Timeline
UNSG
report
UNSG
report
HOSG summit
to adopt new
framework
HLP Report
UNDG 1st
report
UNDG
2nd
report
Mar 2013
SDG Process
Special
event on
MDGs and
post-2015
OWG
established
SD Finance
established
Sep 2013
HLPF
Sep 2014 Dec 2014
HLPF
1st
OWG and SD
Finance
reports
submitted to
UNGA
Sep 2015
We listened, now what?
• Moving to further engagement with Member States
and non-state actors
• Means of implementation will be a central issue
• UNCTs expand support and advice to Member States
at the level of capitals
• Continued coherence in UN's work
• The need for the UN to get ready and "fit for
purpose" to support delivering a more holistic and
comprehensive agenda
Deepening an open and inclusive post-2015
dialogue
• Expectations have been raised: desire for continued
avenues for consultation and engagement
• Maintain open spaces for engagement at the
national level and augment the outreach structures
put in place by the OWG to inform, motivate and
inspire.
• Go beyond UNDG and outside the UN to bring ideas
and legitimacy
• Countries are expected to face implementation
challenges when putting the new development
agenda into effect. Can the UN help to shed light on
these?
Informing the discussion with national
evidence: illustrative national goals
• Development experience should inform the discussions
• Questions emerge about how to include "new" issues or
frame "old" issues as SDGs
• SDGs to be determined at national level, according to
national starting points and priorities
• Based on demand from MSs, the UN could support the
formulation of illustrative national goals, which in turn
could help in the development of the "global" SDGs
• National level presence and MDGs experience provides
the rationale for help prototyping the emerging priorities
discussed in the intergovernmental process
Thank You!