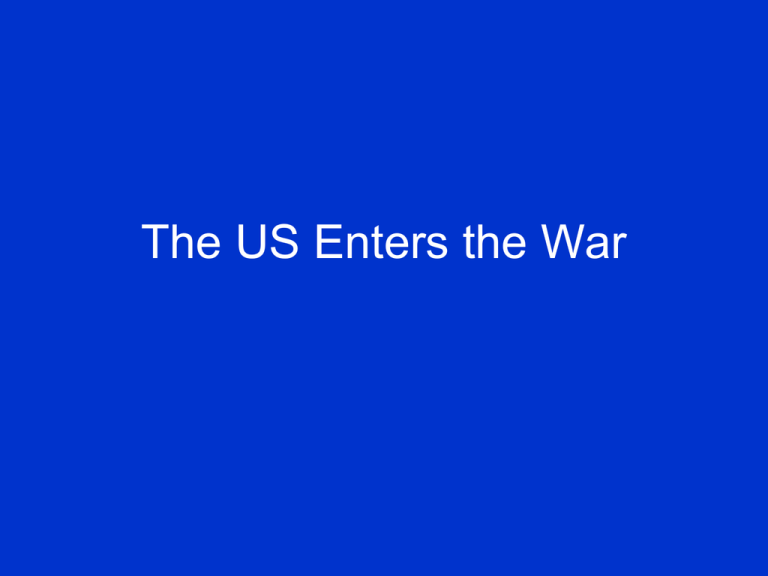 The US Enters the War
Review!
• Why did the US hesitate to enter the War
at the beginning?
• What event caused the US to enter the
war?
How did the United States raise an Army?
• Selective Service Act
(Draft)
• Before draft—200,000 men
in service.
• 3 million men called to
serve.
• 2 million went into action in
WWI.
How did U.S. soldiers help win the
war?
• Sheer Numbers
• Freshness and Enthusiasm
• Determination---Beat the Germans
How did the U.S. build its naval force?
• Encouraged people to work in the ship
building industry.
• Government took over ships being built for
the Great Lakes and for private use.
• Fabrication - Assembling ships in a
shipyard by bringing in manufactured parts
and putting them together.
How did the U.S. Navy help win the war?
• Opened shipping lanes by
stopping U-boats.
• Convoy System Merchant ships were
surrounded by naval
ships for protection.
New weapons of Mechanized Warfare
•
•
•
•
•
•
Airplane
Tank
Machine Guns
Artillery
Zeppelin
Poison Gasses
Cost of WWI
•
•
•
•
•
•
Civilians—13 million deaths
Military—13 million deaths
Injuries—20 million people
Refugees—10 million
Economic costs—$350 billion
With costs like this it is no surprise that
people called this "the war to end all wars".
• The cost was so high, people could not
imagine it being worse.