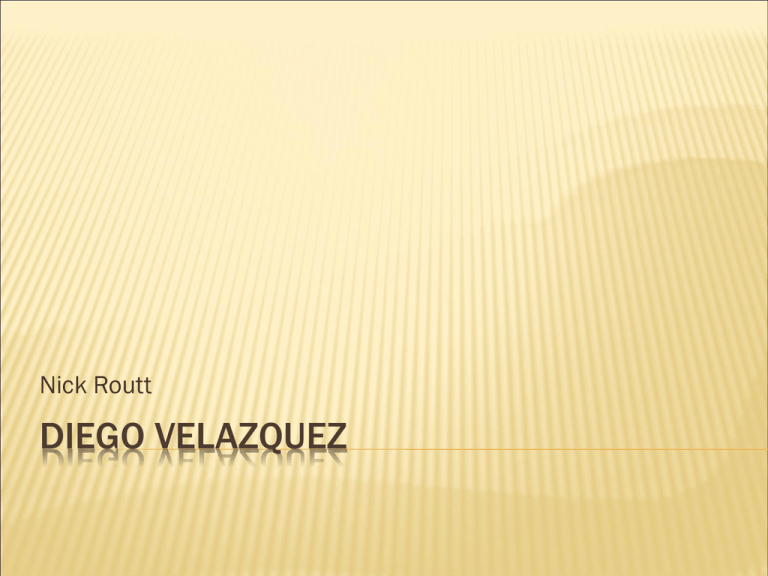 Nick Routt
DIEGO VELAZQUEZ
BIO
Diego Velazquez was born in Sevilla on June 6th
1599 in a family belonging to the minor
aristocracy. At the age of 12, he started an
apprenticeship which lasted 5 years and taught
him to depict perspective and proportion
accurately.
 Velazquez developed fever at the end of July in
1660 and died on August 6th at the age of 61. The
church where he was buried was later destroyed
so the location of his grave is now unknown.

LA RENDICIÓN DE BREDA (THE SURRENDER OF
BREDA),

Painted between 1634 and 1635. It was
inspired while Velázquez was visiting Italy and
is considered one of his best pieces of work.
Test question
LA VENUS DEL ESPEJO (ROKEBY VENUS)

This piece of work was painted between 1647
and 1651. The work depicts the goddess
Venus in a sensual pose, lying on a bed and
looking into a mirror held by the Roman god of
physical love, her son Cupid.
LAS MENINAS (THE MAIDS OF HONOR)

This painting was painted in 1656. It shows a
large room in King Philip IV's palace in Madrid.
KING PHILP IV

Diego painted a portrait of King Philip IV
between 1624 and 1627.