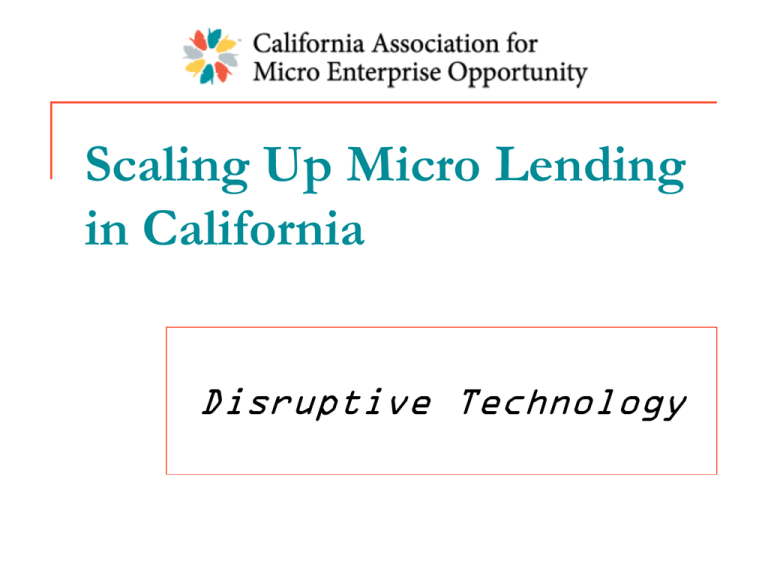 Scaling Up Micro Lending
in California
Disruptive Technology
Morning Agenda

Welcome: Lena Robinson

Paradigm Changes: Stanford
Microfinance

New Players Panel

Bankers Panel

Lunch at noon

Lunch Keynote: Barbara Vohryzek
Disruptive Technology
An innovation that creates a new market and value
network,
and
eventually goes on to disrupt an existing market,
displacing an earlier technology.
Disruptive Technology
The term describes innovations that improve a product or service in ways
that the market does not expect.
Legacy organizations can miss the value of a
disruptive technology, only to be left behind as the
new technology matures and takes hold.
Technologies

Big data and behavioral algorithms

Automated data access & assessment

Cloud-based technology & programming

Online processes

Mobile technology
Changing Norms
New technology is not just putting
traditional lending processes online.
New technology is changing lending norms.
• What's offered
• How quickly
• On what
criteria
• At what price
• To whom
• How
restructured
• How delivered
• By whom
Impact on Microlending

Sophisticated technology available to
smaller companies

Technology is changing the
profitability of microlending

Bringing new players into the market

Creating new forces, like crowdfunding

Raising new expectations among
borrowers
Rapid Expansion

'New-paradigm loans' widely available

Taking hold in the market rapidly
Stanford Micro Finance Group
Big Data Meets Micro Finance
Online Microlending, Machine Learning
and Changing the Market


Luis Armona
Julia Reichelstein
New Players Panel

Tom Green, Lending Club

Brad Lensing, Prosper

Leslie Payne, Lend Up

Paul Quintero, Accion East
New Players Questions

What loan products are you offering?

What is your market, and how do you reach it?

What is your application process? What information do you require?

How do you assess clients?

What technologies are you using for marketing, document collection,
underwriting and servicing?

How quickly can you fund a deal?

What is your current volume?
Banker Panel
Moderator: Barbara Vohryzek,
Governor's Small Business Advocate

Fred Mendez
Rabobank

Lena Robinson
Federal Reserve Bank of San Francisco

Herman White
San Francisco Fire Credit Union
Afternoon Agenda - Members

Lending Academy

Member Panel
Devon Johnson, Women's Economic Ventures
Naldo Peliks, Centro Community Partners

Breakouts

Group Discussion and Survey
CAMEO MicroLending Academy
Goals
Increase microlending, capacity, technology
adoption and access to capital.
Features:

E-newsletter

Peer Learning

Training

Individual
Consulting

Professional
Development

Technology Support
Women's Economic Ventures

Devon Johnson

Microloan Management System (MMS)
MMS
Supports lending here
Outreach
Risk
Assessment
Application
Underwriting
Document
Collection
Closing
Credit Memo
Servicing &
Collections
WEV's Experience

Doubled deal capacity

Quicker, clearer decisions

Saving time: less upfront admin/touch
files less

Invest time after client gives basic info

Time spent on more viable prospects

Could expand with less experienced
employee
WEV's Experience

Not trying to duplicate our previous
process

Stepping into MMS: Investing time to
understand rationale for particulars,
especially required docs, loan amount
and underwriting

Giving it a year
Centro Community Partners

Naldo Peliks

Business Toolkit Presentation
Quick Dyads and Group Discussion
Find someone who is not in your organization.

What response to these trends should our industry be considering?

What strategic steps could my organization take?

Is there a role for CAMEO to support members adapting to new lending
environment?
Closing

Wrap up from Claudia Viek

Please complete your survey

MMS detailed Q&A available after
closing
Thanks!!