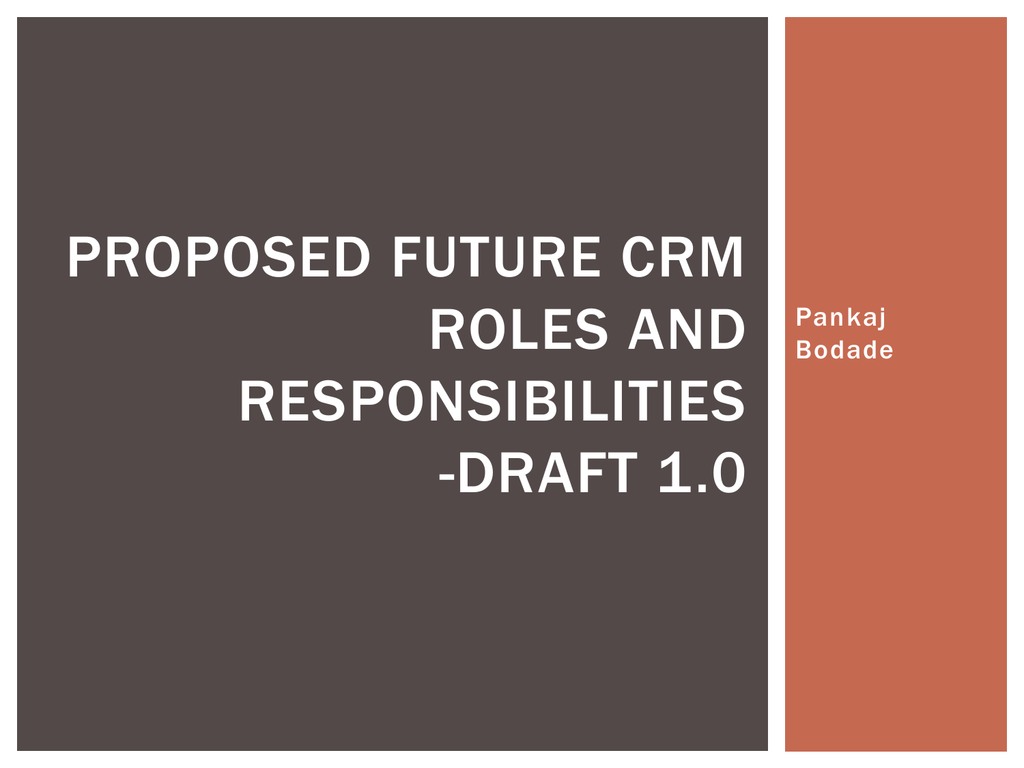 PROPOSED FUTURE CRM
ROLES AND
RESPONSIBILITIES
-DRAFT 1.0
Pankaj
Bodade
TEAM STRUCTURE
CRM- PM
Offshore CRM
TL
Offshore CRM
Team
member
Onshore
Mainframe
Coordinator
Offshore CRM
Mainframe
Team
ROLES AND RESPONSIBILIT Y
S.N
Role
Responsibilities
1
PM
1. Coordinate and facilitate the defect resolutions and improvement activities.
2. Responsible for successful delivery of the planned CRs and Defect fixes in a release.
3. Initiate and attend the meeting with business for the defect and improvement release
plan.
4. To identify, manage and mitigate risks ,ensure compliance with IT security, internal
control and Business continuity
5. For offshore - Plan and Manage different work, initiatives. Plan and allocate resources
against prioritised demand over planning horizon according to established process
working in collaboration with onsite Mainframe Developer and offshore CRM Team
lead.
6. To develop and retain required caliber, mix and quantity of skilled resources.
7. Provide management and reporting of performance metrics and task status.
8. Look for continious improvement and transformation through proactive initiatives
9. Weekly meetings with the offshore team lead and Onshore mainframe ressource.
(Frequency of the meetings can be decide)
2
Offshore
CRM TL
1.
2.
3.
4.
5.
6.
7.
Take ownership of successful delivery of the planned CRs and Defect fixes in a release.
Lead the offshore CRM team and mentor whenever needed.
Coordinate with mainframe team for day to day maintenance task and new CR.
Help PM assigning the tasks to team.
Manage quality related activities for CRM.
Suggest improvements and ask for any help to PM for managing tasks 1 to 5.
Update the progress to PM -frequency of meeting to be decided.
S.N
Role
Responsibilites
3
Offshore CRM Developer
1.
2.
3.
4.
5.
Report to offshore CRM TL on CRM task and any other
quality process related assigned work.
CR and Defect fixes- CRM
Documentation, maintaining the logs of errors and
resolution.
Unit and System Testing
Help smooth working of CRM system.