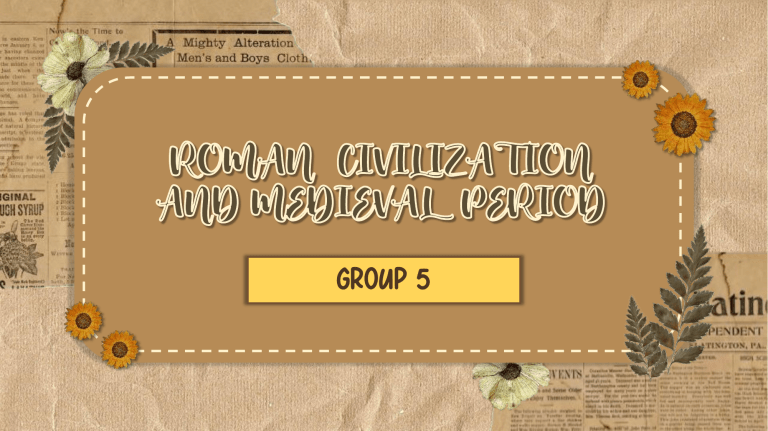 GROUP 5
JUNTEREAL AYA
CONDES DONNA MAY
CORPUZ FIONA DANIELLE ANN
LADAGA SHARMAINE IVY
MACAGALING FRANCIS KEN
SINDAC TRISHA ELAINA
MARIE
ROMAN CIVILIZATON
MEDIEVAL PERIOD
1
NEWSPAPER
HEAVY PLOW
5
2
CODEX
PAPER MONEY
6
3
ROMAN ARCHITECTURE
HOURGLASS
7
4
ROMAN NUMERALS
SPINNING WHEEL
8
WAR WEAPON
9
The ancient Romans built one of the greatest empires in world history
which lasted from about 30 BCE to 476 CE
The rise and fall of Ancient Rome formed a crucial episode in the rise
of Western civilization
The Romans were known to contribute to public discourse using official texts
detailing military, legal and civil issues. Known as Acta Diurna, or "daily acts,"
these early newspapers were written on metal or stone and then posted in
heavily trafficked areas like the Roman Forum.
Acta are believed to have first appeared around 131 B.C. and typically
included details of Roman military victories, lists of games and gladiatorial
bouts, birth and death notices and even human-interest stories. There was
also an Acta Senate's, which detailed the proceedings of the Roman senate.
These were traditionally withheld from public view until 59 B.C., when Julius
Caesar ordered their publication as part of the many populist reform, he
instituted during his first consulship.
A codex is an ancient manuscript text in book form, the historical
ancestor of the modern book. The Ancient Romans developed the form
from wax tablets.
The gradual replacement of the scroll by the codex has been called the
most important advance in book making before the invention of the
printing press. The codex transformed the shape of the book itself and
offered a form that has lasted ever since.
The first ever Roman Codex was the Vergilius Augusteus, the Earliest
Codex Written Entirely in Roman Square Capitals, and the Earliest
Codex with a Large Ornamented Initial Letter at the Beginning of Each
Page. Vergilius Augusteus, Georgica folio 121. , the first Roman
Emperor, but was later estimated to have been written in the fourth
century CE.
Roman architecture continued the legacy left by Greek architects and the
established architectural orders, especially the Corinthian. The Romans were also
innovators and they combined new construction techniques and materials with
creative design to produce a whole range of brand new architectural structures.
Roman architects continued to follow the guidelines established by the classical
orders the Greeks had first shaped: Doric, Ionic, and Corinthian
The Augustan period saw a surge in building activity, innovation in design, and
extravagant use of marble, symptoms of a Rome that was beginning to flex its
muscles and with an increased confidence break away from the rigid tradition of
earlier civilizations.
As the Empire expanded, ideas and even craftsmen became integrated into the
Roman architectural industry, often following their familiar materials like marble to
the sites of construction.
Key Roman Buildings
• Aqueducts & Bridges
• Basilica
• Baths
• Private Home
• Temples
• Theatres & Amphitheatres
• Triumphal Arches
• Walls
• Roman numerals are a numeric system which utilizes a series or
combination of alpha characters, or letters, which represent
numeric values.
• were based upon the Latin alphabet.
• a cumulative system, meaning that the value being presented is a
combination of similar symbols to reach the next value symbol
• also an additive and subtractive system, or a system that adds or
subtracts symbols in order to make corresponding numbers.
The heavy plow was one of the most significant innovations in the Middle Ages.
It is a farm implement used to break up the soil and create a furrow for
planting. This invention allowed people to settle in Northern Europe and farm
the region's wet clay soil.
The develOpment of the heavy plow throughout the Middle Ages allowed for the
harvesting of clay-rich soil areas.
The invention resulted in abundance and growth in farming. Particularly in
Northern Europe, where the soil is heavier. Due to increased grain production.
•an invention of the Song Dynasty in China in the 11th century CE, nearly 20
centuries after the earliest known use of metal coins. Paper money posed risks
such as counterfeiting and high inflation.
•When Maro Polo traveld to China in the 13th century, he was so impressed by
paper money that he described how it was made, used and valued. Paper money
was not used in Europe until the 17th century.
an ingenious timekeeping devices used before the
development of clocks in the Middle Ages. Hourglasses, also
called sandglasses, sand timers, sand clocks, or egg timers.
It said to have been invented by a French monk called
Liutprand in the 8th century AD. However, concrete evidence of
this revolutionary new form of clock, which measures time by
the descent of sand from one glass bulb to another, first
appeared in European ship inventories from the 14th century.
Arriving just in time for the "Age of Discovery", the hourglass
was ideal for ocean travel because the bobbing waves didn't
affect its accuracy.
The spinning wheel is an ancient invention used to turn different plant
and animal fibers into thread or yarn, which is then used to weave
cloth on a loom (Bellis, 2019).
The exact date of the creation of the first spinning wheel is unknown.
Nonetheless, it wasn't until the medieval period that it became
commonly utilized in Europe. The spinning wheel was significantly
more effective than the preceding spinning techniques used in Europe.
Thus, finding a method to modernize the process was a logical
progression.
A growing number of people in medieval Europe were able to wear
well-spun clothing because of the invention. The spinning wheel's
development and use led to an increased supply of yarn for textile
manufacturing.
The Middle Ages were full of wars, as it was a time of violence and
brutality.
Consequently, weapons have been of paramount importance to people
all around the world.It is important to remember that each weapon had
a completely different purpose and was used in a different way.
There are three types of medieval weapons; close combat weapons,
ranged and throwing weapons, artillery weapons.
Medieval warriors thrashed their opponents with an array of brutal
instruments. However, despite all the aggravating circumstances, the
REFERENCES
(https://www.timemaps.com/civilizations/ancient-rome/).
(https://www.timemaps.com/civilizations/ancient-rome/).
https://education.nationalgeographic.org/resource/resource-library-ancient-rome
https://www.history.com/news/10-innovations-that-built-ancientrome#:~:text=Newspapers&text=The%20Romans%20were%20known%20to,areas%20l
ike%20the%20Roman%20Forum.
https://www.historyofinformation.com/detail.php?id=2036
https://www.worldhistory.org/Roman_Architecture/
https://study.com/academy/lesson/the-history-of-roman-numerals.html.
s%20introduced,dynasty%20(1260%2D1368).
https://www.thoughtco.com/the-invention-of-paper-money-195167
https://www.citeco.fr/10000-years-history-economics/antiquity-to-middle-ages/the-first-banknotes-or-paper-money
https://tkyoung.com/history.html#:~:text=Hourglasses%20are%20among%20a%20number,dates%20from%20the%2014
th%20century.
https://www.guinnessworldrecords.com/world-records/first-hourglass
https://youtu.be/o3FrDuFJaFc
https://youtu.be/2P2CUOsKNoQ
https://sites.google.com/a/brvgs.k12.va.us/wh-15-sem-1-medieval-europe-gm/the-heavy-plow
https://sciencenordic.com/agriculture-agriculture--fisheries-anthropology/how-the-heavy-plough-changed-theworld/1381548
The Evolution of the Spinning Wheel (thoughtco.com)
The Spinning Wheel: The Beginning of the Medieval Textile Industry | Encyclopedia.com
Medieval Inventions List (medievalchronicles.com)
https://www.history.com/news/medieval-weapons-knights-middle-ages
https://www.vikingsbrand.co/blogs/norse-news/medievalweapons#:~:text=Much%20like%20the%20changes%20in,most%20influence%2C%20just%20like%20today.