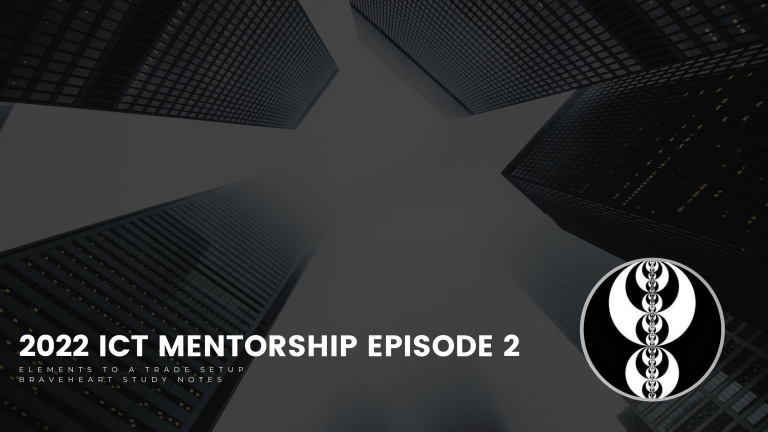 2022 ICT MENTORSHIP EPISODE 2
E L E M E N T S
T O
A
T R A D E
S E T U P
B R A V E H E A R T
S T U D Y
N O T E S
INTRODUCTION
Welcome!
Disclaimer: None of the contents within this PDF should be considered professional advice. It is merely for entertainment purposes only.
If you have been following me on YouTube lately, you know that I help Traders reach their full
trading potential.
The aim is to be the bridge between who Traders currently are and who they want to become.
With that being said, the concepts mentioned in belong to "The Inner Circle Trader".
https://www.youtube.com/c/InnerCircleTrader
All the infomation within this PDF can be found on The Inner Circle Trader's YouTube Channel.
BRAVEHEART TRADING
Dedicated to Freedom and for Reaching Your Full Trading Potential.
Twitter: Click Here
YouTube: Click Here
Before the new trading week begins, think about what the Next Weekly Candlestick is going to do...
IS IT MOST LIKELY TO GO HIGHER?
IS IT MOST LIKELY TO GO LOWER?
We are not trying to predict its closing Price...
We just want to know if it's most likely to go higher or lower...
FACTORS THAT WILL IMPACT THE WEEKLY CANDLE:
Seasonal Tendencies
Interest Rates
Earning Seasons & the release of quarterly earnings reports
Price Action on a Weekly and Daily Chart
ALL OF THESE FACTORS WILL GIVE YOU AN EXPECTATION FOR THAT WEEKLY CANDLESTICK...
Is it most likely to go higher?
Is it most likely to go lower?
ADDITIONAL CONTENT FOR STUDY:
Seasonal Tendencies - Click Here
Interest Rates - Click Here
Earning Seasons - Click Here
March Contract
YMH22
INTEREST RATES INCREASING = STRONGER DOLLAR
WHEN IT COMES TO PRICE ACTION ON THE WEEKLY CHART, ASK YOURSELF THIS QUESTION:
WHAT IS THE MARKET MOST LIKELY TO DRAW TOWARDS?
In Example:
Is there an Imbalance Higher?
or
Is there a Liquidity Pool Lower?
THIS SETS THE INITIAL BIAS FOR THE WEEK
PRICE ACTION ON THE WEEKLY CHART
PRICE ACTION ON THE WEEKLY CHART
PRICE ACTION ON THE WEEKLY CHART
THE NASDAQ INDICATES A
CRACK IN CORRELATION!
WHEN IT COMES TO PRICE ACTION ON THE DAILY CHART, ASK YOURSELF THIS QUESTION:
WHERE ARE THE LIQUIDITY POOLS PRICE CAN SEEK?
(FOLLOWING THE ASSUMPTION OF THE WEEKLY CHART)
The Draw on Liquidity for the most part is found on the Daily Chart.
The Daily Chart should have the majority of your time and analysis.
The Daily Chart will give you feedback every 24 HOURS on that Weekly Candle.
WE USE THAT FEEDBACK TO SUPPORT OUR ASSUMPTIONS OF THE WEEKLY CANDLE EXPANDING HIGHER OR LOWER.
PRICE ACTION ON THE DAILY CHART
PRICE ACTION ON THE DAILY CHART
PRICE ACTION ON THE DAILY CHART
HOW TO DETERMINE DRAW ON LIQUIDITY
The Draw on Liquidity will be
A) An Liquidity Pool
B) An Imbalance
LARGE FUNDS AND INSTITUTIONS WILL BE LOOKING AT A AND B ON THE HIGHER TIME FRAMES.
WITH A BIAS AND DRAW ON LIQUIDITY FROM THE HIGHER TIME FRAMES...
WE CAN NOW BUILD A FRAMEWORK ON THE 1 HOUR CHART.
This will help us view the Weekly Range.
INDUCING LIQUIDITY FOR LONGS IN THE MARKET
In·duce - succeed in persuading or influencing (someone) to do something.
INDUCEMENTS BUILD LIQUIDITY IN THE MARKET.
Step 1:
Market fakes out Traders in order to trap them
Step 2:
Trapped Traders will then place their stops below the Market Place
This is the building of liquidity.
Step3:
IPDA then seeks the Induced Liquidity to bring the market higher.
1
2
3
EVERY TIME WE EXPECT A SIGNIFICANT MOVE LOWER, ANTICIPATE A STOP HUNT IN THE MARKET.
ONCE STEP 3 OCCURS, WE WANT TO JUMP INTO THE LOWER TIME FRAMES TO LOOK FOR A SPECIFIC ENTRY
We are looking for a specific signature in price that shows us the market wants to move higher.
THAT SPECIFIC SIGNATURE IS AN FVG, AND THAT'S WHERE WE TAKE THE ENTRY.
1
2
3
FOR FINDING A PRICE EXIT, WE NEED TO UNDERSTAND THE LIQUIDITY MATRIX.
Define the Price Range before the Setup Was formed.
WHAT IS THE KEY HIGH AND KEY LOW RELATIVE TO WHERE PRICE IS CURRENTLY NOW?
THIS IS HOW YOU DELINEATE A PREMIUM MARKET VS DISCOUNT MARKET
BULLISH SCENARIO:
If the Market is in an Discount, we expect a Buy Program to occur.
This is where our entry formed...
We want to find a counter-level in a Premium Market to cover our short-entry
THIS IS WHERE OUR EXIT WILL BE...
We can use the following levels as exits
Liquidity
FVG
WAS THIS HELPFUL?
Take the next step.
FOLLOW OUR JOURNEY PROVIDING VIDEO CONTENT FOR THE TRADING MARKET.
Our YouTube channel looks at a broad range of subjects including Trading Motivation, Trading
Lifestyle, Trading Educational Content, Podcasts with various experts and much more.
Subscribe Today!
Join my newsletter.
YOUR ULTIMATE ONE-STOP NEWSLETTER TO ACHIEVE TRADING GREATNESS.
Weekly emails on self-improvement, mindset, psychology, trading skills, business, and more.
No spam, no bullshit. 100% privacy.
Your e-mail will never be shared with anyone.
Sign Up!
BRAVEHEART TRADING
Dedicated to Freedom and for Reaching Your Full Trading Potential.