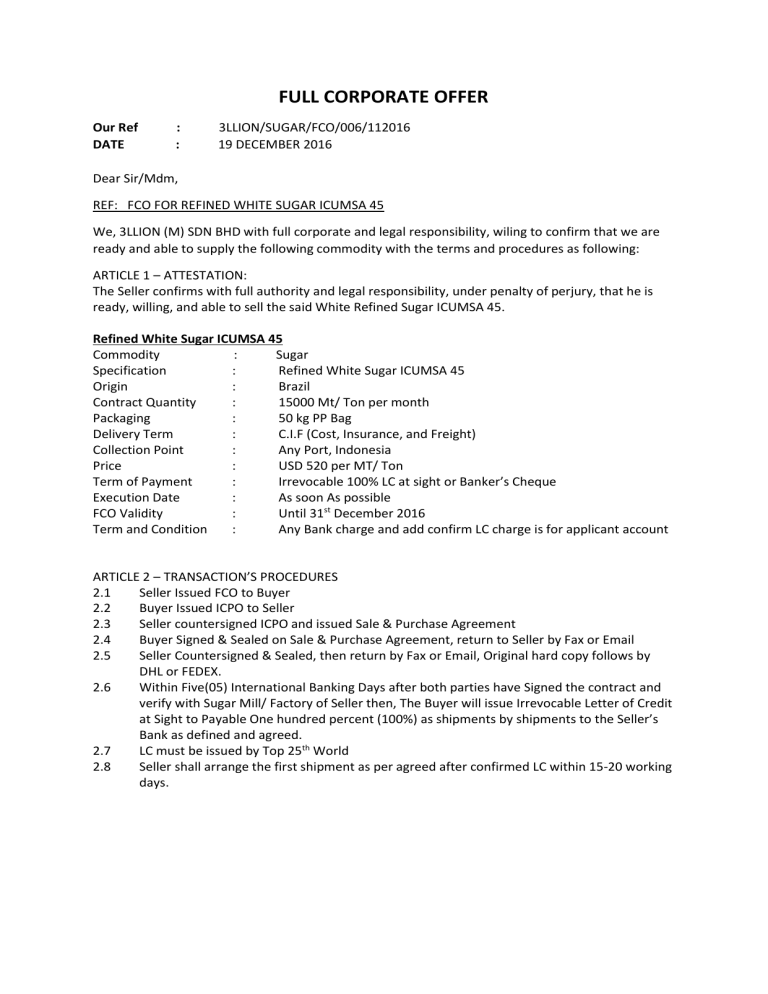 FULL CORPORATE OFFER
Our Ref
DATE
:
:
3LLION/SUGAR/FCO/006/112016
19 DECEMBER 2016
Dear Sir/Mdm,
REF: FCO FOR REFINED WHITE SUGAR ICUMSA 45
We, 3LLION (M) SDN BHD with full corporate and legal responsibility, wiling to confirm that we are
ready and able to supply the following commodity with the terms and procedures as following:
ARTICLE 1 – ATTESTATION:
The Seller confirms with full authority and legal responsibility, under penalty of perjury, that he is
ready, willing, and able to sell the said White Refined Sugar ICUMSA 45.
Refined White Sugar ICUMSA 45
Commodity
:
Sugar
Specification
:
Refined White Sugar ICUMSA 45
Origin
:
Brazil
Contract Quantity
:
15000 Mt/ Ton per month
Packaging
:
50 kg PP Bag
Delivery Term
:
C.I.F (Cost, Insurance, and Freight)
Collection Point
:
Any Port, Indonesia
Price
:
USD 520 per MT/ Ton
Term of Payment
:
Irrevocable 100% LC at sight or Banker's Cheque
Execution Date
:
As soon As possible
FCO Validity
:
Until 31st December 2016
Term and Condition
:
Any Bank charge and add confirm LC charge is for applicant account
ARTICLE 2 – TRANSACTION'S PROCEDURES
2.1
Seller Issued FCO to Buyer
2.2
Buyer Issued ICPO to Seller
2.3
Seller countersigned ICPO and issued Sale & Purchase Agreement
2.4
Buyer Signed & Sealed on Sale & Purchase Agreement, return to Seller by Fax or Email
2.5
Seller Countersigned & Sealed, then return by Fax or Email, Original hard copy follows by
DHL or FEDEX.
2.6
Within Five(05) International Banking Days after both parties have Signed the contract and
verify with Sugar Mill/ Factory of Seller then, The Buyer will issue Irrevocable Letter of Credit
at Sight to Payable One hundred percent (100%) as shipments by shipments to the Seller's
Bank as defined and agreed.
2.7
LC must be issued by Top 25th World
2.8
Seller shall arrange the first shipment as per agreed after confirmed LC within 15-20 working
days.
ARTICLE 3 – PACKING
50 kg in New polypropylene (PP) bags that is export worthy; with marking / labelling showing the
following in English: name / grade of product, crop year, country of origin, name of shipper or seller
/ packer, net weight, production, and expiry date 50 KGs. In new single polypropylene (PP) bags with
2% empty bags free under Buyer's Marking.
ARTICLE 4 – SELLER'S TRANSACTION BANKING COORDINATES
BANK OF BENEFICIARY
BANK ADDRESS
ACCOUNT NAME
ADDRESS
ACCOUNT NUMBER
SWIFT
CIF NO
ID TYPE / NO
BANK OFFICER'S NAME
BANK OFFICER'S EMAIL
BANK OFFICER'S TEL
BANK OFFICER'S FAX
AFFIN BANK BERHAD
(Seremban Branch), 175, Jalan Dato Bandar Tunggal, 7000 Seremban,
Negeri Sembilan Darul Khusus
3LLION (M) SDN BHD
Lot 185, Kampung Jiboi Baru, Ampangan, 70400, Seremban, Negeri
Sembilan Darul Khusus
105240006031
PHBMMYKL
830000039
RD 1191267H
HISHAMUDDIN AHMAD
hishamuddin@affinbank.com
606 762 9651
606 763 6125
We thank you for the opportunity given to us.
Best Regard,
Mr. MOHD HAFIDZ BIN MOHD JAFELIS
Executive Chairman
3LLION (M) SDN BHD
SPECIFICATION / TECHNICAL DATA SHEET
REFINED SUGAR GRED A – ICUMSA 45
SPECIFICATIONS:
PARAMETERS
LIMITS
RESULTS
1
ORIGIN
BRAZIL
AS REPORTED
2
ICUMSA
45 RBU
AS REPORTED
3
POLARIZATION
99.80% MINIMUM
AS REPORTED
4
ASH CONTENT
0.04% MAXIMUM
AS REPORTED
5
MOISTURE
0.04% MAXIMUM
AS REPORTED
6
SOLUBILITY
100% FREE FLOWING
AS REPORTED
7
RADIATION
NORMAL CERTIFIED
AS REPORTED
8
COLOUR
SPARKLING WHITE
AS REPORTED
9
GRANULATION
FINE
AS REPORTED
PACKAGING : Depending on Buyer's requirements
STORAGE
: Store in a cool and dry place. Avoid excessive exposure to heat and light
SHELF LIFE
: The typical shelf life of the sugar is a minimum 24 months from the date of
manufacture in the original unopened container under suggested storage
conditions.