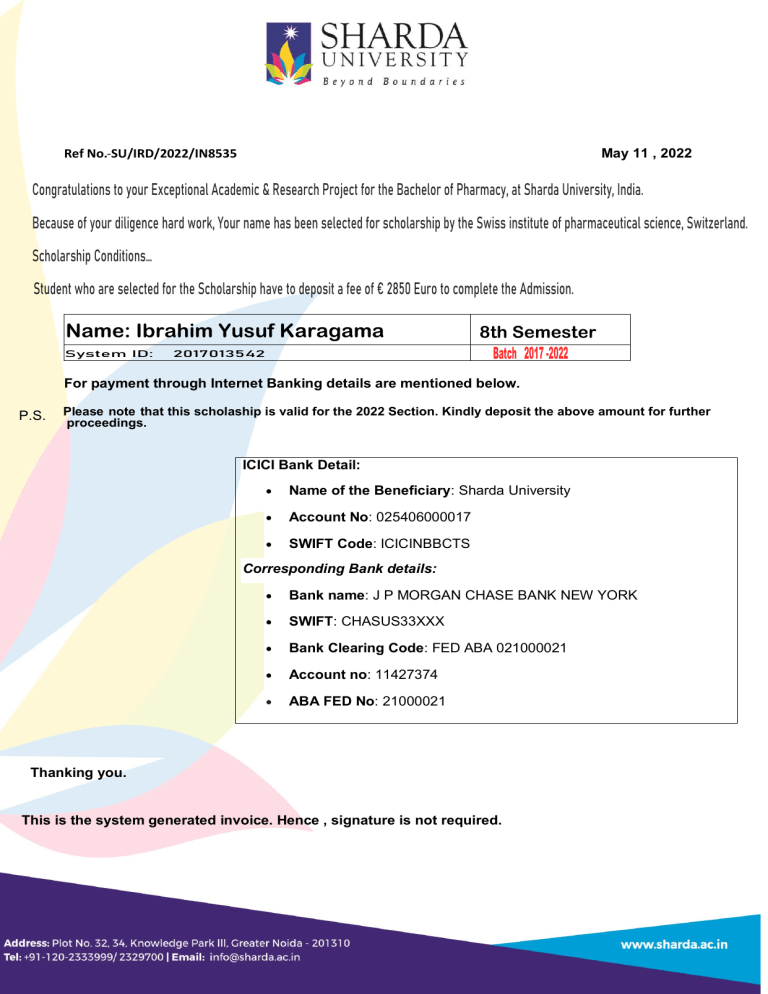 Ref No.-SU/IRD/2022/IN8535
May 11 , 2022
Congratulations to your Exceptional Academic & Research Project for the Bachelor of Pharmacy, at Sharda University, India.
Because of your diligence hard work, Your name has been selected for scholarship by the Swiss institute of pharmaceutical science, Switzerland.
Scholarship Conditions…
Student who are selected for the Scholarship have to deposit a fee of € 2850 Euro to complete the Admission.
Name: Ibrahim Yusuf Karagama
System ID:
2017013542
8th Semester
Batch 2017 -2022
For payment through Internet Banking details are mentioned below.
P.S.
Please note that this scholaship is valid for the 2022 Section. Kindly deposit the above amount for further
proceedings.
ICICI Bank Detail:

Name of the Beneficiary: Sharda University

Account No: 025406000017

SWIFT Code: ICICINBBCTS
Corresponding Bank details:

Bank name: J P MORGAN CHASE BANK NEW YORK

SWIFT: CHASUS33XXX

Bank Clearing Code: FED ABA 021000021

Account no: 11427374

ABA FED No: 21000021
Thanking you.
This is the system generated invoice. Hence , signature is not required.